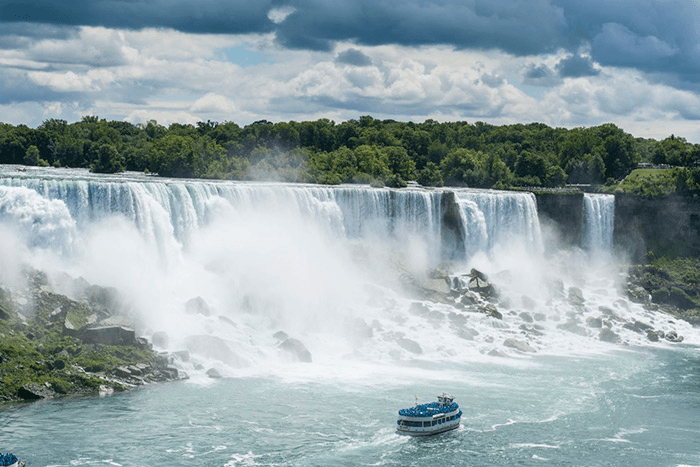 Niagara Falls Vacation Ideas
Table of Contents

Are you ready for an extraordinary adventure that promises both awe-inspiring beauty and exhilarating experiences? Look no further than Niagara Falls, a natural wonder that straddles the Canadian and American border. With its sheer power, breathtaking views, and an array of exciting activities, a trip to Niagara Falls offers a once-in-a-lifetime experience that will leave you spellbound.
At See Sight Tours, we specialize in small group tours led by fun and friendly local guides who know the ins and outs of this iconic destination. Join us as we dive into the best Niagara Falls vacation ideas that will make your journey truly unforgettable.
Book A Combo Tour Of Both Sides Of The Majestic Falls!
A Glimpse into the Canadian Side of Niagara Falls: Nature's Grand Spectacle
The Canadian side of Niagara Falls is renowned for its unrivaled panoramic views. As the Niagara River gracefully plunges over the Horseshoe Falls, a majestic mist rises, painting the sky with rainbows. Our highly recommended Niagara Falls tours ensure you witness this mesmerizing sight up close. Feel the spray on your face as you embark on the iconic Maid of the Mist boat ride. As you cruise the Niagara River, you'll get so close to the base of the falls that you'll feel the thunderous power of the cascading water. For a bird's-eye view of this natural marvel, soar high above the falls on the Niagara Skywheel. It's an experience that will forever be etched in your memory.
Venturing Behind the Falls and Exploring the Cave of the Winds
Take your Niagara Falls journey to another level by embarking on the Journey Behind the Falls. Descend deep into the bedrock to explore tunnels that lead to portals directly behind the falls. Feel the ground shake as you stand just feet away from thousands of gallons of water crashing down. If you're seeking an even more immersive encounter, the Cave of the Winds on the American side offers a heart-pounding experience. Don a poncho and specialized footwear as you navigate wooden walkways that take you directly into the mist of Bridal Veil Falls. It's an adventure that will leave you exhilarated and drenched in the beauty of the falls.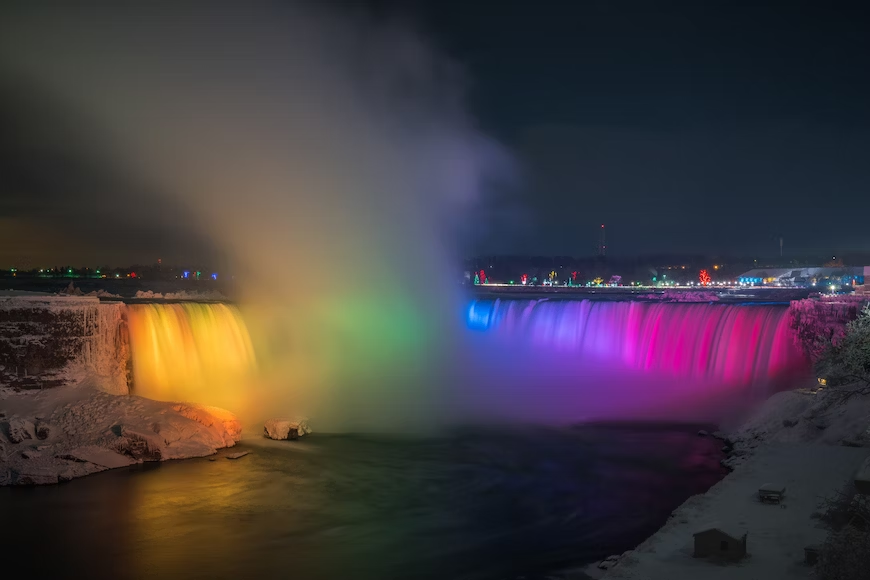 (Photo credit @Unsplash/BryanGoff)
Spectacular Views from Skylon Tower and Beyond
For a panoramic vista that captures the essence of Niagara Falls from a different perspective, the Skylon Tower is a must-visit attraction. Ascend the tower's observation deck for a 360-degree view that stretches across the falls, the Niagara River, and beyond. As you soak in the scenery, you'll appreciate the sheer magnitude of this natural spectacle. To elevate your experience, opt for the Ultimate Niagara Falls (Canada) Tour which combines a helicopter ride over the falls with a visit to the Skylon Tower, followed by a delightful lunch. It's a package that encapsulates the grandeur of Niagara Falls from every angle.
A Stroll Through Nature's Splendor: White Water Walk and More
Beyond the falls themselves, Niagara Parks boasts an array of natural wonders waiting to be explored. The White Water Walk is a serene and mesmerizing experience that allows you to stroll along the boardwalk beside the raging rapids of the Niagara River. Immerse yourself in the raw power of the water as it carves its way through the rugged landscape. For a tranquil escape, wander through the vibrant Niagara Parks Botanical Gardens, where you'll discover a lush oasis of flowers and plants. The Butterfly Conservatory is another gem within Niagara Parks, offering a chance to admire the fluttering beauty of these delicate creatures.
Enjoy The Beautiful Falls With A Day And Night Tour With Us!
Cultural Delights and Beyond: Niagara-on-the-Lake and More
A Niagara Falls vacation isn't just about the falls themselves; it's also an opportunity to explore the charming surrounding areas. Niagara-on-the-Lake, a quaint town known for its historical significance and wineries, offers a delightful escape. Join a wine tour and savor the exquisite flavors of local vintages, or take a leisurely stroll through the town's charming streets lined with boutiques and eateries. As you explore, you'll be captivated by the old-world charm that permeates the region.
Best Time to Experience Niagara Falls' Magic
One of the most common questions for those planning a trip to Niagara Falls is, "When is the best time to visit?" The answer depends on what you're looking for. The summer months of June to August offer warm weather, lush greenery, and the chance to fully enjoy outdoor activities. However, this is also the peak tourist season, so expect larger crowds. If you prefer a quieter experience, consider visiting in the shoulder seasons of spring (April to May) or fall (September to October). During these times, the weather is still pleasant, attractions are open, and you'll have a more relaxed encounter with the falls.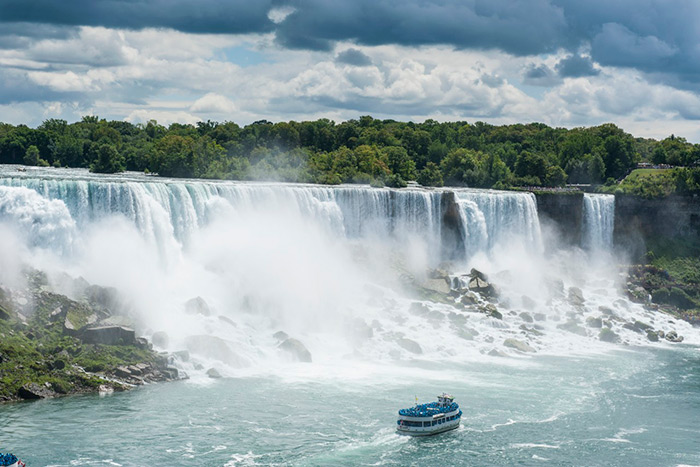 (Photo credit @PleasantHolidays)
Unraveling the Best Niagara Falls Vacation Packages
At See Sight Tours Canada, we understand that every traveler is unique. That's why we offer a diverse range of Niagara Falls vacation packages to cater to various preferences. If you're short on time but want to experience the highlights, the "Best of Niagara Falls USA Tour" is perfect for you. For those seeking a more immersive adventure, our "Ultimate Niagara Falls (Canada) Tour with Helicopter Ride + Skylon Tower Lunch" combines breathtaking aerial views with iconic attractions. We even offer private tours for a personalized experience that caters to your interests.
Frequently Asked Questions: Planning Your Dream Vacation
1: Is the tour price in Canadian or US dollars? 
The tour price will be displayed in your local currency based on your location, and you can select a different currency if needed.
2: How will I get to Niagara Falls, USA/Canada? 
Transport will be provided by See Sight Tours, and you'll travel in luxurious Mercedes tour vans. Details about pick-up times and locations will be confirmed a few days before your tour.
3: What is the cancellation policy? 
You can enjoy peace of mind with our 24-hour cancellation policy, offering a full refund if you cancel at least 24 hours before the start of the experience.
4: Is a passport required for entry to Niagara Falls, USA/Canada? 
Yes, having your passport with you at all times is essential for a seamless experience.
5: How many people are in one group for the tour? 
Our specialty is small group tours, typically consisting of 5-7 people, ensuring an intimate and personalized experience.
6: Can infants join boat rides? 
Yes, children of all ages are welcome, and there's no age restriction for boat rides. Safety is our priority, so be sure to read our blog on taking children and infants on the Maid of the Mist boat ride.
Book The Helicopter Tour And Enjoy The Falls From The Sky!
Embark on Your Niagara Falls Adventure with See Sight Tours
As you plan your Niagara Falls vacation, remember that See Sight Tours is your trusted partner in creating memories that last a lifetime. Our local guides are excited to share their passion for the falls, ensuring you have an insider's perspective on this natural wonder. Whether you're captivated by the thundering falls, eager to explore the surrounding parks, or excited about tasting local wines, Niagara Falls has something for everyone. Book your tour today, and get ready to embark on an unforgettable journey into nature's majestic masterpiece.
Experience the Best Niagara Falls Vacation with See Sight Tours
Are you ready to immerse yourself in the breathtaking beauty and exhilarating experiences of Niagara Falls? At See Sight Tours, we're dedicated to making your journey unforgettable. With our range of thoughtfully crafted tours, knowledgeable local guides, and commitment to your safety and enjoyment, you can trust us to guide you through the wonder that is Niagara Falls. Book your tour now and get ready to experience nature's masterpiece like never before.
Book Your Private Tour Of Niagara Falls Now!!