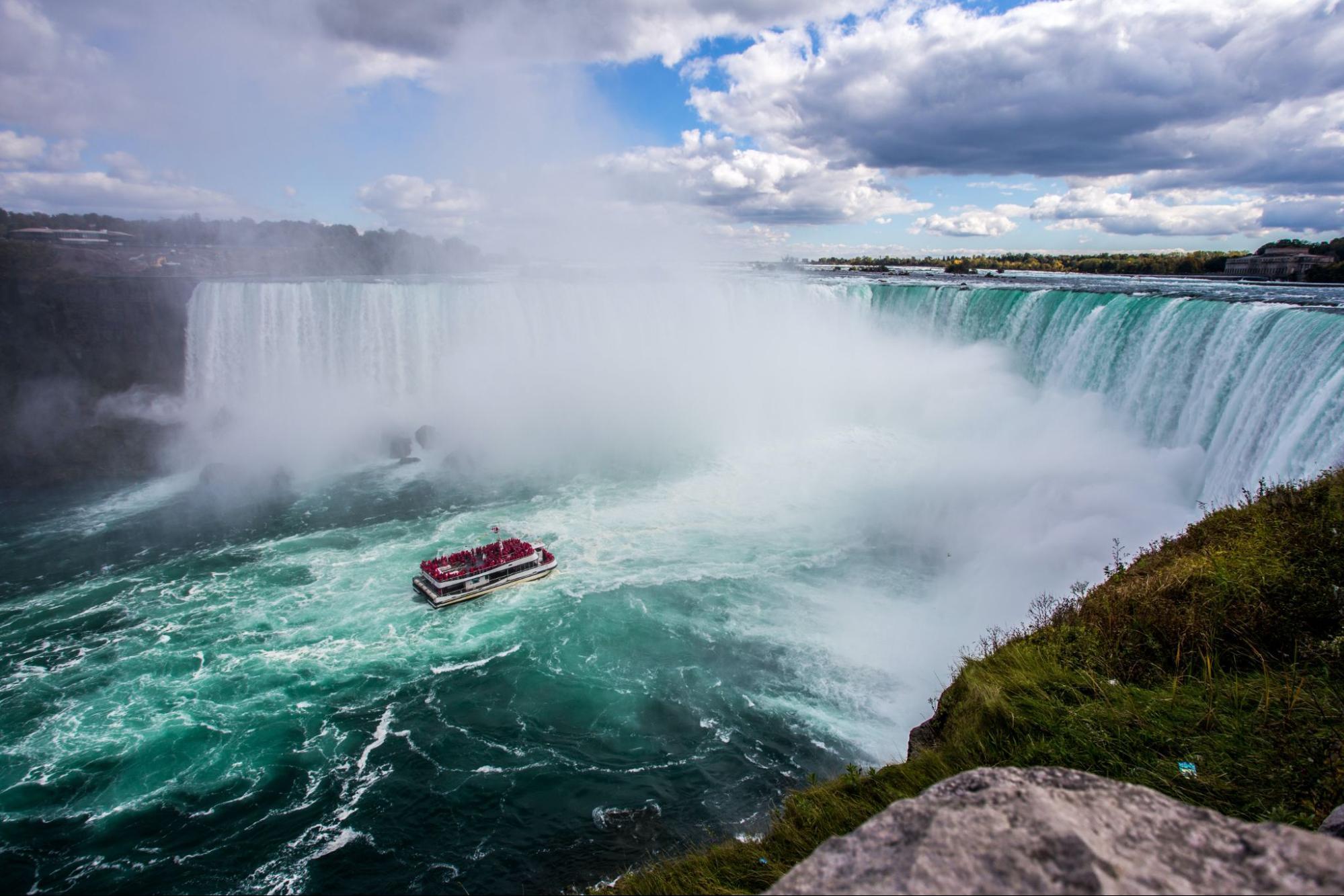 Visiting Niagara Falls in October
Table of Contents

Hello there, fellow adventurers! As the summer months make way for the vibrant hues of autumn, it's time to set your sights on a breathtaking destination that promises a perfect blend of natural wonders, cultural delights, and sensory experiences. Welcome to Niagara Falls in October, where the fall season paints the landscape in vibrantly colored foliage and the air carries a hint of adventure. In this blog, we'll explore why October is an ideal time to visit Niagara Falls, Canada's largest haunted attraction, and how you can make the most of your trip while immersing yourself in the region's famous grape festival. So grab your winter jacket and let's embark on an unforgettable journey!
Get A Chance To See Both Sides Of Falls With Us!
Is October a Good Month to Visit Niagara Falls?
Absolutely! October is a great time to visit Niagara Falls, as the region showcases its stunning fall colors and breathtaking scenery. The fall foliage transforms the landscape into a kaleidoscope of reds, oranges, and yellows, creating a picturesque backdrop for your visit. With milder temperatures and fewer crowds compared to the summer months, October offers a more intimate and serene experience, allowing you to fully appreciate the grandeur of the falls and the surrounding natural beauty.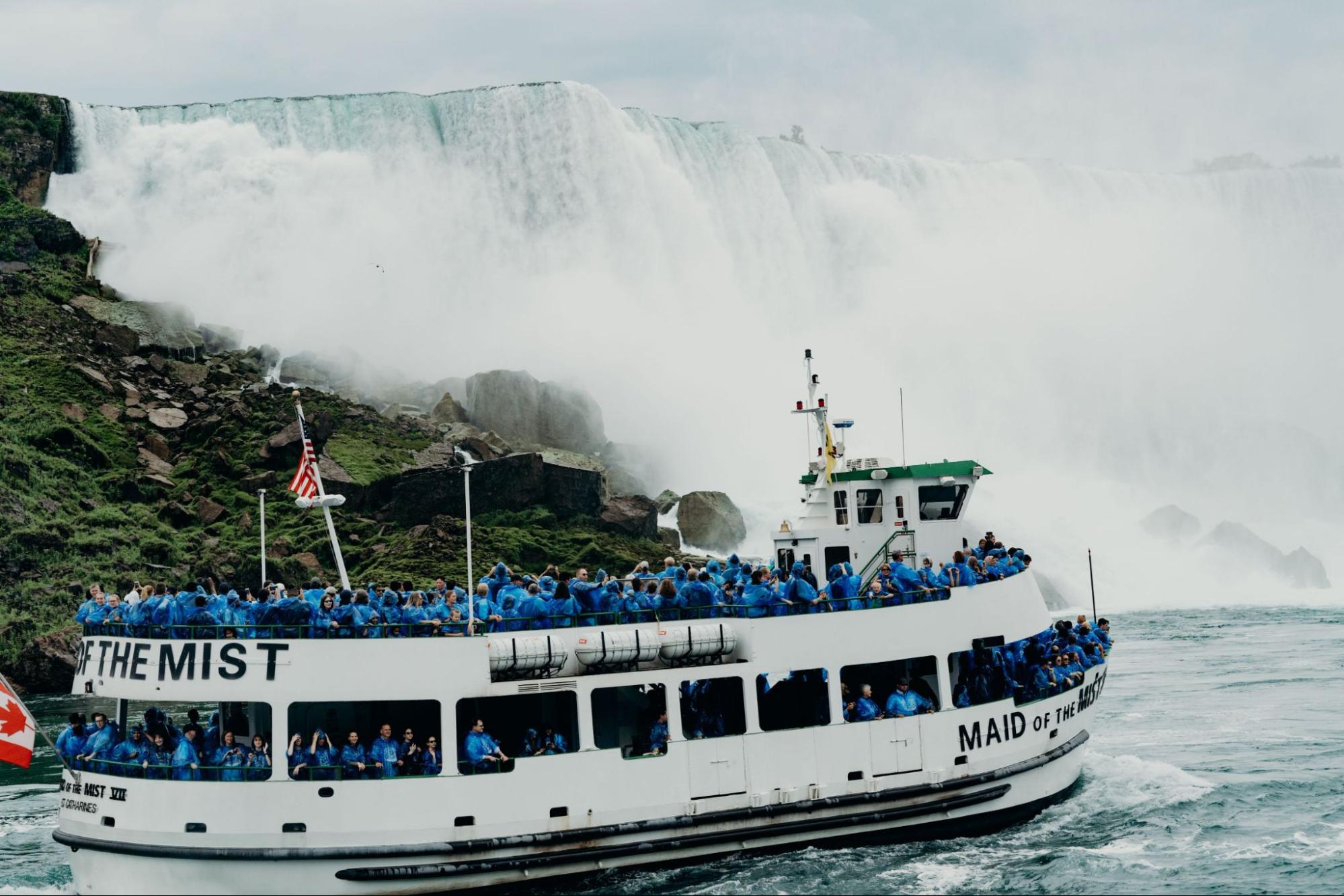 (Photo credit @Kalen Emsley/Unsplash)
Is Niagara Falls Open in October?
Yes, Niagara Falls is open to visitors throughout the year, including October. While specific attractions may have their own schedules and operating hours, you can still enjoy the main highlights of Niagara Falls, such as the boat rides offered by Hornblower Niagara Cruises, the Journey Behind the Falls experience, and the Maid of the Mist boat tours. These activities provide an up-close and personal encounter with the magnificent falls, allowing you to witness their power and majesty.
Niagara Falls in October Weather: Is it Cold?
October weather in Niagara Falls can be quite variable, ranging from mild and pleasant to cooler temperatures as the month progresses. On average, temperatures range between 40°F (4°C) and 60°F (15°C). It's advisable to dress in layers and bring a winter jacket to stay comfortable, especially during the evenings when temperatures may drop further. Be sure to check the weather forecast before your trip to pack accordingly.
What is the Temperature in Niagara Falls in October?
In October, temperatures in Niagara Falls can range from cool to mild. During the early part of the month, you can expect average highs of around 60°F (15°C) and lows of approximately 45°F (7°C). As the month progresses, temperatures may gradually drop, with highs reaching around 50°F (10°C) and lows dipping to 35°F (2°C) towards the end of October. It's advisable to check the weather forecast closer to your visit to plan your activities accordingly.
How Should I Dress for Niagara Falls in October?
Dressing in layers is the key to staying comfortable when visiting Niagara Falls in October. Begin with a light sweater or long-sleeved shirt, paired with a medium-weight jacket or coat. As temperatures can fluctuate throughout the day, it's best to have the option to add or remove layers as needed. Don't forget to bring a hat, gloves, and a scarf to stay warm during cooler moments, especially if you plan to spend time outdoors or take a boat ride.
Does Niagara Falls Have Fireworks in October?
Yes, Niagara Falls often hosts spectacular fireworks displays throughout the year, including in October. These dazzling shows light up the night sky, adding a touch of magic to your visit. The fireworks are usually scheduled on select weekends and special occasions. Check the Niagara Parks website or local event calendars for the specific dates and times of the fireworks during your visit, as they may vary.
Hop On Hornblower and Cruise Through The Mist!
Explore Niagara Parks: More Than Just the Falls
While the magnificent falls themselves steal the spotlight, Niagara Parks offers a wealth of attractions and activities that will enhance your visit. Take a leisurely stroll along the Niagara River, breathe in the crisp autumn air, and immerse yourself in the natural beauty of the surrounding parklands. From scenic hiking trails to beautifully manicured gardens, there's something to captivate every nature lover.
For those seeking thrills and chills, Niagara Falls boasts Canada's largest haunted attraction, perfect for embracing the Halloween spirit in October. Brace yourself for heart-pounding experiences and spine-tingling encounters as you explore this frightfully entertaining attraction's ghostly corridors and interactive exhibits. It's an adventure that will send shivers down your spine and create lasting memories.
Book a Boat Ride: Get Up Close and Personal with the Falls
No trip to Niagara Falls is complete without a boat ride that takes you right to the heart of the cascading wonder. While the Maid of the Mist boat tours operate until late October, offering an awe-inspiring journey into the misty embrace of the falls, you can also opt for the Hornblower Niagara Cruises boat rides. These exhilarating tours offer unforgettable views of the falls from the Canadian side, allowing you to witness their immense power and experience the refreshing spray of the water.
What are the best times to visit Niagara Falls in October?
Early October offers mild temperatures and beautiful fall colors, while late October may be cooler but offers a quieter experience.
Can I take a boat ride in Niagara Falls in October?
Yes, boat rides such as the Maid of the Mist and Hornblower Niagara Cruises operate until late October, allowing you to experience the falls up close.
Can I explore Niagara Falls in a day trip from Canada?
While a day trip allows you to experience the highlights, consider staying overnight to fully immerse yourself in the beauty and activities Niagara Falls has to offer.
Conclusion
Niagara Falls in October offers a captivating experience for nature enthusiasts, and thrill-seekers alike. The vibrant fall colors, boat rides, and other enchanting festival create an atmosphere of wonder and excitement. With milder temperatures and fewer crowds, this is the perfect month to explore the region's natural beauty, indulge in wine tastings, and embrace the haunting spirit of the largest haunted attraction in Canada. So don your favorite autumn attire, book your trip, and get ready for an unforgettable journey to Niagara Falls this October. Your senses will thank you!