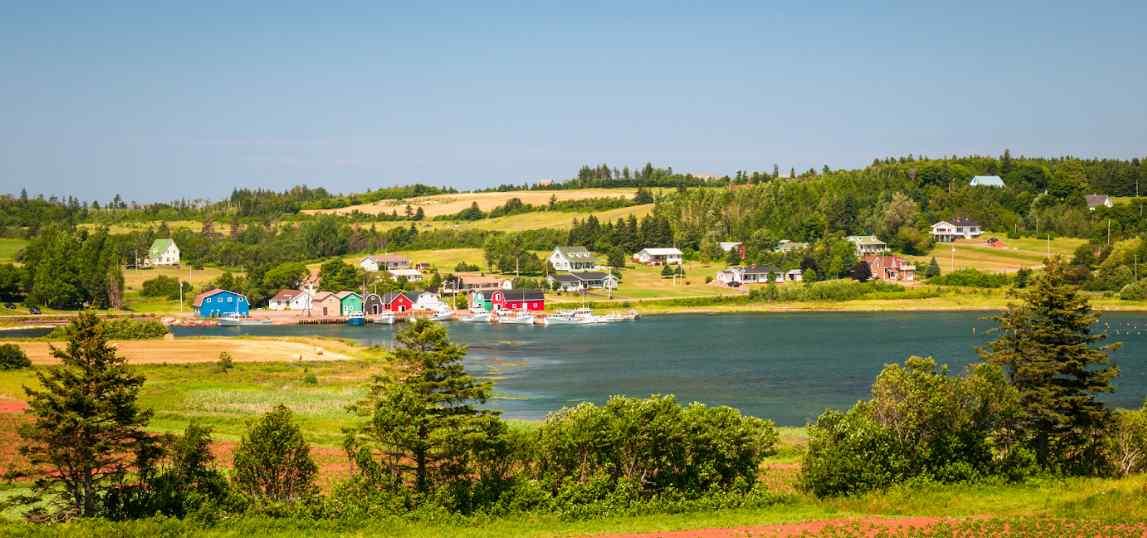 Visiting PEI in September
Table of Contents

If you're considering a fall vacation, visiting Prince Edward Island (PEI) in September should be at the top of your list. Prince Edward Island (PEI), with its stunning landscapes, rich culture, and welcoming locals, offers an ideal destination for a September getaway.
This charming Canadian province, nestled in the Gulf of St. Lawrence, transforms into a picturesque wonderland in September. From stunning landscapes to cultural festivals, here's an account of why a September visit to PEI is an opportunity you shouldn't miss, and how to plan your September getaway to PEI.
Why choose September for the PEI visit?
Visiting PEI in September is a unique experience. The island comes alive with vibrant fall foliage, making it a picturesque destination for nature lovers. The weather is pleasantly mild, and the summer crowds have dissipated, giving you the perfect opportunity to explore PEI's charm at your own pace.
Is September a good time to visit PEI?
Good? Nay! September is the best time to visit Prince Edward Island. PEI-Septembers boast some of the most breathtaking fall foliage in Canada. As September rolls in, the island's lush greenery transitions into a kaleidoscope of vibrant reds, oranges, and yellows. While September marks the beginning of fall, PEI's beaches still offer a taste of summer. The warm waters of the Gulf Stream keep the coastline inviting, making it the perfect time for a seaside picnic, a leisurely swim, or a romantic sunset stroll.
Book Best of PEI Tour Starting at $119/Person Only!
What is the temperature in PEI in September?
September in PEI offers mild temperatures, with daytime highs around 18-20°C (64-68°F) and cooler evenings. It's a perfect time for outdoor activities.
Is September a crowded tourist season in PEI?
No, September sees fewer tourists compared to the peak summer months, making it a peaceful time to explore the island.
What to pack for the September PEI trip?
When packing for your PEI adventure, consider the fall weather. Layers are essential, as temperatures can vary throughout the day. Don't forget comfortable hiking shoes, a rain jacket, and a camera to capture the island's beauty.
Enjoy Walking Tour of Charlottetown PEI with Your Travel-Clan
What is PEI like in September?
In September, PEI unveils its enchanting and painterly side. During this month, Prince Edward Island's aesthetic allure is a harmonious fusion of nature's artistry, rural beauty, coastal grace, and a touch of nostalgia. It's a time when the island seems to slow down, inviting you to immerse yourself in its captivating aesthetics.
As September arrives, the island's foliage transforms into a vibrant palette of reds, oranges, and yellows. The lush green landscapes of summer give way to a breathtaking display of fall colors. Driving along PEI's country roads becomes a scenic journey through a living canvas.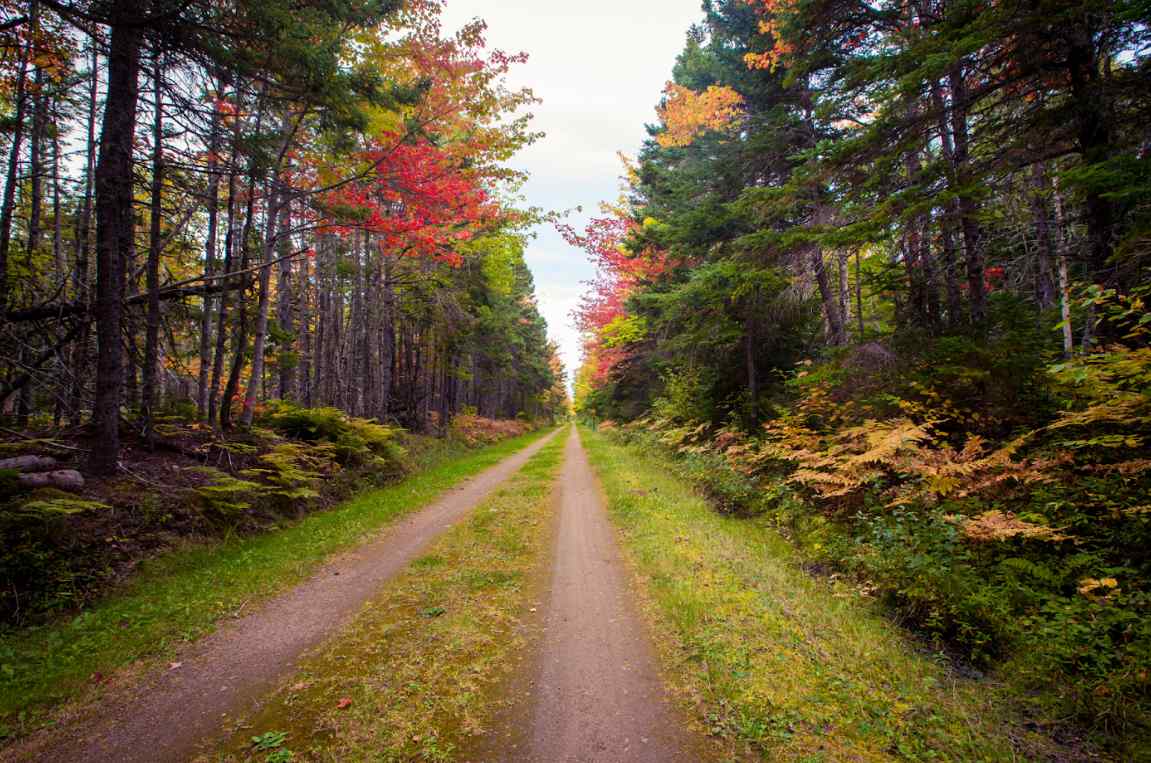 Confederation Trail, PEI
The island's farms, with their red barns and golden fields, take on a rustic allure in September. Rows of crops, including the famous PEI potatoes, are ready for harvest, creating a picturesque agricultural landscape. The contrast between the red soil and the changing leaves is visually striking.
PEI's coastline remains a focal point of its aesthetic appeal in September. The red sandstone cliffs and sand dunes framed by the deep blue waters of the Gulf of St. Lawrence, provide a striking contrast. Secluded coves and beaches offer peaceful escapes, with the sound of waves harmonizing with the autumn breeze.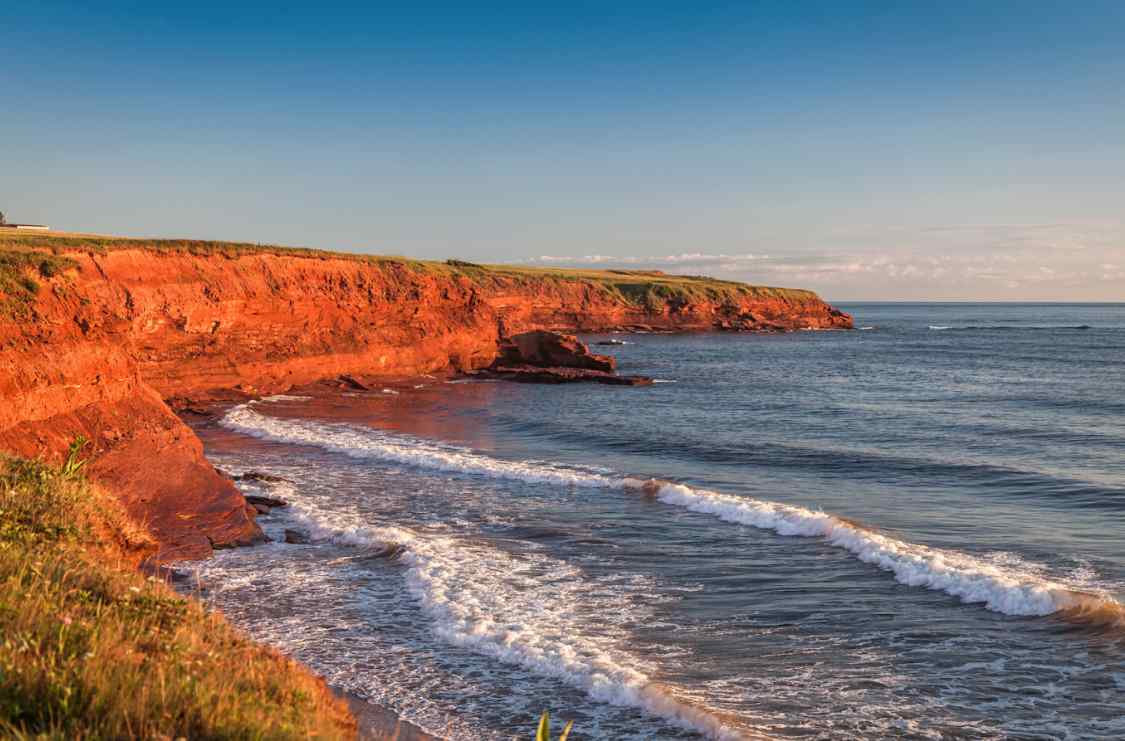 PEI's charming villages, like Victoria-by-the-Sea and North Rustico, exude a cozy and welcoming atmosphere in September. Colorful houses with flower-filled gardens line the streets, inviting leisurely strolls. The slower pace of life and friendly locals add to the village aesthetics.
What are some top things to do in PEI in September?
Prince Edward Island (PEI) in September offers a pleasant blend of outdoor activities, cultural experiences, and opportunities to enjoy the island's natural beauty. Here are some top things to do on the island during this time! 
Explore the Beaches:
PEI is famous for its stunning beaches, and September is an excellent time to visit without the summer crowds. Don't miss Cavendish Beach and Greenwich Beach in the Prince Edward Island National Park.
Book Private Tour and Go VIP as You Explore PEI
Bike the Confederation Trail:
The weather in September is perfect for biking, and the Confederation Trail is a scenic route that takes you through picturesque landscapes, charming villages, and historical sites.
Visit the Anne of Green Gables Museum:
Learn about the island's literary heritage by visiting the Anne of Green Gables Museum in Cavendish, which inspired the famous book series by Lucy Maud Montgomery.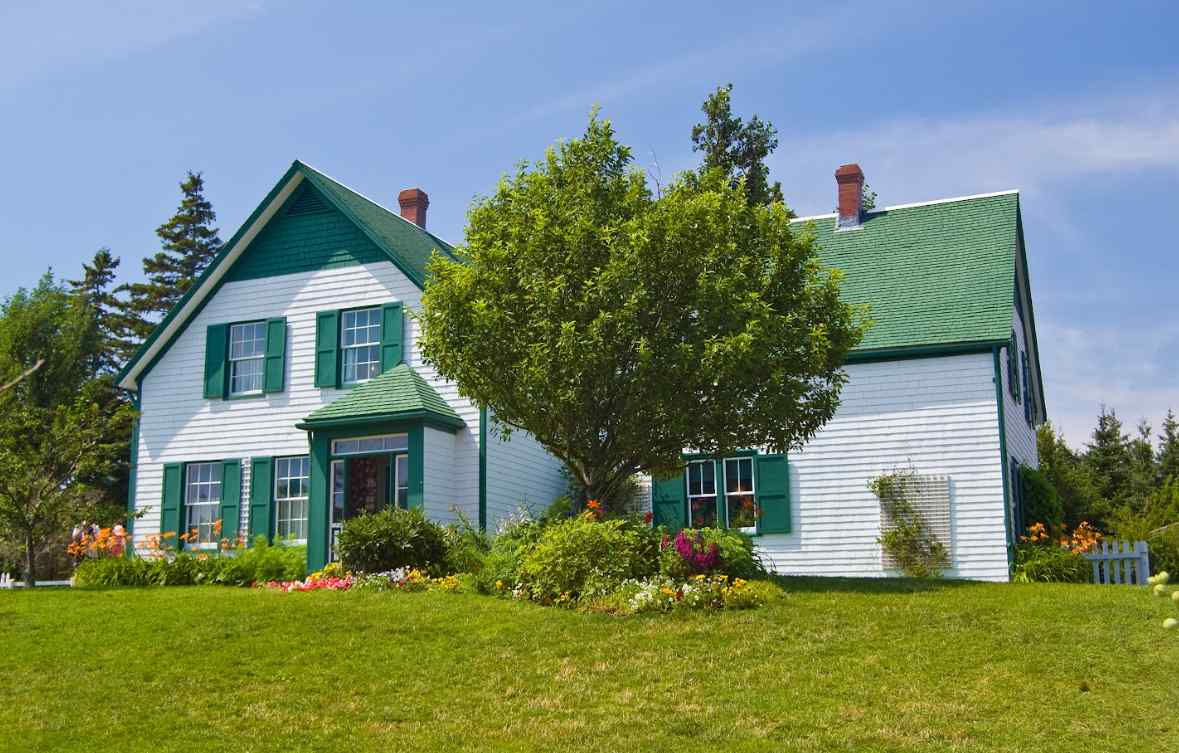 Anne of Green Gables House, PEI
Visit Farmers' Markets:
Explore the island's farmers' markets, like the Charlottetown Farmers' Market, to sample fresh produce, local crafts, and homemade goods.
Take a Scenic Drive: Embark on a picturesque drive along the North Cape Coastal Drive or the Central Coastal Drive or Points East Coastal Drive. The scenic vistas, rolling hills, and charming villages make for an unforgettable road trip. Alternatively, you can take a drive through downtown Charlottetown and treat yourself with a mix of historic architecture, scenic waterfront views, and vibrant cultural attractions.
Explore Provincial Parks:
Spend a day at one of PEI's provincial parks, like Brudenell River Provincial Park or Basin Head Provincial Park, where you can enjoy picnicking, hiking, and beachcombing.
Savor Culinary Delights:
PEI is renowned for its seafood. Enjoy lobster, mussels, and other local delicacies at restaurants like New Glasgow Lobster Suppers and Blue Mussel Café.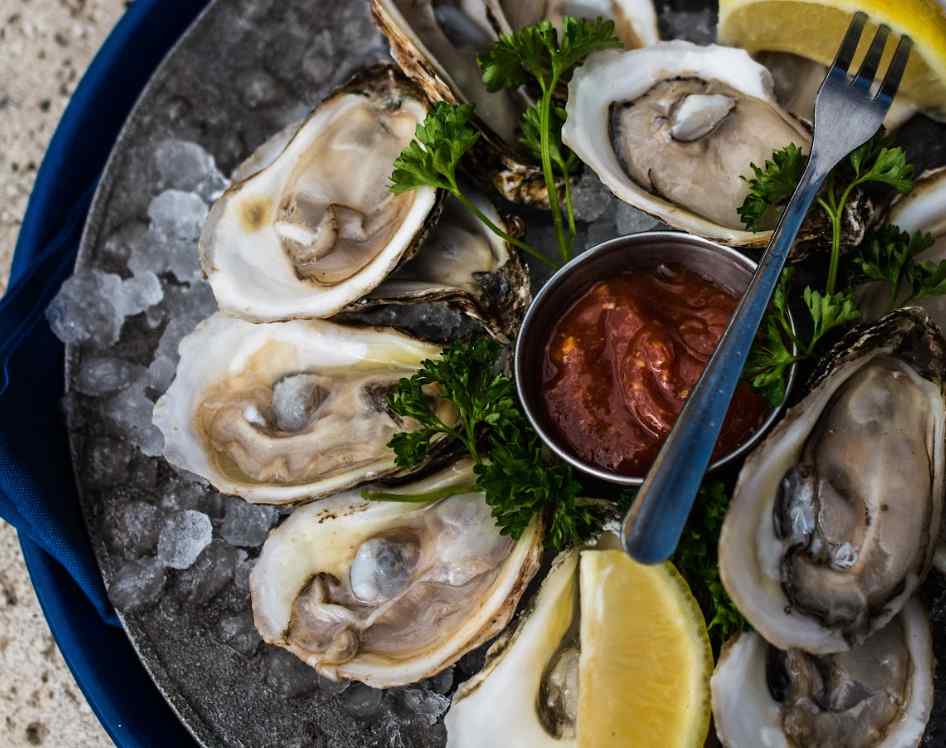 Attend the PEI International Shellfish Festival:
If you're a fan of fresh seafood, plan your visit around the PEI International Shellfish Festival. Enjoy live music, cooking demonstrations, and of course, delicious shellfish dishes.
Discover Charlottetown's History:
Explore the capital city, Charlottetown, and its rich history. Visit the Confederation Centre of the Arts and stroll through Victoria Row for a dose of culture and shopping.
Go Whale Watching:
September is an excellent time for whale watching. Board a tour and witness majestic whales breaching the waters, including humpbacks and minkes.
Visit the Bottle Houses:
Discover the unique Bottle Houses, three buildings constructed entirely from recycled bottles. It's an eco-friendly architectural wonder.
Go Foodie with Our Charlottetown Food Walking Tour
Try Cow's Ice Cream:
Indulge your sweet tooth with a visit to Cow's Ice Cream, known for its delectable flavors.
Visit PEI Lighthouse:
PEI is dotted with charming lighthouses. Climb to the top for breathtaking views of the coastline.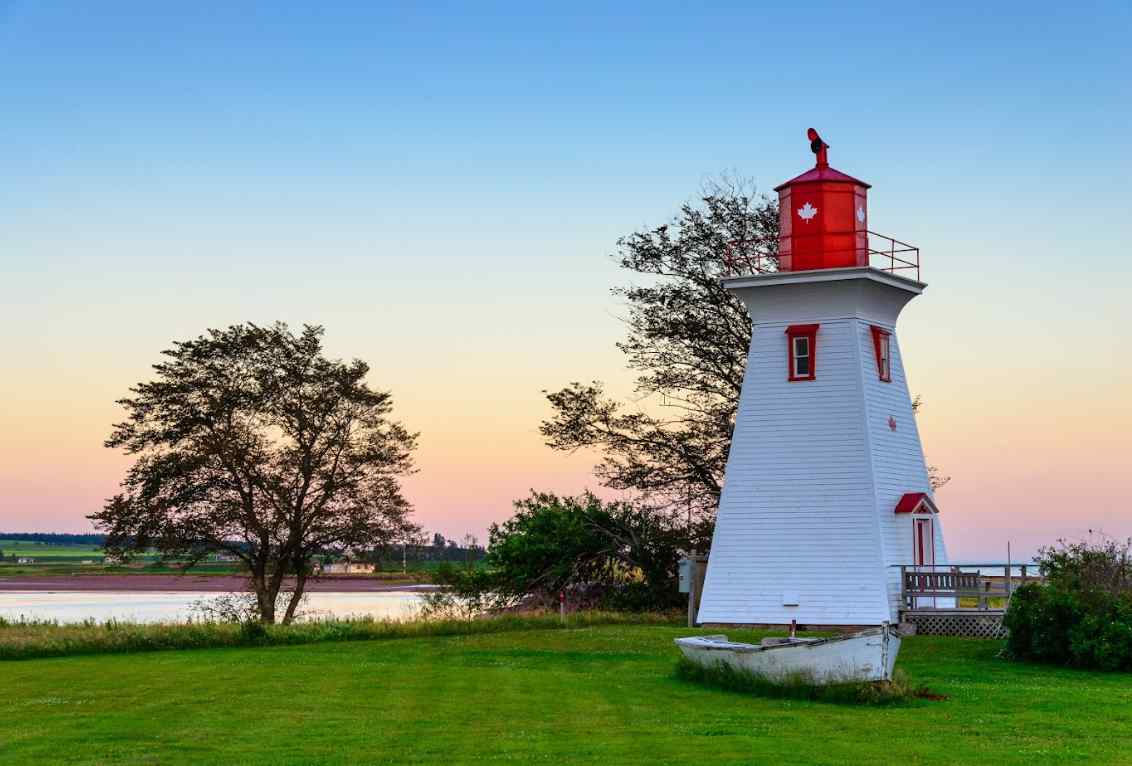 PEI Lighthouse
Explore Orwell Corner Historic Village:
Step back in time at Orwell Corner Historic Village, where you can experience life in the 19th century.
Attend Fall Flavors Festival:
Indulge in unique food experiences at this festival that celebrates the island's vibrant food culture. You can enjoy meals prepared by celebrity chefs with ingredients sourced directly from island farms
. . . and the list continues! So, you see? Visiting PEI in September offers a unique blend of natural beauty, cultural experiences, and outdoor adventures. The mild weather, fewer crowds, and vibrant fall foliage create the perfect backdrop for an unforgettable island getaway.
Whether you're a nature enthusiast, a foodie, or a history buff, PEI has something special to offer you. Embrace the vibrant colors of fall, savor local flavors, and immerse yourself in the island's rich culture. Plan your trip now and discover the magic of PEI in September. Not sure where to start? Explore these top PEI guided tours and book your favorite one now!