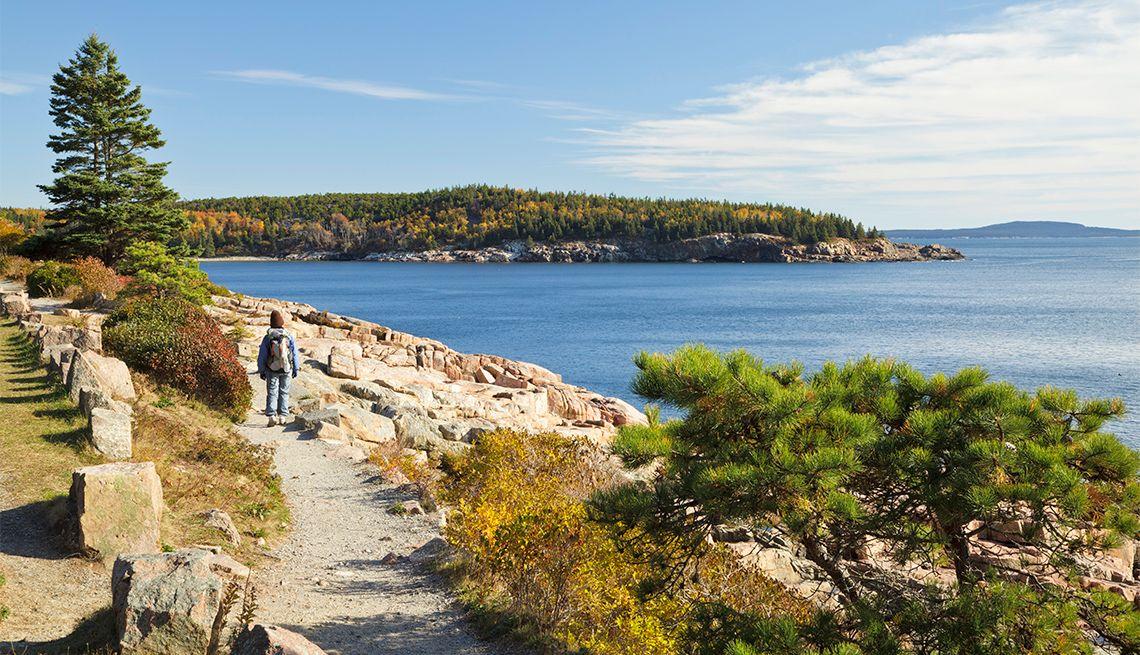 How to Get to Acadia National Park, Bar Harbor: Your Ultimate Guide
Table of Contents

Acadia National Park, situated on the picturesque Mount Desert Island on the East Coast, is a nature lover's paradise. This stunning national park boasts a rugged coastline, sand beach, pristine lakes, and lush forests, making it a must-visit destination for anyone seeking outdoor adventures. In this guide, we'll take you through the best ways to get to Acadia National Park, whether you need a car, if public transportation is available, and what to expect during your visit!
Explore the Very Best of Bar Harbor with Acadia National Park & Thunder Hole!
How do people get to Acadia National Park?
Getting to Acadia National Park is relatively straightforward. The closest town to the park is Bar Harbor, known for its scenic beauty, vibrant downtown, and proximity to Acadia. When you arrive at Bar Harbor, you're just a stone's throw away from this natural wonder.
Do you need a car to get to Acadia National Park?
While having a car provides convenience, it's not an absolute necessity to explore Acadia National Park. Thanks to the free Island Explorer Shuttle Bus, which operates from late June to early October, you can navigate the park and its surrounding areas without the need for your vehicle. This eco-friendly option is not only practical but also helps reduce the environmental impact on the park.
Is there public transportation to Acadia National Park?
Absolutely! The Island Explorer Shuttle Bus system is a fantastic way to experience Acadia National Park without a car. It runs on several routes around the mainland, Mount Desert Island, and the Schoodic Peninsula. With this public transportation system, you can access the park's major attractions conveniently.
How to get to Acadia National Park from Bar Harbor cruise port?
If you arrive at the Bar Harbor cruise port and want to explore Acadia National Park, you're in luck. You can take the Island Explorer Bus, which has designated stops for cruise ship visitors. Just a short walk from the pier, you'll find the National Park Visitor Center, where you can pick up the bus schedule. Different buses take you to various places in the park, and the park ranger will explain the options at the visitor center. You can tailor your visit to fit your schedule, whether you have just a few hours or an entire day to explore.
How far is Bar Harbor from the entrance to Acadia National Park?
Bar Harbor and Acadia National Park are close neighbors, separated by just 1.3 miles. While the distance may not be significant, the winding roads and traffic in the area can slow down your journey, so it's a good idea to allow extra time for your travels.
Is Acadia National Park worth visiting?
Acadia National Park is more than worth the visit; it's a gem of the East Coast. With its diverse landscapes, including rugged coastlines, serene lakes, and lush forests, it offers a wide range of outdoor activities and natural beauty. Whether you're an avid hiker, a nature enthusiast, or just someone looking to relax in a stunning environment, Acadia has something for everyone! 
If you want to plan your journey, keep in mind that the best times to visit Acadia National Park are during late spring to early fall, when the weather is the most pleasant for outdoor activities! When you tour Acadia National Park, don't forget to catch the most scenic sunset you'll ever see by climbing on top of Cadillac Mountain.
Should I rent a car for Acadia National Park?
While it's not mandatory to rent a car for your Acadia National Park visit, having one can provide more flexibility in your explorations. If you choose to explore with a car, you'll have the freedom to venture beyond the shuttle bus routes and explore more remote areas of the park. Additionally, it can be more convenient for reaching certain trailheads and attractions. However, if you're looking for an environmentally friendly option and don't mind the limitations of the shuttle bus system, you can certainly experience the park without a car.
What is the best way to tour Acadia National Park?
The best way to tour Acadia National Park largely depends on your preferences. You can explore it with a car, take the Island Explorer Shuttle Bus, or even rent a bicycle. Hiking in Acadia National Park is a popular activity with a multitude of trails catering to various skill levels. If you're up for this adventure, make sure to refuel your energy by stopping for a meal in a nearby diner! Jordan Pond House Restaurant on 2928 Park Loop Road is a great option as it offers a beautiful view of the pond and hills. If you want a guided experience, consider booking a tour with reputable companies like "See Sight Tours."
Explore the Ultra Small Group Bar Harbor Tour Options!
Are there any tour options for Acadia National Park?
Indeed, there are several tour options available to make your Acadia experience even more memorable. One highly recommended tour is the "Best of Bar Harbor w/ Thunder Hole and Acadia National Park" by See Sight Tours. This 4-hour adventure allows you to explore iconic attractions such as Sieur de Monts Spring, Thunder Hole, and Otter Cliff. The tour includes photo stops, an intimate small-group setting with a 7-guest limit, and even a delicious lobster roll or lobster pop-over meal. It's an excellent way to ensure you don't miss the highlights of Acadia National Park.
What is the closest major city to Acadia National Park?
If you're planning a trip to Acadia National Park, you'll find Bar Harbor to be the closest town with all the amenities you need. Bar Harbor is situated on Mount Desert Island, the same island where you'll find the primary section of Acadia National Park. This charming seaside town offers a wide range of services, including shops, restaurants, and accommodations. It's the perfect gateway to the park.
What airport do I fly into for Acadia National Park?
If you're arriving by air, the closest airport to Acadia National Park is the Hancock County-Bar Harbor Airport, located approximately 8 miles away. This regional airport provides a convenient option for those traveling to the park. However, if you prefer larger international airports, consider flying into Boston Logan Airport, Portland International Airport, or Bangor International Airport. Each of these airports offers various options for reaching Acadia National Park including bus services and car rentals.
Conclusion:
Acadia National Park and Bar Harbor provide an unforgettable destination for nature enthusiasts, hikers, and travelers seeking an escape to the East Coast's pristine landscapes. Whether you choose to visit with a car, rely on the Island Explorer Shuttle Bus, or opt for a guided tour, you're guaranteed to be captivated by the park's natural beauty and the charm of Bar Harbor. Make the most of your visit by exploring the many hiking trails, scenic drives, and iconic sites within the park, all while respecting the environment and minimizing your carbon footprint. Acadia National Park is a testament to the beauty of nature and the importance of preserving it for generations to come.