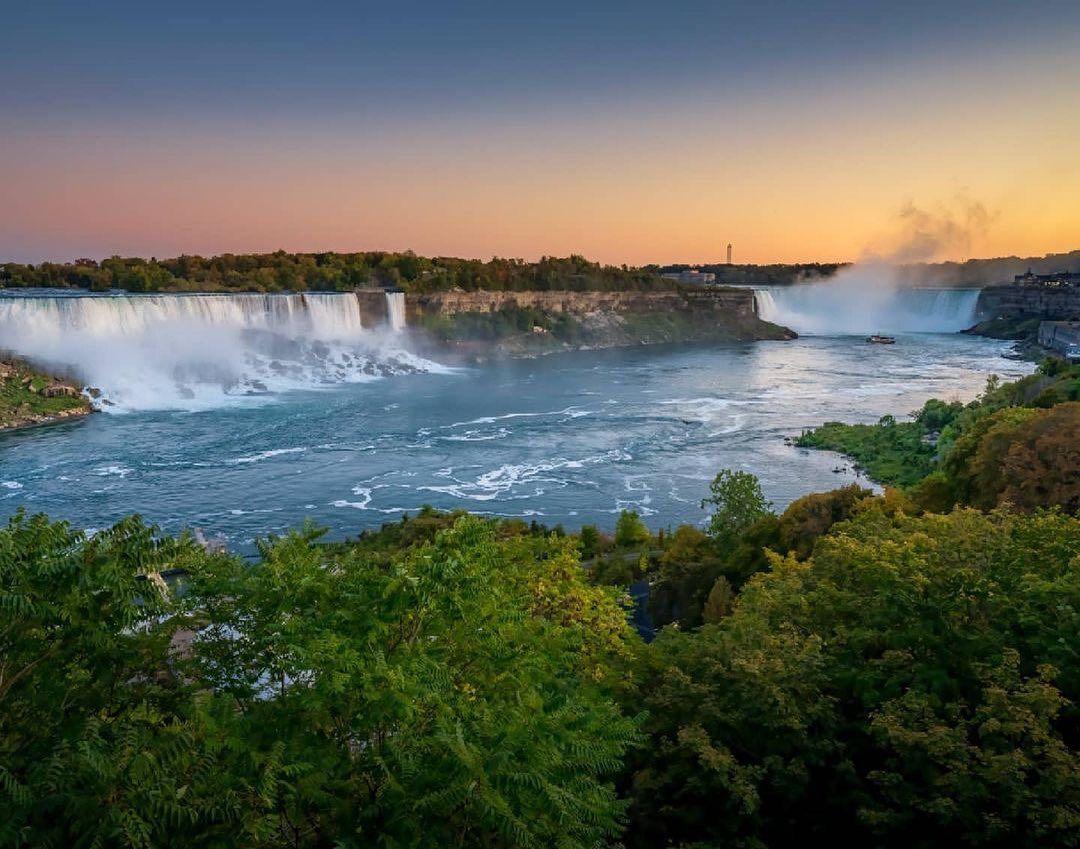 Visiting Niagara Falls in July
Table of Contents

Ahoy there, summer lovers! The season of sunshine, beach balls, and iced tea is upon us, and there's no better place to revel in it than Niagara Falls! This iconic natural wonder is way more than just a childhood memory or a budget-friendly honeymoon spot. Did you know that the falls are made up of three separate cascades, straddling two cities and two countries, and collectively gushing out over 757,000 gallons of water per second? Now that's what I call impressive! But there's more to Niagara Falls than just the waterfalls themselves. With water parks, light & sound shows, botanical gardens, wax museums, greenhouses, an observation tower, and even a 17th-century citadel, there's something for everyone to enjoy. So gather 'round, my fellow adventurers if you're ready to hear the top reasons why Niagara Falls in July is the place to be!
See the Both Sides of the Falls for a Special Price!
July is the Perfect Time to Visit Niagara Falls!
If you're planning on visiting Niagara Falls in July, get ready to turn up the heat! This month is like a hot tamale, with average temperatures hovering around a sizzling 81 degrees. But don't sweat it, because this balmy weather is perfect for all kinds of outdoor adventures. Whether you want to get up close and personal with the mighty falls or paddle your way through the Niagara River rapids, July is the time to do it. So grab your sunscreen, strap on your sandals, and get ready for a summer vacation you won't soon forget!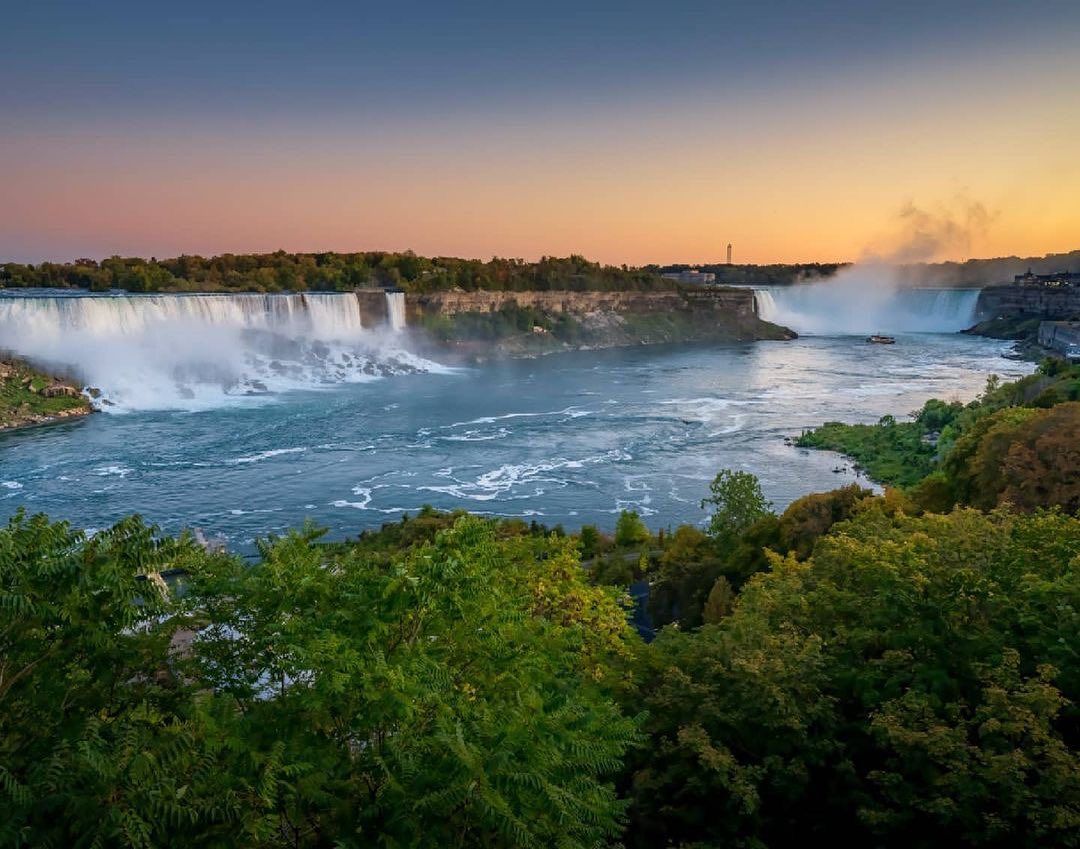 (Photo via @photozulu / Instagram)
All Hotspots are Buzzing with Action!
You know what they say, folks - summer and Niagara Falls go together like peanut butter and jelly, so if you haven't yet made the pilgrimage to this natural wonderland during the sunny season, you're seriously missing out! Starting in late May, the whole town is buzzing with excitement as all the attractions throw their doors wide open for business. From June through August, Niagara Falls is the place to be if you're looking to indulge in some good old-fashioned family road-tripping. There's a whole smorgasbord of outdoor activities on offer, like riding the Maid of the Mist boat tours or exploring the Cave of the Winds. So what are you waiting for? Round up your squad, pack your bags, and hit the road to Niagara Falls for the ultimate summer adventure - trust us, you won't regret it!
Fly High Above Niagara in July!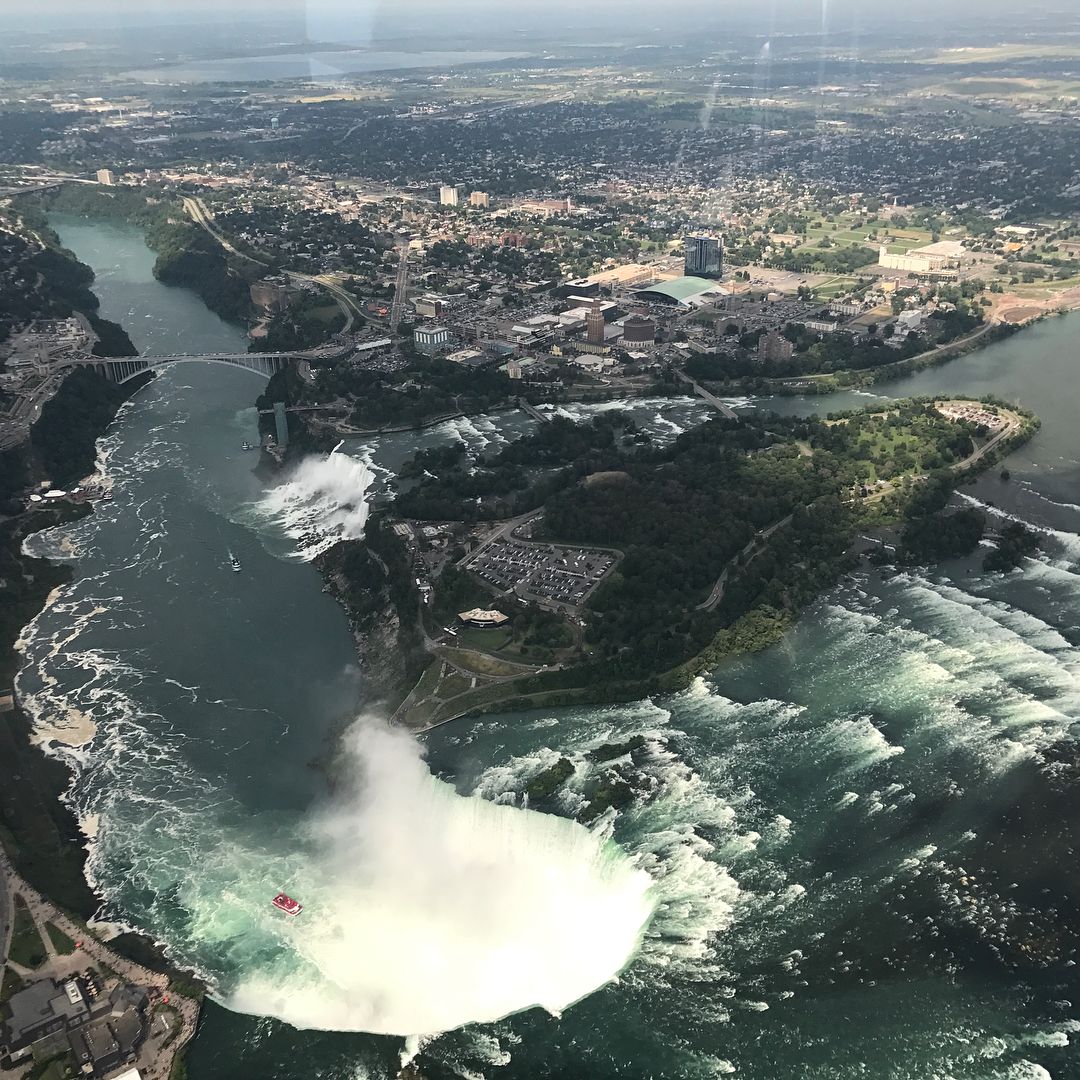 (Photo via @violet_k_kim / Instagram)
Think you've seen everything there is to see at Niagara Falls? Think again! The only way to experience the full grandeur of this magnificent natural wonder is by taking a Niagara Helicopter ride. Take your adventure to new heights as you fly high above the Falls, feeling the cool mist on your face and witnessing the awe-inspiring beauty of the Falls from a whole new perspective. It's an experience you'll never forget, and one that will leave you breathless and amazed. And if you're looking for the perfect time to take this thrilling ride, look no further than July. With clear skies and perfect weather, it's the ideal time to get misty and marvel at the Falls like never before. So what are you waiting for? Book your helicopter tour now and prepare to have your mind blown!
Fly High & Get Misty Above Niagara!
July is the Ultimate Time to Sip and Savor in Niagara Falls!
Wine lovers, rejoice! If you're planning a trip to Niagara Falls, then the month of July is the perfect time to indulge in some world-class wine tasting. With warm weather and lush vineyards in full bloom, you'll have the opportunity to sample some of the region's finest vintages and soak up the stunning scenery at the same time. While the area is a popular destination year-round, when it comes to winemaking, the months from May to October offer the ideal conditions for producing high-quality wines, thanks to the warm weather, ample sunshine, and just the right amount of moisture. So why not check out some of the most acclaimed wineries in the area, like Peller Estates Winery, Black Willow Winery, Konzelmann Estate Winery, and Trius Winery, and experience the unparalleled taste of Niagara Falls wines in all their glory? Cheers to that!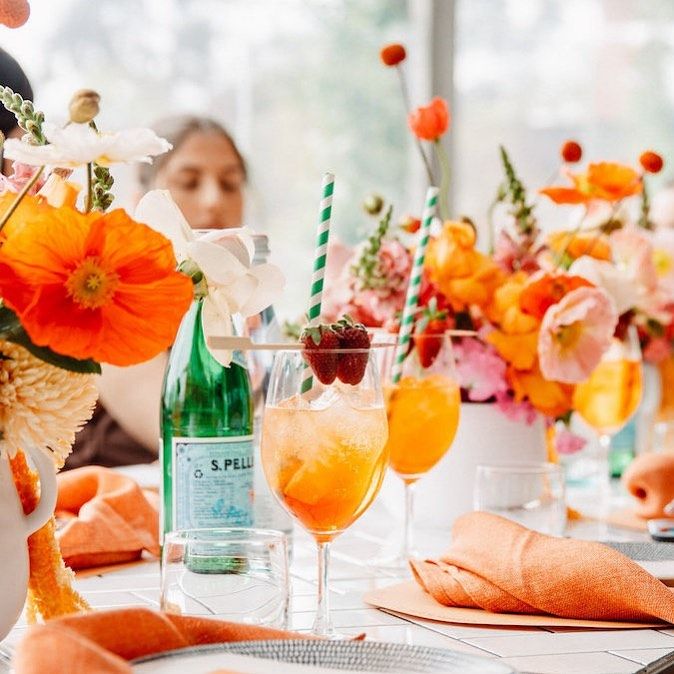 (Photo via @konzelmannwines / Instagram)
Speaking of wine, the vast majority of Canada's ice wine is lovingly sourced by wineries nestled in the quaint town of Niagara-on-the-Lake. Therefore, when you find yourself exploring the mesmerizing Niagara Falls, do make a point to pay a visit to this enchanting spot in Ontario and indulge in some small-town charm!
July is the Perfect Time to Get Misty and Wild!
When it comes to summertime fun in Niagara Falls, there's no shortage of thrilling aquatic escapades and boat tours to choose from. And with July offering some of the warmest weather of the year, there's no better time to get out and explore! So why not take the plunge and join the excitement with a Maid of the Mist tour? This iconic boat tour departs daily from Niagara Falls State Park on the American side of Niagara Falls, taking you up close and personal with the falls and offering stunning views of nearby hotspots like Niagara Falls State Park (the oldest state park in the United States), American Observation Tower, Goat Island, and the Cave of the Winds.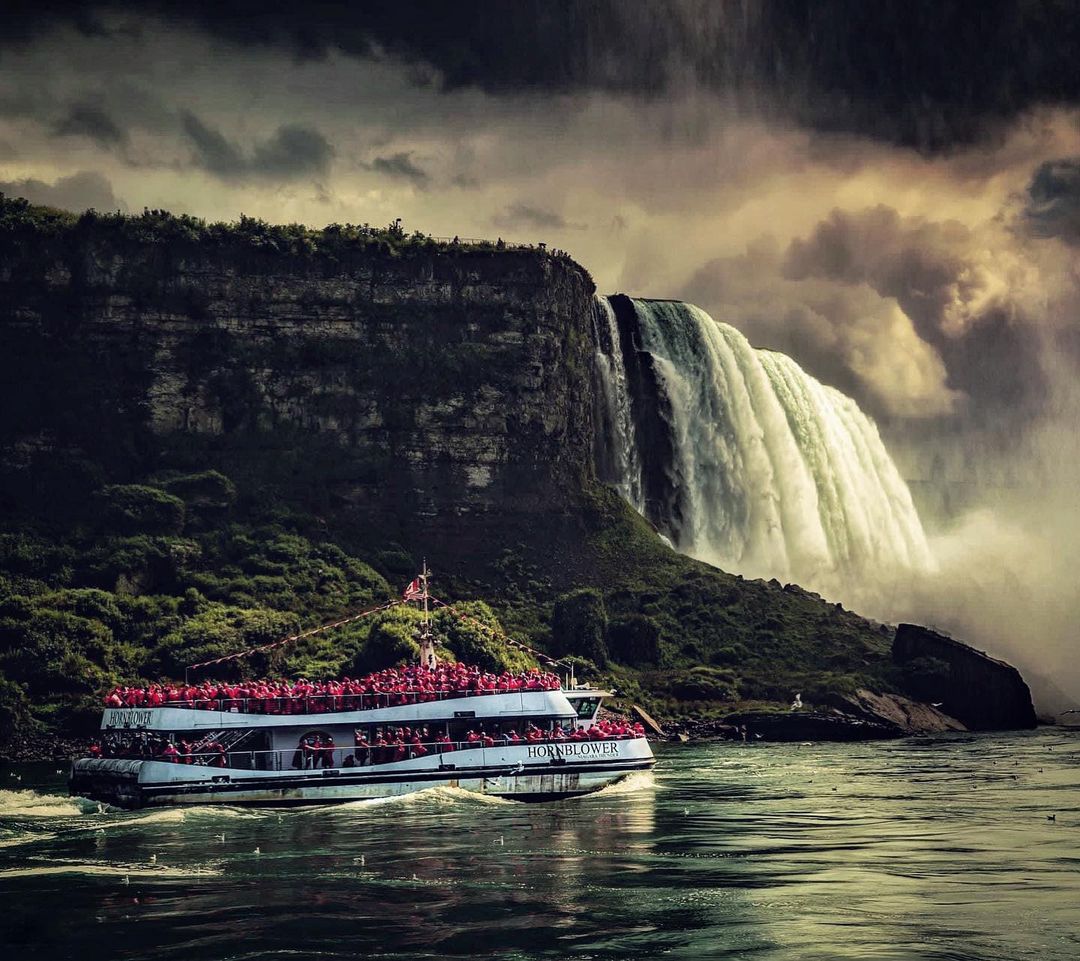 (Photo via @photos_by_jserio / Instagram)
But the excitement doesn't stop there! For a truly wild and immersive experience, why not hop aboard Canada's top visitor attraction with a Voyage to the Falls boat tour? This 20-minute journey sets sail from the Canadian side of the Niagara region and takes you on an adrenaline-pumping adventure through the Niagara Gorge, past the American Falls and Bridal Veil Falls, and right up close to the famous Canadian Horseshoe Falls. Get ready to have your mind blown as you experience the sheer force and misty magic of these natural wonders, with the bonus of an enchanting after-dark ride illuminated by the dazzling lights of the Falls.
Hop Aboard a Thrilling Niagara Falls USA Boat Tour!
Feast with a View at Skylon Tower!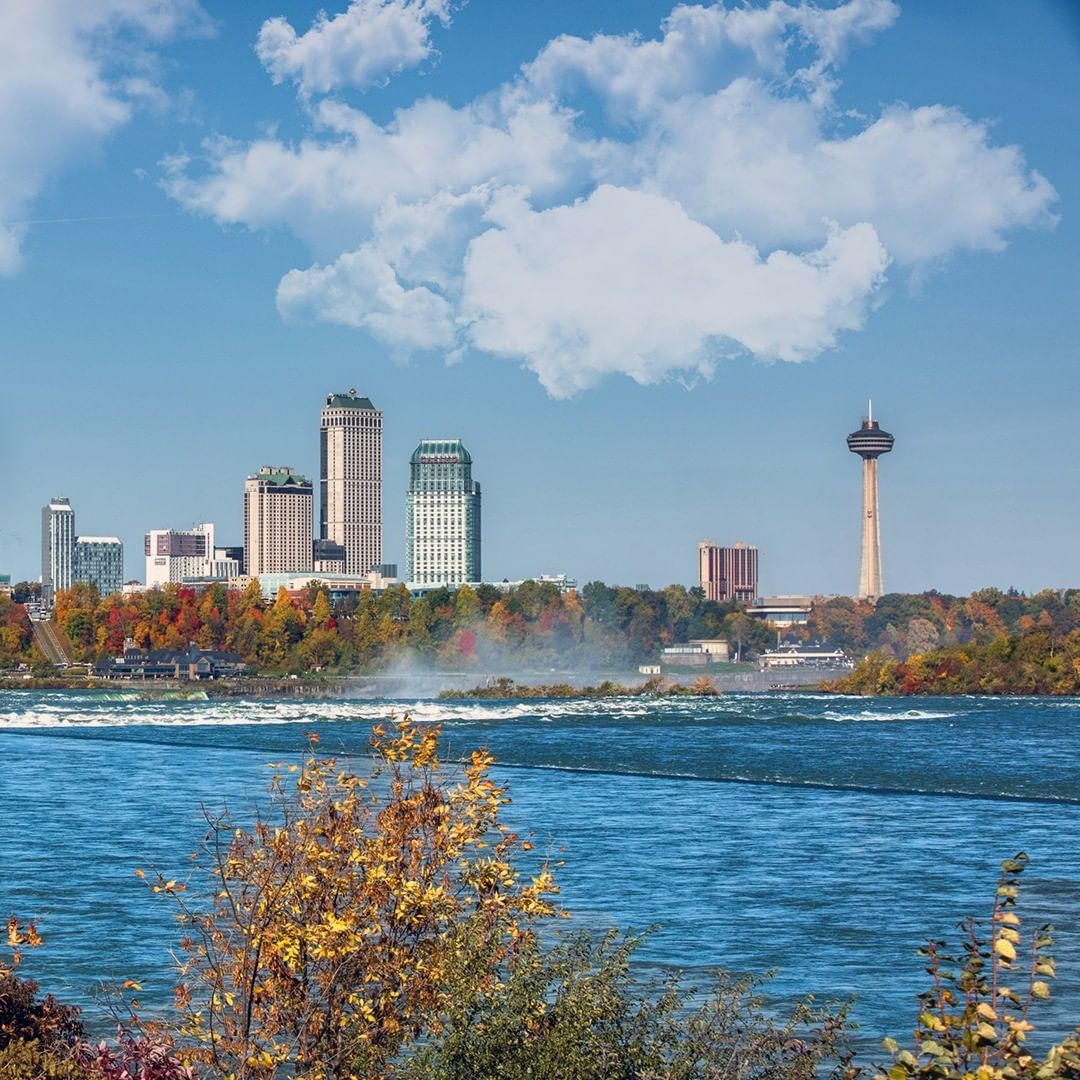 (Photo via @skylon_tower / Instagram)
Experience fine dining with a twist, quite literally, at the Skylon Tower's revolving restaurant. Located on the Canadian side of Niagara Falls, this tower offers you a stunning 360° panoramic cityscape. And what better way to enjoy this view than while savoring a sumptuous meal? At this tower, you'll be able to soak in the glorious views from both indoor and outdoor observation decks, while enjoying the "illumination of the Falls" and seasonal fireworks in the evenings. To add a little extra spice to your tour, indulge in a romantic dinner or a family feast at the revolving restaurant!
Dine with a View at Skylon Tower!
Niagara Falls in July is a Photographic Paradise!
Listen up, fellow adventurers, because let me tell you, July is the bee's knees when it comes to experiencing the sheer awesomeness of Niagara Falls - the weather is crystal clear and perfect for sightseeing and snap-happy shutterbugs! The sun is shining, the birds are chirping, and the falls are roaring with all their might. This is the perfect time to plan your visit to Niagara Falls if you're a fan of clear weather, stunning views, and jaw-dropping photo ops. Whether you're planning a romantic getaway or a family vacation, the summertime is the best time to take in all the natural beauty and wonder of this incredible destination. So dust off your camera, charge up your phone, and get ready to capture the moments of a lifetime - because once you arrive at Niagara Falls in the summer, you'll be snapping Insta-worthy shots left, right, and center!
Take Flight in the Whirlpool Aero Car in July!
Get ready to soar high above the Niagara River and experience the thrill of a lifetime aboard the Whirlpool Aero Car, an antique cable car that takes you on a scenic ride over the Niagara Whirlpool and Class 6 whitewater rapids, across the United States-Canadian border. With the weather clear and sunny in July, it's the perfect time to enjoy stunning views of the river and its natural surroundings from a unique perspective, suspended more than 200 feet above the Niagara River. Don't worry if you're not a morning person, the Whirlpool Aero Car is open from April to November, so you can catch a ride at any time of the day. Just be sure to arrive early or in the late afternoon to avoid long lines. And with convenient transportation options like the WEGO bus, getting there has never been easier. Get ready to take flight on this one-of-a-kind adventure and make unforgettable memories at Niagara Falls!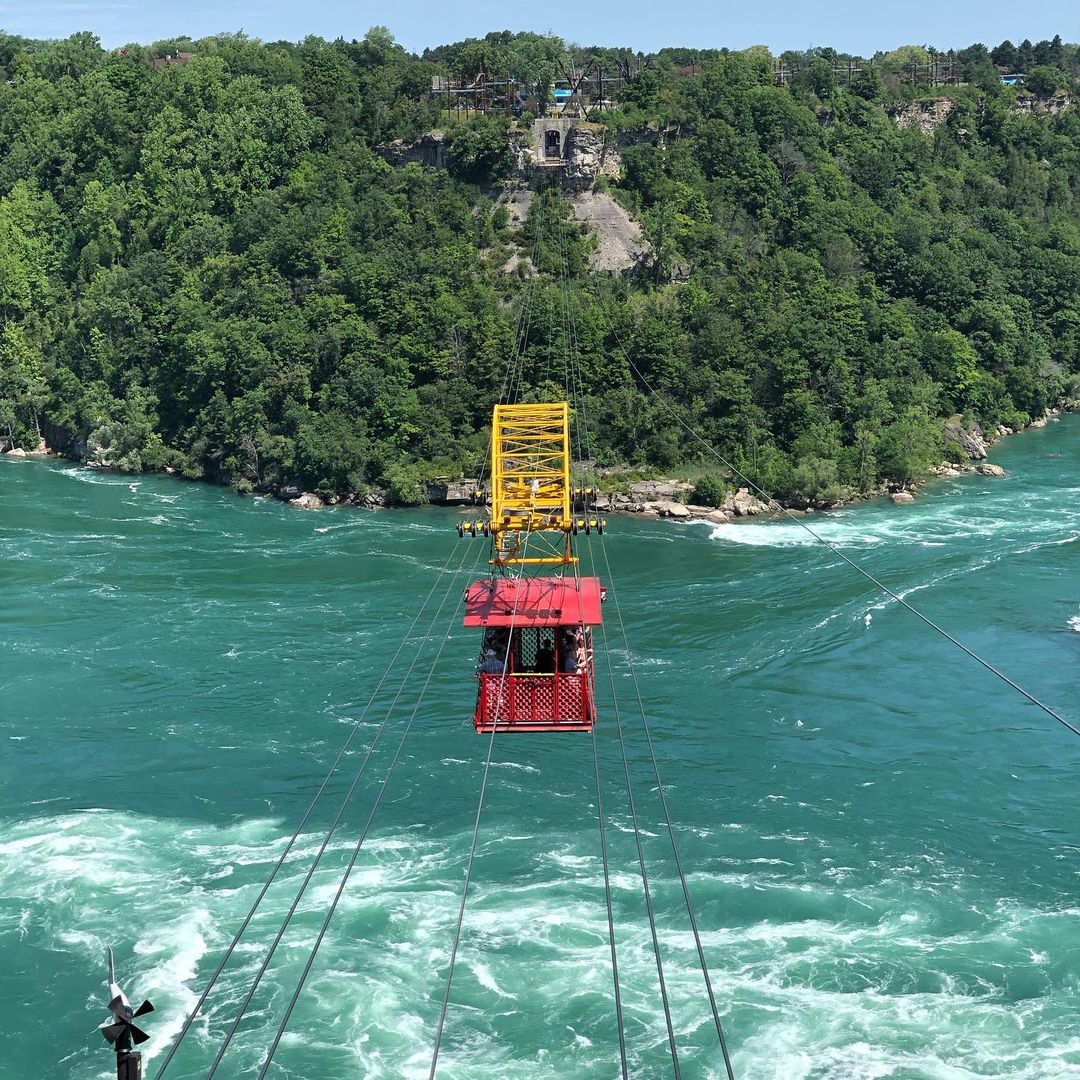 (Photo via @ellen0811 / Instagram)
Closing Thoughts
Whether you're planning a romantic escape or a fun-filled family vacation, Niagara Falls in July is the perfect destination for a summer adventure. With so much to see and do, you'll never run out of things to explore and discover. So why wait? Book your trip today and get ready to make memories that will last a lifetime. From the misty Falls to the colorful fireworks displays, there's something for everyone to enjoy. Don't miss out on the ultimate summer experience - come to Niagara Falls in July and let the adventure begin!