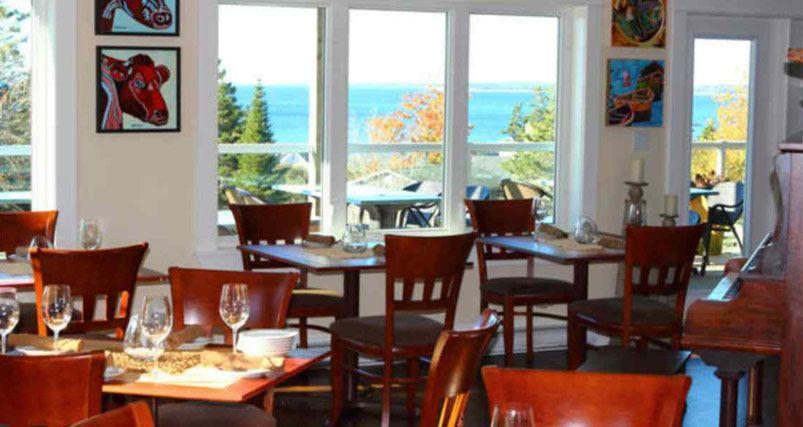 How to Spend One Day in Halifax, Nova Scotia
Keep Exploring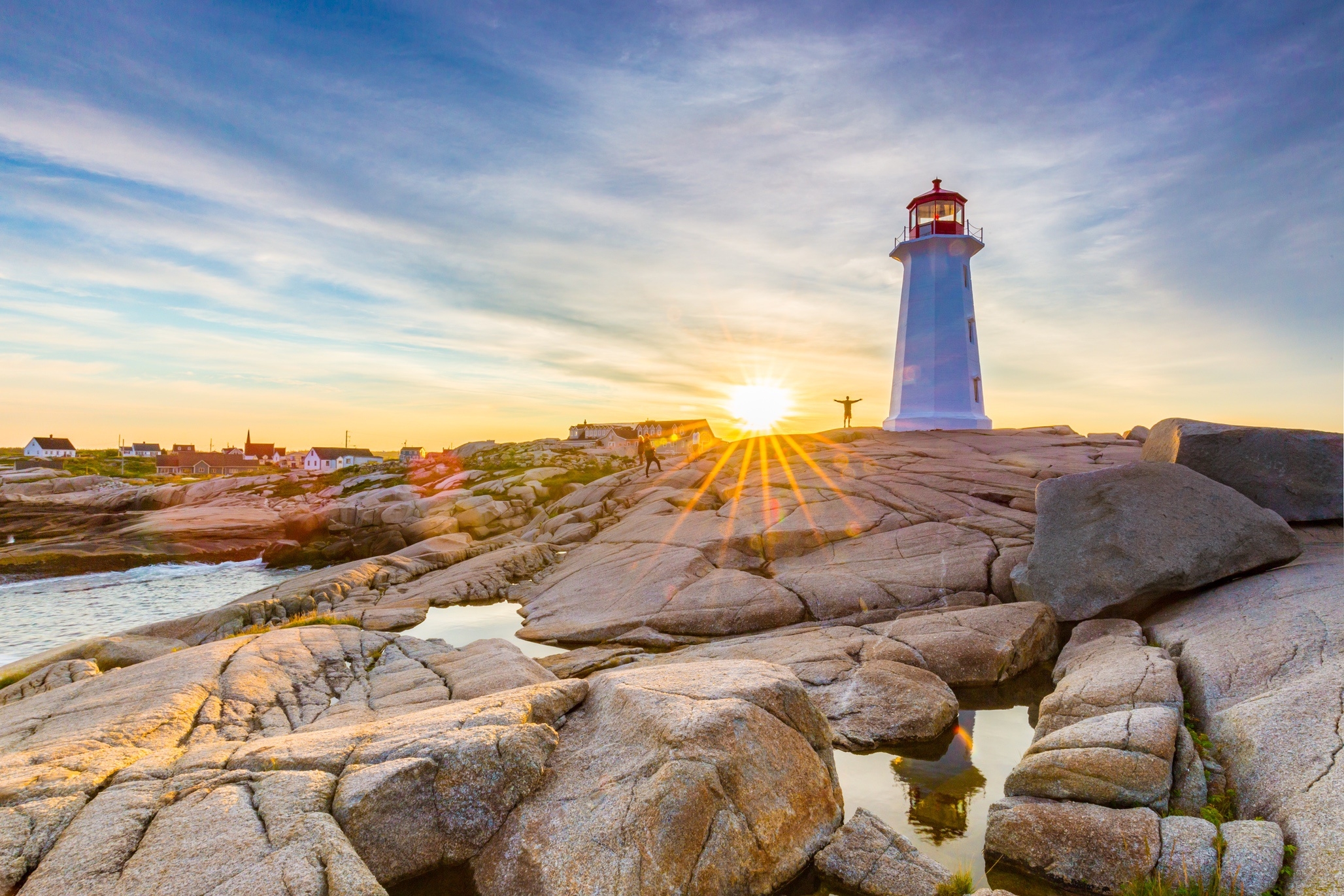 Peggy's Cove Sunset Tour from Halifax
$69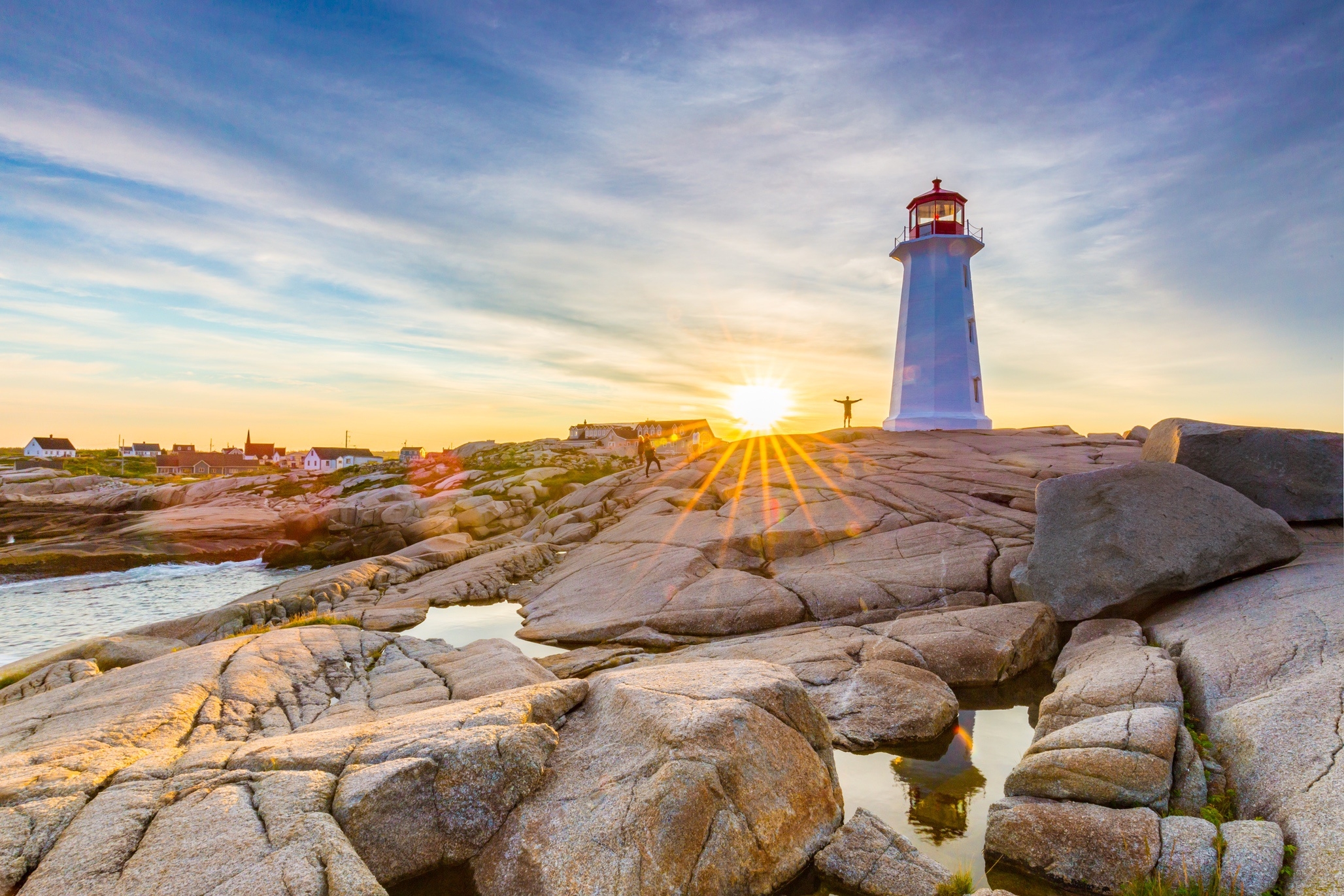 Peggy's Cove Sunset Tour from Halifax
$69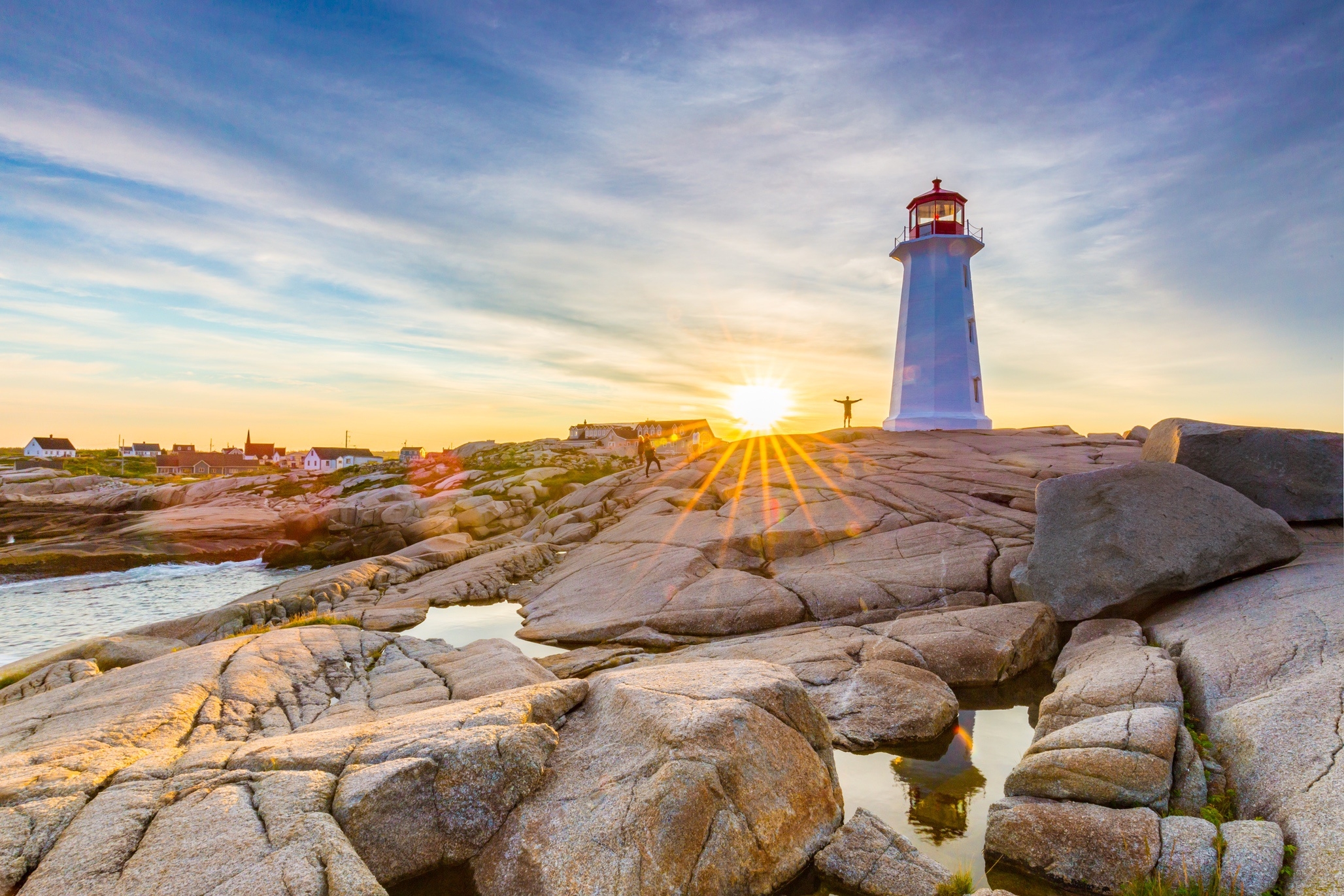 Peggy's Cove Sunset Tour from Halifax
$69
Table of Contents

Nestled on the rugged eastern coastline of Canada, Halifax, Nova Scotia, is a city that seamlessly blends history, culture, and natural beauty into a captivating tapestry. Imagine a place where cobblestone streets wind through centuries-old neighborhoods, where the salty sea breeze mingles with the aromas of fresh seafood, and where each step you take carries you deeper into a rich maritime heritage.
Welcome to Halifax, Nova Scotia! Whether you're a history enthusiast, a food lover, or simply seeking an escape to the sea, Halifax promises an adventure that will leave you yearning for more. A one-day visit is always better than no visit at all, isn't it? So! If you find yourself with just one day to explore this beautiful city, fear not, for there is plenty to see and do. Here's everything you need to know about how to spend one day in Halifax, Nova Scotia! Happy Reading! 
Where is Halifax located?
Halifax is located in the province of Nova Scotia, which is situated on the eastern coast of Canada. It is the capital and largest city of Nova Scotia and is known for its scenic coastal location along the Atlantic Ocean.
Halifax Unveiled: Discover the City's Hidden Treasures with Us!
What is Halifax, Nova Scotia known for?
Halifax is renowned for its captivating blend of maritime heritage and natural beauty. Situated on Canada's eastern coast, it holds a significant place in maritime history, serving as a key naval base during pivotal moments in the nation's past. Halifax is most notably remembered for the tragic Halifax Explosion of 1917, an event that profoundly shaped the city's history and reconstruction. Its maritime legacy continues to be celebrated through museums, historic sites, and a bustling waterfront, where visitors can immerse themselves in the city's seafaring past.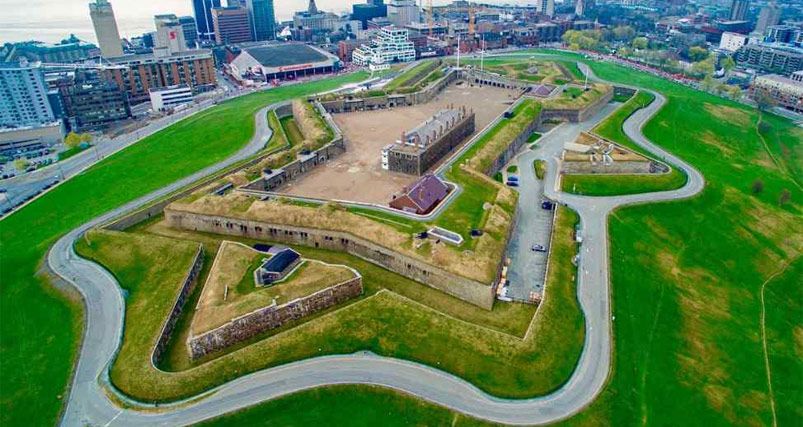 Beyond its maritime history, Halifax is celebrated for its stunning coastal landscapes and picturesque harbors. Peggy's Cove, a nearby fishing village, stands out as an iconic destination with its iconic lighthouse perched on rugged granite rocks. The city's natural beauty extends to its lush parks, hiking trails, and opportunities for outdoor adventures, making it a haven for nature enthusiasts and photographers. Halifax's rich cultural scene, warm community spirit, and delicious seafood cuisine add to its allure, making it a destination that appeals to a diverse range of interests and tastes.
Is it worth visiting Halifax?
Absolutely, visiting Halifax is unquestionably worth it! This vibrant Canadian city effortlessly combines a rich maritime heritage with modern cultural attractions, making it a captivating destination for all types of travelers. Explore historic sites like the Halifax Citadel, indulge in delectable seafood on the waterfront, and immerse yourself in the welcoming atmosphere of this coastal gem. 
Is one day enough in Halifax?
While one day in Halifax can provide a delightful taste of this charming Canadian city, it may leave you wanting more. Halifax offers a rich blend of maritime history, cultural attractions, and stunning natural landscapes, all of which deserve time for exploration. To make the most of your one-day trip, you must know your preferences.If you're a history buff, you'll want to delve into the city's maritime heritage and visit its museums and historic sites. Nature enthusiasts will find the coastal beauty and nearby destinations like Peggy's Cove to be captivating. Plus, the local cuisine, including fresh seafood, is a culinary delight worth savoring. So, one day can be enough if you know preferred experiences that you'd like to have here! 
Flavors of Halifax: Your Gastronomic Exploration Starts Here
What is the best time of year for a day trip to Halifax?
The best time for a day trip to Halifax is typically during the summer months of June to August. During this period, Halifax experiences its most pleasant weather, with temperatures ranging from 15°C to 25°C (59°F to 77°F). This is the ideal time for outdoor exploration, as you can enjoy the beautiful waterfront, visit historic sites, and take part in various festivals and events that showcase the city's vibrant culture. 
While summer is the most popular time to visit, fall (September to November) is an excellent alternative if you prefer cooler weather and the stunning display of autumn foliage. Spring (March to May) can also be a good choice, offering milder temperatures and fewer crowds, making it easier to explore the city's indoor attractions. Ultimately, the best time for your day trip to Halifax depends on your personal preferences and the activities you'd like to enjoy.
Is Halifax a walkable city?
Yes, Halifax is a walkable city, particularly in its downtown core. With well-maintained sidewalks, a compact layout, and a wealth of attractions, shops, and restaurants within easy walking distance, visitors can easily explore the city on foot. The scenic waterfront boardwalk, historic sites, and cultural venues are all conveniently accessible by walking, allowing travelers to soak in the city's maritime charm and vibrant atmosphere at their own pace. However, for more extensive explorations beyond downtown Halifax, public transportation or other modes of transportation may be necessary.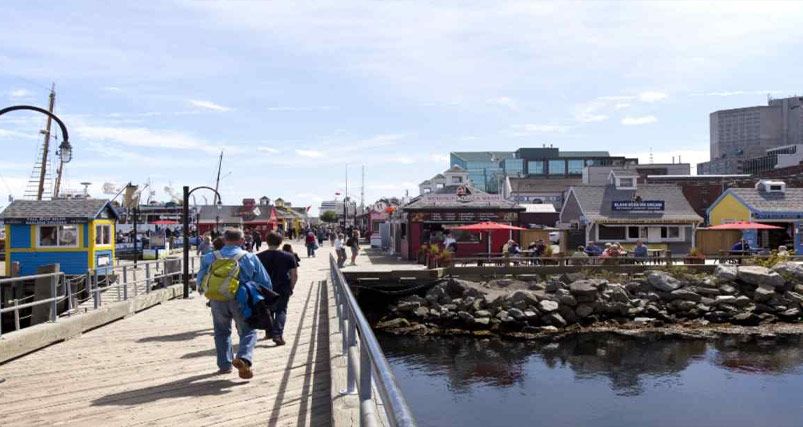 What is the best attraction to visit in Halifax in a day?
Selecting the best attraction to visit in Halifax for a day depends on your interests, but one must-see highlight is Peggy's Cove. Located just a short drive from the city, Peggy's Cove is a captivating fishing village known for its rugged coastal beauty and iconic lighthouse perched atop weathered granite rocks. As you explore the village, you'll be spellbound by the dramatic maritime scenery, where crashing waves meet picturesque fishing boats. The lighthouse itself is a symbol of maritime Canada, offering a stunning backdrop for photos and a serene place to absorb the tranquil ambiance. 
Can I visit Peggy's Cove in one day from Halifax?
Yes, you can visit Peggy's Cove in one day from Halifax. Peggy's Cove is located just about a 45-minute drive from downtown Halifax, making it a convenient day trip destination. You'll have enough time to explore the iconic Peggy's Point Lighthouse, admire the rugged coastal scenery, and perhaps enjoy a meal at a local seafood restaurant.
Are there guided tours available for a day trip in Halifax?
Yes, you can book a guided tour to Halifax. Whether you want to explore the city's historic sites, delve into its maritime history, sample its culinary delights, or embark on outdoor adventures, you'll find guided tours that suit your needs.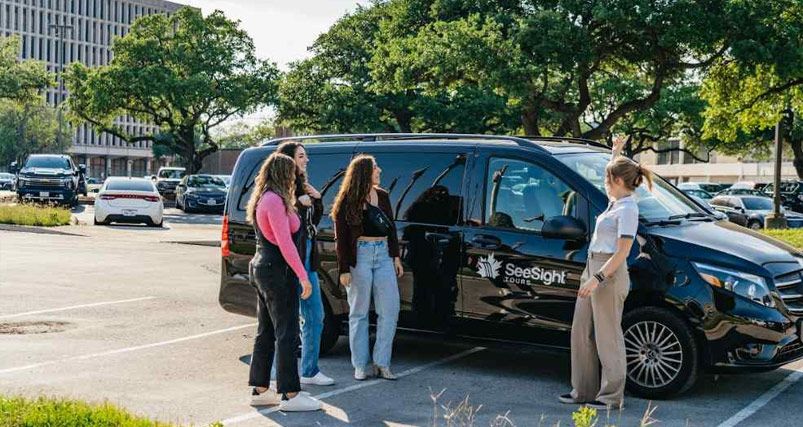 Is Halifax worth visiting in the winter?
Indeed, Halifax is well worth visiting in the winter. While it may not be the most obvious choice for a winter getaway, this Canadian city offers a unique and enchanting experience during the colder months. The snow-covered landscapes create a picturesque backdrop for exploring its historic sites, vibrant waterfront, and charming neighborhoods. Winter enthusiasts can partake in ice skating, snowshoeing, or simply enjoy the city's cozy atmosphere, with warm cafes and restaurants serving up delicious seasonal fare. Moreover, Halifax's holiday festivities, from twinkling light displays to festive markets, add a delightful touch to the city's maritime charm. Fewer crowds and a serene ambiance also make winter an excellent time to savor Halifax's unique appeal, offering an unforgettable winter escape.
Are day trips from Halifax in winter available?
Yes, day trips from Halifax in winter are readily available. These excursions offer a chance to explore nearby attractions, engage in winter activities, and enjoy the region's scenic beauty.
Discover Halifax's Best-Kept Secrets with Our Expert Guides
How to spend one day in Halifax?
Assuming that your one-day in Halifax starts with breakfast, here's your Halifax tourist attractions map . . .and if your visit begins at some other time, feel free to rearrange the list according to your timeline! 
MORNING DELIGHTS: BREAKFAST AND HISTORY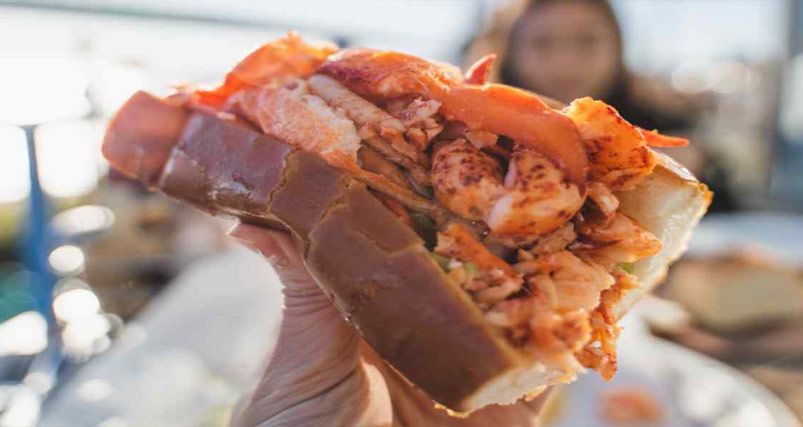 Start with a Hearty Breakfast at a Local Café
Your day in Halifax should begin with a delicious breakfast at one of the city's cozy cafes. We recommend trying a classic Maritime dish like fish cakes or a hearty serving of oatcakes with maple syrup. The friendly locals will make you feel right at home.
Visit the Historic Citadel Hill
After fueling up, head to the iconic Citadel Hill and visit the Citadel National Historic Site. This historic fort offers a glimpse into Halifax's military past. Explore the grounds, enjoy the panoramic views of the city and harbor, and catch the firing of the noon cannon. 
Halifax's Heritage Revealed: Citadel and Maritime Museum Walking Tour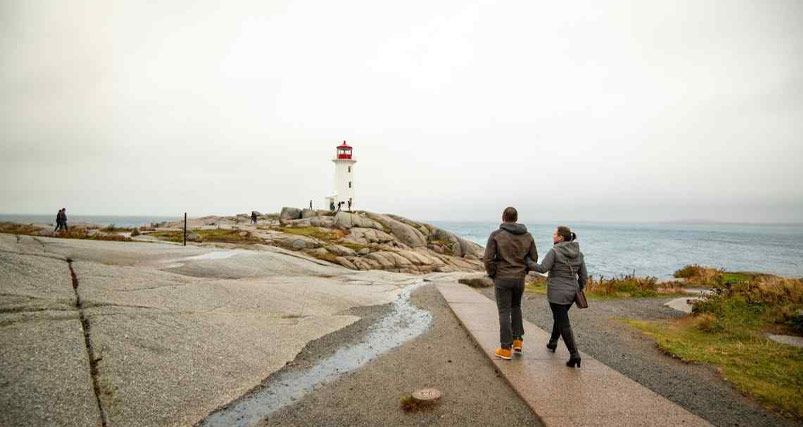 EXPLORING THE WATERFRONT: MID-MORNING
Stroll Along the Halifax Waterfront Boardwalk
Next, make your way down to the waterfront boardwalk. This bustling area is filled with shops, street performers, and stunning views of the harbor. Take a leisurely walk and soak in the maritime atmosphere.
Visit the Canadian Museum of Immigration at Pier 21
Delve into Canada's immigration history by visiting Pier 21. This museum offers a fascinating look at the immigrant experience in Canada, with interactive exhibits and touching personal stories.
LUNCHTIME TREATS: CULINARY EXPLORATION
Enjoy a Seafood Lunch at a Local Eatery
It wouldn't be a visit to Halifax without savoring some of the freshest seafood. Choose a waterfront restaurant and indulge in a lobster roll, fish and chips, or a bowl of creamy seafood chowder.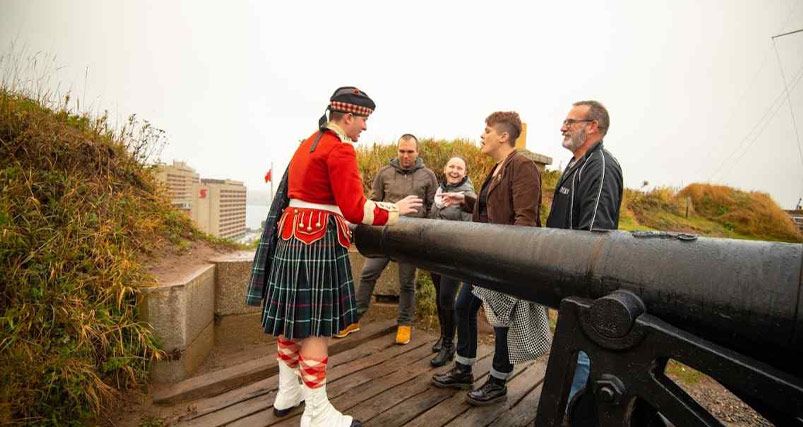 AFTERNOON ADVENTURES
Explore the Historic Properties
Take a step back in time as you wander through the Historic Properties. These beautifully preserved buildings house unique shops, galleries, and restaurants. Don't forget to pick up some locally crafted souvenirs.
Maritime Museum of the Atlantic
Discover Halifax's deep connection to the sea by visiting the Maritime Museum. It's home to fascinating exhibits on the Titanic, the Halifax Explosion, and the city's shipbuilding heritage.
Public Gardens
For a relaxing afternoon interlude, head to the Halifax Public Gardens. These Victorian-era gardens are a lush oasis in the heart of the city, perfect for a leisurely stroll or a peaceful moment by the duck pond.
EVENING DELIGHTS: DINNER AND SUNSET VIEWS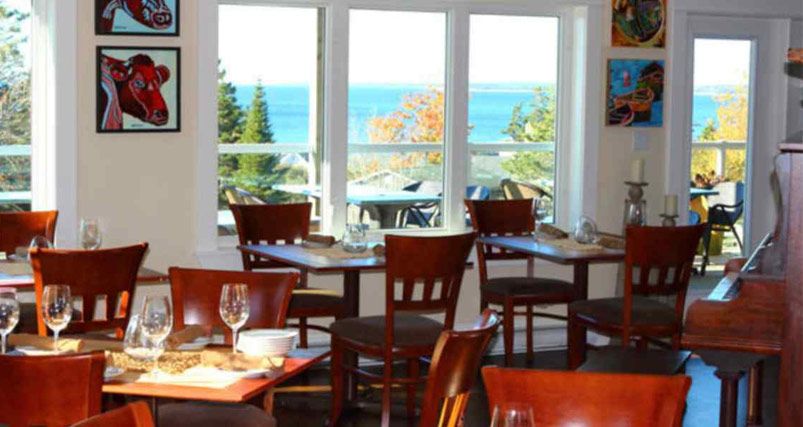 Enjoy a Dinner with a View
As the day winds down, choose a restaurant with a view of the harbor to savor a sumptuous dinner. Halifax is known for its diverse culinary scene, so you'll have plenty of options to choose from.
Sunset at Point Pleasant Park
Wrap up your day with a visit to Point Pleasant Park and spend some time soaking in the beauty of golden hour. This serene park offers a perfect vantage point to witness a breathtaking Halifax sunset over the Atlantic Ocean.
Halifax Harborfront Food Tour: A Culinary Odyssey by the Sea!
Final Thoughts! 
As the day draws to a close in Halifax, Nova Scotia, it becomes abundantly clear that this city has an abundance of treasures waiting to be discovered. From its rich maritime history to its breathtaking natural landscapes and vibrant culture, Halifax offers a wealth of experiences in just one day. However, to truly unlock the full potential of this maritime gem and delve deeper into its secrets, consider booking a guided tour. Knowledgeable guides can provide you with insights, stories, and hidden gems that you might otherwise miss. So, don't hesitate – book a guided tour for your next visit to Halifax, and let this captivating city reveal its many wonders in a way that only a local expert can provide. Your adventure in Halifax awaits, and it's a journey you won't want to miss!