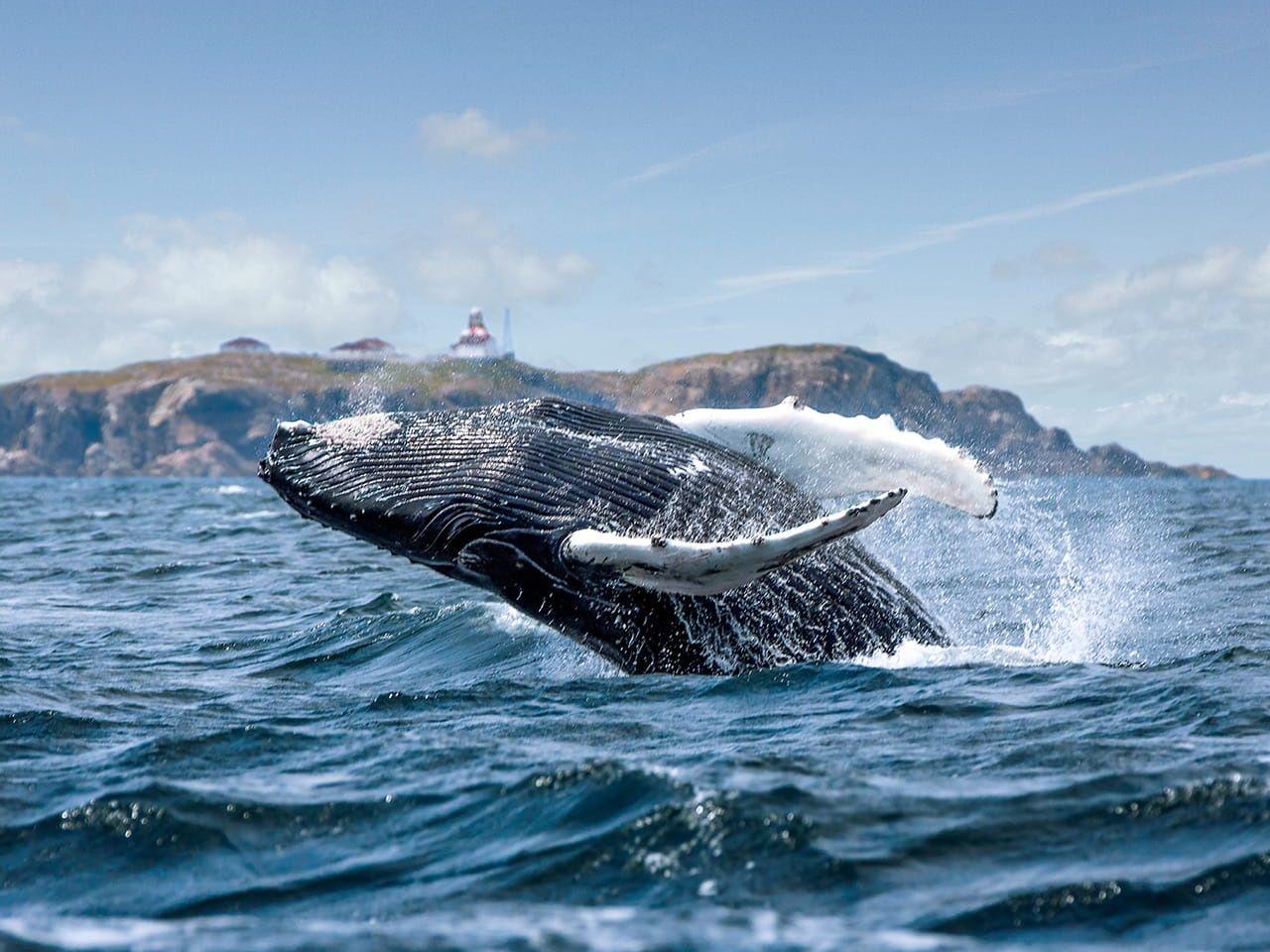 Whale Watching In St. John's, Newfoundland with Iceberg Quest Ocean Tour
Table of Contents

Are you ready for an unforgettable adventure in the breathtaking waters of Newfoundland and Labrador? Whale watching in Newfoundland is a highly recommended experience, offering a rare opportunity to witness the majestic humpback whales and charming Atlantic puffins in their natural habitat. With its stunning coastline and abundant marine life, Newfoundland is renowned as one of the best places in the world for whale watching. So, grab your binoculars and get ready to embark on an awe-inspiring journey!
Explore St John's Newfoundland With Our Best Of St. John Tour!
When Can You See Whales In Newfoundland?
If you're wondering when to plan your whale-watching trip, mid-August is the peak season when the largest population of humpback whales gathers in the area. However, whale sightings are possible from late June to early September, offering you ample opportunities to witness these magnificent creatures. The waters of Newfoundland are a haven for various whale species, including fin whales, minke whales, and even the occasional blue whale.
Where In Newfoundland Is The Best Place To See Whales?
When it comes to whale watching in Newfoundland, two locations stand out: Witless Bay and Bay Bulls. Witless Bay is home to the Witless Bay Ecological Reserve, a protected area that boasts the largest Atlantic puffin colony in North America. Here, you can witness the comical antics of these adorable seabirds as they dive into the ocean to catch fish. Bay Bulls, on the other hand, offers a boat tour experience that takes you close to humpback whales and other marine wildlife.
Whale Watching In St. John's, Newfoundland
If you're staying in St. John's, the capital city of Newfoundland and Labrador, you can easily access the whale watching tours departing from nearby Bay Bulls. St. John's is a vibrant and picturesque city known for its colorful row houses and rich history. Before heading out on your boat tour, take some time to explore the city's historic sites, such as Signal Hill and Cape Spear, which offer stunning views of the coastline.
(Photo credit @newfoundlandlabrador)
What Time Of Day Is Best For Whale Watching In Newfoundland?
Whale watching tours in Newfoundland typically depart in the morning or early afternoon, as these are the times when the ocean conditions are generally calm. The exact timing may vary depending on the tour company and weather conditions, so it's essential to check with the tour guides or perform checks on reviews to ensure the best experience. Remember to dress warmly, as the coastal weather can be cooler than expected.
What Month Is Best For Whale Watching In Newfoundland?
As mentioned earlier, mid-August is the peak season for whale watching in Newfoundland. During this time, the humpback whales are particularly active, breaching and displaying their acrobatic skills. However, if you prefer a quieter and less crowded experience, you can plan your visit in late June or early September when the whale population is still abundant, but tourist numbers are lower.
Book Your St. John Boat Tour Today!
Tips For Whale Watching Wn St. John's:
1: Dress In Layers 
Newfoundland's weather can be unpredictable, so it's essential to dress warmly and wear comfortable clothing that can be easily adjusted.
2: Bring Binoculars And A Camera
Capturing the breathtaking moments of whales breaching or puffins diving requires the right equipment. Don't forget to bring binoculars and a camera with a telephoto lens to enhance your experience.
3: Listen To The Tour Guides
The tour guides are experts in their field and can provide valuable insights into the behavior and characteristics of the whales and puffins. Pay attention to their instructions and learn more about these fascinating creatures.
(Photo credit @discovernorthland)
Companies Offering Whale Watching Tours In Newfoundland
One highly recommended tour company for whale watching in St. John's is Iceberg Quest Ocean Tours. With their experienced guides and comfortable vessels, Iceberg Quest Ocean Tours ensures a safe and enjoyable experience. Their whale watching tours typically last around 2-3 hours, giving you ample time to spot puffins, whales, and other sea birds.
Embark On An Awesome Experience
Whale watching in Newfoundland and Labrador is an awesome experience that will leave you with memories to last a lifetime. Witnessing the majestic humpback whales and adorable Atlantic puffins in their natural habitat is a privilege that few get to experience. So, plan your visit during the peak season, book a boat tour with a reputable company like Iceberg Quest Ocean Tours, and get ready to be amazed by the wonders of nature. Don't miss out on this extraordinary opportunity to become an honorary Newfoundlander and create unforgettable moments with these incredible creatures. Start planning your adventure today!