Visiting Miami in May
Table of Contents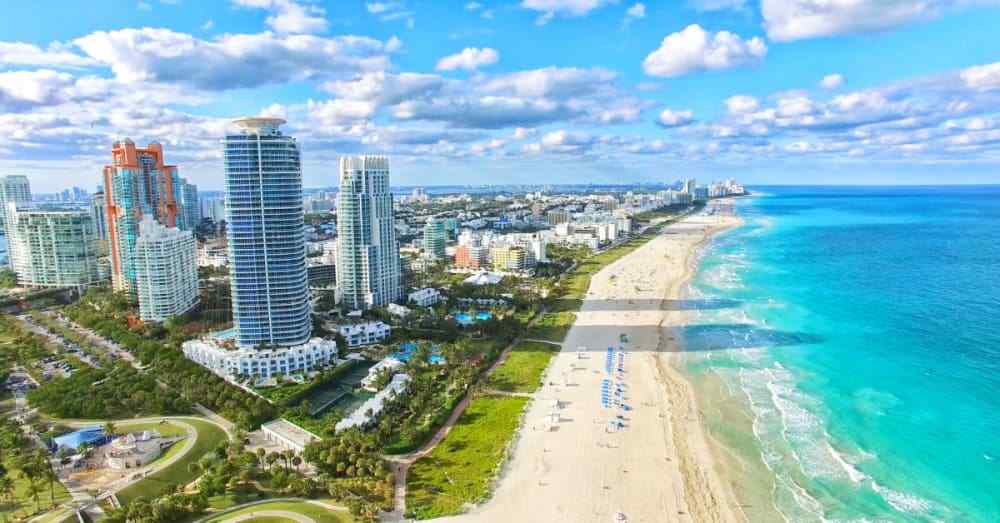 March to May is often dubbed as the 'best time to visit Miami'. So, if you're eyeing a visit to Miami this year, plan it to be this May! With its pleasant May weather, sunny skies, ideal warm waters, perfect beach experience, dozens of events & festivals, and highly energetic crowds, Miami has something for everyone visiting this sunshine state in May.
See it all in Miami without tiring yourself out!
Is May a Good Time to Visit Miami? 
Good? Nay! May is the BEST time to visit Miami! And we've got plenty of reasons to back this claim: weather conditions are ideal, occasional rain showers make the city more beautiful, humidity levels are still low, spring is tip-toeing away [but its beauty & aura are still there in Miami's air], beach waters are warm, streets are filled with bustling crowds giving off a full-of-life vibe, nightlife brims with endless fun, and plenty of events & festivals are there to spice up your Miami-May. 
How Hot is Miami in May?
Average high temperatures in Miami in May fluctuate between 83oF and 86oF. The early-May average high temperature remains 83oF, during mid-May it ascends to 83oF, and during late May it reaches 86oF. Humidity levels also pick up as the month progresses [but aren't as high as that in peak-summer]. 
Take a Guided Excursion to South Miami Beach!
Is May a Rainy Month in Miami?
Partly yes, partly no! Confused? Let us explain this: May marks the start of the rainy season in Miami. Early May witnessed very few rain showers with an average of 2.6 inches. However, as the month progresses, rain showers become more frequent, reaching 5.5 inches by the end of the month.
Raindrops descend down to kiss the Miami soil in the late afternoons after 3 pm. . . and if you're a pluviophile [rain-lover] this should come as big good news for you! You'll get enough rain pours in Miami in May to quench your love for rain-drenched cityscapes. 
Should you expect rain the whole day? No. The rainfall here in May is occasional and lasts for a few hours only. So, rainfall will not really spoil your trip. Be sure to carry an umbrella or a raincoat while you're on your Miami excursion.
Is May a Good Time to Visit Miami Beach?
It's not only a good time, but the BEST time to visit Miami Beach! Water temperatures are ideal along Miami's coastline during May. With an average ocean temperature of 81oF (27oC), Miami waters are just perfect for any kind of water sports & water fun. Also, ocean waters are perfect for kayaking & paddling, as the water currents aren't as rough as in the upcoming summer months. 
See it All in Miami for a Special Price!
What are the Top Events & Festivals Held in Miami in May? 
May hosts plenty of spectacular events & festivals in Miami. Some of the must-attend May events include:
'Beach Polo World Cup' at South Beach from April 29th to May 1st
'Dj and Live Music in the Grove' at Coconut Grove on May 6th
'GroupUp Music Festival' at Miami Beach from May 6th to May 8th
'Formula 1 Miami Grand Prix' at Miami International Autodrome from May 6th to May 8th
'Tamiami International Orchid Festival' in Miami-Dade County from May 13th to May 15th
'Wine and Food Experience' in Coconut Grove on May 17th
'Redland Orchid Festival' in South Dade on May 19th & May 20th
'Haitian Compas Festival' at Bayfront Park from May 20th to May 25th
'In The Heights' at Biscayne Boulevard from May 20th to May 21st
'Vegandale Festival' at Historic Virginia Key Beach Park on May 21st
'Afro Nation Miami' at LoanDepot Park on May 27th & May 28th
'Hyundai Air & Sea Show' at South Beach on Memorial Day Weekend i.e., May 28th & May 29th
'Best Of The Best Caribbean Celebration' at Bayfront Park on May 29th
. . . and the list continues. You'll find plenty of events & festivals happening around Miami in May. Be sure to pick the ones that perfectly align with your interests to make the most of your Miami-May-scape! 
Take a Guided Tour of Miami with Complimentary Airport Pick-Up & Drop-Off Services!
The Bottom Line
. . . by now, it would seem an unnecessary repetition – but let's make it anyway: May is one of the best months to visit greater Miami. So, if you haven't booked your tickets to Miami, Book Now and start gathering your stuff for a happening May in Miami.
Not sure where to start from? Explore these top-rated Miami Tours, and choose the one that best suits you. Read Travel Tips for Miami. Have a look at Fun Things to Do in Miami, Things to Do in Miami with Kids & Family, and Things to Do in Miami for Adults & Couples to make the most out of your Miami excursion.
Got only two days for the Miami trip? Explore How to Spend 48 hours in Miami to not miss out on the iconic Miami experiences.