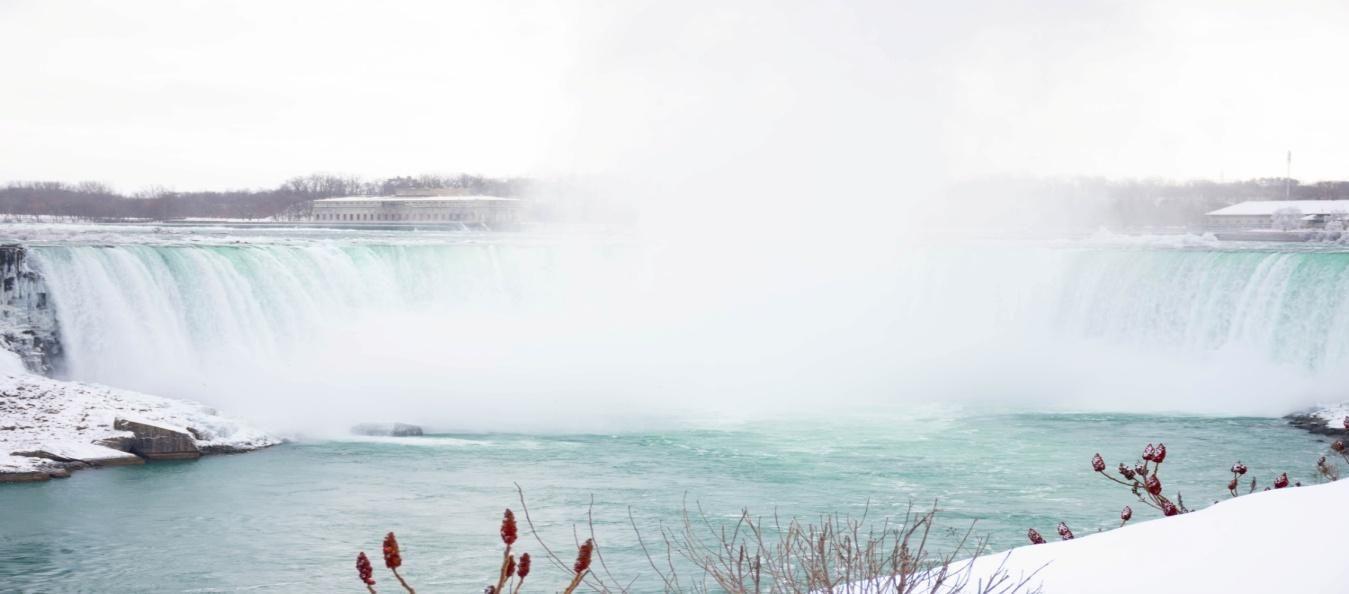 Visiting Niagara Falls in Winter: Experiencing the Thrill of the Chill
Table of Contents

If you want to experience thrilling moments in the chilly winter, then visiting Niagara Fall in winters is the right choice for you. While Niagara Fall is a mesmerizing destination in vibrant summer months, in winters this place offers whole new and enchanting sights. In winters, beauty of Niagara Falls is unmatched and mesmerizing, creating a moment of pure magical serenity, deeply immersed in the captivating treats of winter. It gives opportunity to click photo and behold the beauty this place offers in winter to enjoy them later.
Explore Niagara Falls this Winter With See Sight Tours
A visual feast for Photography enthusiast:
The picturesque charm and scenic beauty of these locations are ideal for capturing stunning photos. Partially frozen Falls are dream destinations for photography enthusiast. Delicate icicles, hanging like jewel, add a touch of magical and enchanting quality to the scene.

Credit: Mian Rizwan/ Pexels/ Official website
Photographers get plenty of chances to click photos of partially frozen Falls, icy splendors, winter adventures, Falls illuminations, colorful displays, wide variety of birds, a variety of cuisines and beverages, and winter festivities and activities.
A frozen wonderland:
Niagara Falls look breathtaking in winters when nature covers itself in the blanket of snow. Walking through the frozen beauty of the Niagara Falls adds to the enchantment of the moment. You can enjoy the mesmerizing view of the partially frozen Falls while sitting in the Niagara Skywheel (175 feet above Niagara Falls). At remarkable elevation of 175 feet, above the Niagara Falls, you can enjoy the Falls below. Skylon Tower, situated in Niagara Falls, also provides the indoor and outdoor vantage points to observe the Falls from the elevation of 775 feet.
Events in winter season at Niagara Falls
Niagara Falls is famous for its exciting winter festivities or events and visitors bundle up to enjoy them. Here is the list of events to enjoy in winters:
Niagara Falls offers exciting festivals in winter to make the experience more magical. This place holds the festival of light annually, where streets are decorated with different sparking fairy lights and trees are adorned with different accessories and illuminated displays. The whole place looks amazing, making everyone smile. The variety of restaurants and shops across Niagara Falls offer diverse delicious cuisines and beverages to locals and visitors, allowing you to dine with amazing views. The dazzling display of firework against the backdrop of the frozen landscape lights up the night with burst of colors and patterns. Illuminated displays add a touch of amusement to the event, transforming the streets of Niagara-on-the-lake, Queen Victora Park, and other areas into mesmerizing frozen beauty and wonderland.
Credit: Niagara Falls Canada/ Official website
The New Year's Eve Celebration:
Niagara Falls celebrates the New Year Eve with magnificent fireworks, illuminated displays and live entertainment. The partially frozen icy falls look breathtaking at night with vibrant color, captivating displays and illuminations. The evening often starts with live entertainments and concerts at different venues. Local and international popular artists and brands give performances and provide festive atmosphere to the visitors. The mouth watering New Year's Eve dinner in Niagara Falls is an unforgettable experience for the people of all ages. When the clock hits twelve, the Falls are illuminated with magnificent lights and dazzling firework, making the people welcome the New Year in a delightful manner.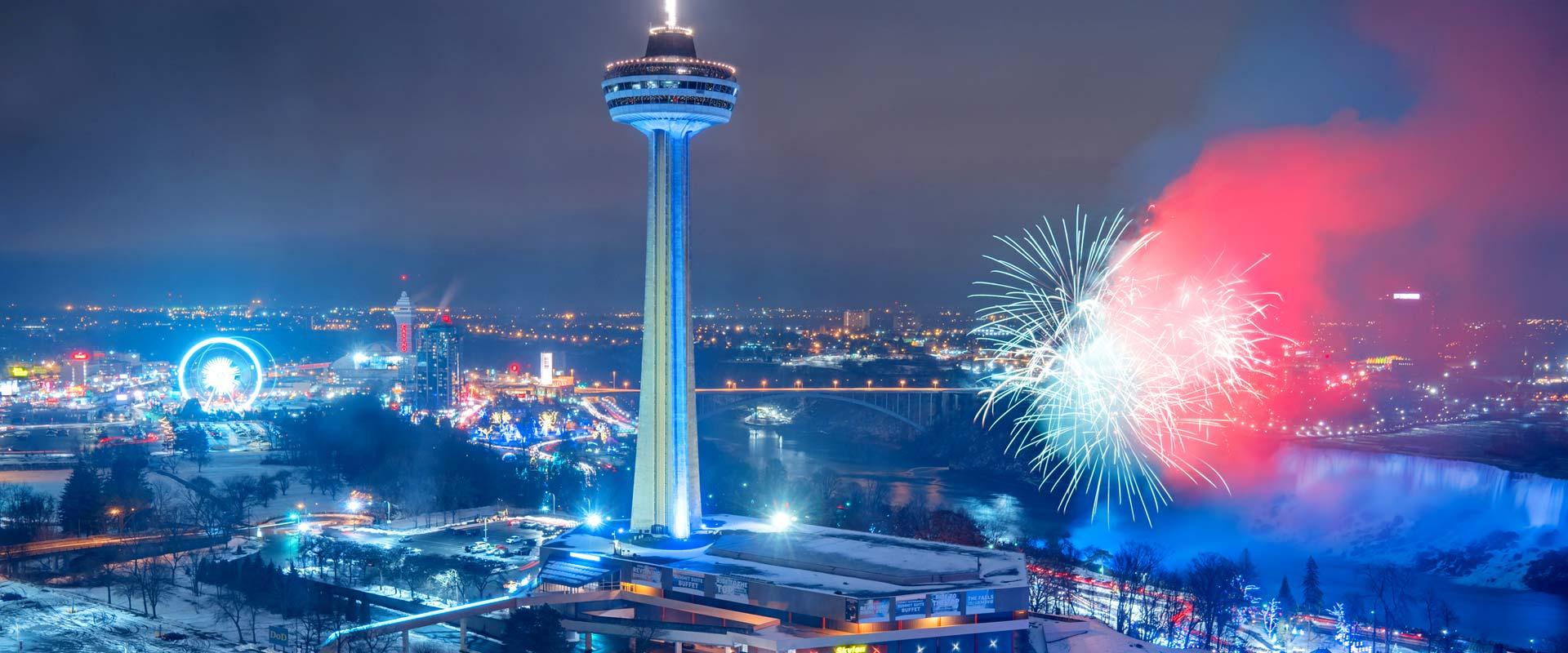 Credit: ToNiagara / official website
Outdoor ice skating:
Several locations surrounding Niagara Falls offer the exciting opportunity of outdoor ice skating. The two notable locations for ice skating are the Ring at the Brink and the outdoor ice rink at Niagara Falls State Park. Both the locations offer mesmerizing sight of frozen landscape, unveiling the breathtaking beauty of winter season. The Rink near the brink offers unforgettable and thrilling opportunities to the ice skaters
Falls Illumination:
Canadian and American Falls are brightly illuminated in a sparkling manner. This masterpiece display of colors can be seen from Queen Victoria Parks and other areas surrounding the Niagara Falls. The hues in the sky leave lasting impression on those experiencing it. Spectacular lighting of the Falls occurs throughout the year, but in winter months, covered in shimmering snow and ice, everything looks more appealing and magical.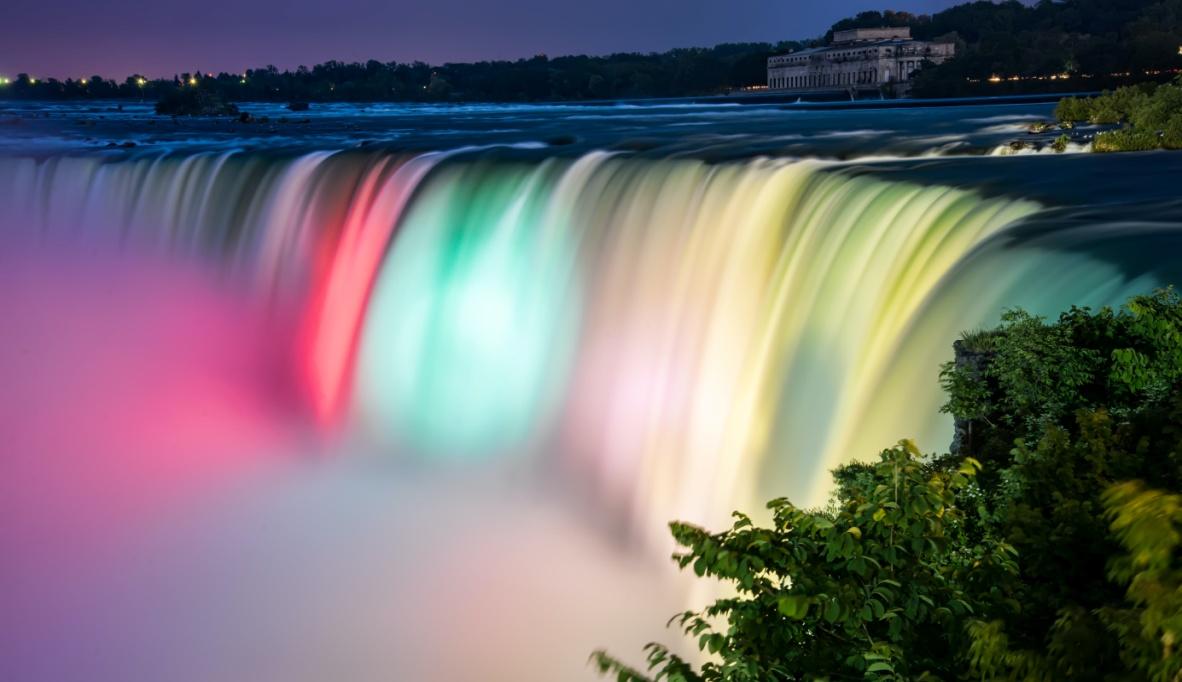 Credit: James Wheeler/ Pexels/ official website
Niagara Falls Fireworks:
Fireworks at Niagara Falls are breathtaking sight, with a captivating array of colorful lights and pattern lightening up the sky at night. The stunning fireworks add a touch of magical excitement to the beauty of Falls and landscape around it. Before your trip, check the details about the schedule of the Firework display at Niagara Falls from the official websites, calendar of events and other sources.
Credit: Clifton Hill/ Official website
Birdwatching opportunities at Niagara Falls:
Niagara Falls is not only famous for its mesmerizing Falls and breathtaking landscape but also for the diverse variety of birds that inhabit the area in all season. However in winter, many varieties of birds make the Niagara Falls their sanctuary, enhancing the beauty and charm of the area. You can enjoy the sight of winter birds like winter Finches, Waterfowls, Gulls, Snowy Owls, and Raptors. Some songbirds that adapt to the cold temperature remain in Niagara Falls, chirping with grace. All the above mentioned winter birds gracefully flying in the sky and gliding through frosty waters provide exciting and thrilling sight to the birdwatchers and nature lovers.
( Credit: Niagara Falls Canada/ Official Website)
The Bottom Line:
Niagara Falls is indeed a sight to behold during the winter season. This wonderland offers many events and activities for the people of all ages. The frosty beauty of the Falls attract tourist from different parts of the world. Icy landscape, partially frozen falls, variety of birds, winter events and display of illuminations are the sight of true joy and pleasure for everyone. Before visiting the snowy wonderland , it's important to visit the official websites for more information about the winter-themed events at Niagara Falls.
Frequently Asked Questions (FAQs):
Is Niagara Falls less crowded in winters compared to other season?
Yes! Those who want to avoid peak tourist time and seek more peaceful experince, visit Niagara Falls in winter seasons.
Are there any events at Niagara Falls during winters?
Yes! There are many events and activities at Niagara Falls during winter season. From winter-themed activities, ice skating, Falls illumination, Winter Festival of Light, New Year's Eve celebration, winter Firework, Birdwatching and more, tourist can have multiple options to enjoy memorable time. To know the details of the events, visitors can visit the official website of the Niagara Falls.
Is visiting Niagara Falls in winter season is a good idea?
Yes! It is a good idea and visiting the frozen wonderland can be a worthwhile experience. The smaller crowed in winter gives you a chance to have a peaceful experience, free from hustle bustle of other seasons.
What should I pack to wear for a trip to visit Niagara Falls in winter?
It is necessary to stay warm during your vist to Niagara Falls in winter season. To stay warm and comfortable in the chilly conditions, you must wear warm and heavy winter coat, warm gloves, scarf and hat, waterproof boots, thick and thermal socks, and warm underwear. Additionally, you can pack other winter essentials to keep you cozy and warm while enjoying the breathtaking view of Niagara Falls.
Can we visit all the attractions at Niagara Falls in winter season?
During the winter months many attraction remain open and accessible to tourist, making their experience memorable. However, Some outdoor activities like Boat Tour, Whirlpool Aero Car and Outdoor Picnic areas may be limited or unavailable due to icy conditions. For the Latest Information and details, check the official website of Niagara Falls.