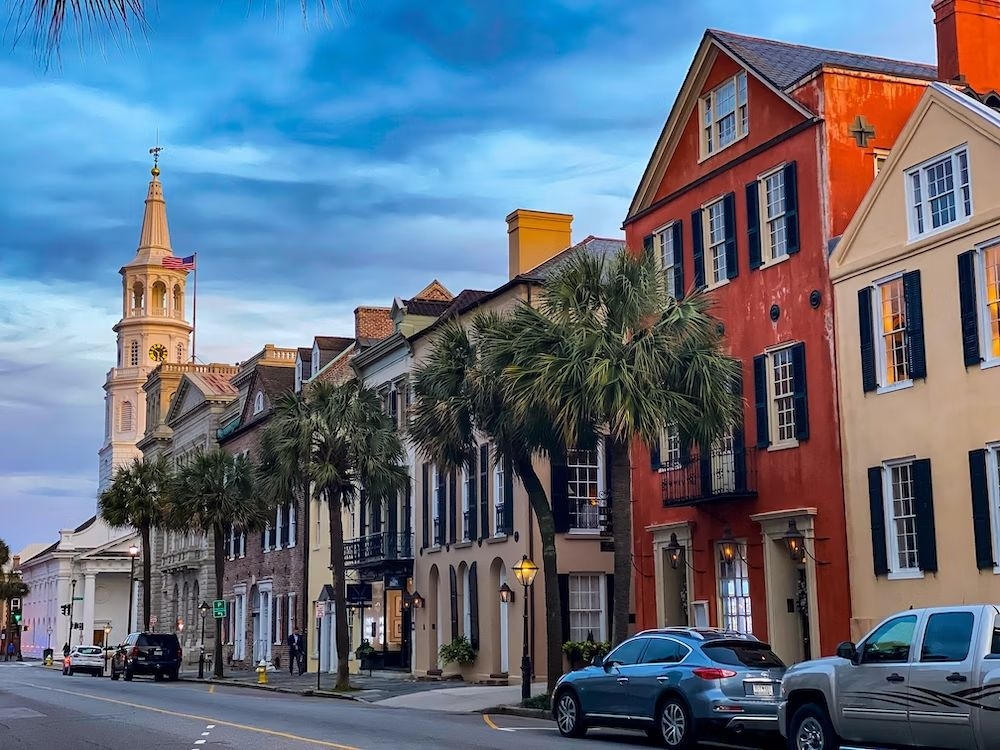 ULTRA

Small Group Charleston Tours
Tours in Charleston
Best things to do in Charleston
Charleston, nestled within the heart of South Carolina, is a historical gem known for its rich history, vibrant culture, exquisite architecture, and marvelous waterfront vistas. The city seamlessly weaves together its natural beauty, historical significance, culinary delights, southern hospitality, cultural allure, and coastal elegance, creating a unique destination that captivates both locals and visitors alike.
Whether you are a history enthusiast eager to explore the meticulously preserved past through historical sites and museums, a culinary connoisseur excited to indulge in its culinary delights, or a music lover eager to immerse yourself in its vibrant musical festivities, this city has it all to offer.
History of Charleston, SC:
Charleston, one of the oldest cities in the United States, has roots dating back to the 17th century. English Settlers established the town of Charles Towne, named after King Charles II of England. However, on August 13, 1783, following the American Revolutionary War, the name was changed to Charleston. It thrived as a colonial hub and played a significant role in the American Revolution.
Additionally, it endured pivotal movements like the Civil Rights Movement and the Civil War. The city's marvelous architecture and rich history reflect its prosperity in the 18th century. In the 20th century, Charleston's historical distinctiveness was preserved, making it a popular tourist destination and a living history lesson for all. In contemporary times, Charleston is thriving as a dynamic and culturally rich city that perfectly blends its past with the present.
Charleston Tour: Explore the Attractions
Exploring Charleston is a mesmerizing journey that transports you back to its rich history. Visiting the city's well-preserved homes and plantations, such as the Nathaniel Russell House and the gardens of Magnolia Plantation, brings history to life. Charleston's parks, like Waterfront Park and White Point Garden, provide breathtaking harbor views.
The city's oldest market, known as City Market, is a prominent historical attraction. It's an excellent place to explore unique handcrafted treasures, stunning artworks, and exquisite jewelry.
Rainbow Row is another must-see destination, renowned as one of the city's most iconic landmarks. It is nestled within the city's historical district along East Bay Street. This famous Row consists of 13 Georgian-style townhouses, each decorated with distinct pastel hues, creating a visual delight. The historical townhouses and spectrum of colors take you back to the 18th century, offering a captivating sight for all.
The Patriot Point Naval and Maritime Museum, situated along the Charleston harbor, offers educational and historical experiences. It houses an impressive collection of historical ships and submarines, making it an engaging destination for people of all ages to explore America's naval heritage.
Cultural Significance of Charleston, SC:
Charleston is a city that enriches the cultural tapestry of America. Charleston's cultural charm and richness are rooted in its status as one of the oldest and most historical cities in the United States. Founded in the last part of the 17th century, this city proudly displays its cultural vitality through its well-preserved architecture, historical sites, art and music, educational centers, culinary heritage, and religious diversity.
The city is celebrated for its meticulously preserved architectural wonders, including Federal, Georgian, and Antebellum-style buildings. These architectural masterpieces showcase the city's profound appreciation for its cultural heritage and values.
Charleston has a rich tradition of fostering artistic expression and creativity to illustrate its culture. The city hosts various cultural festivals throughout the year, showcasing its cultural richness. Additionally, numerous museums, galleries, and studios exist to celebrate the culture of the South.
Charleston music is equally diverse, featuring musicians from various genres. The Gullah Geechee music tradition has its influence on the Charleston music tradition and has significantly shaped Charleston's musical heritage alongside its renowned jazz legacy dating back to the early 20th century. Gospel music also holds a significant place in Charleston's religious tradition. With all its old and contemporary music traditions, Charleston offers an array of options for music lovers, highlighting its culture through them.
Charleston's culinary delights draw food lovers from afar with its unique and mouth-watering dishes. Lowcountry cuisines, a renowned culinary tradition that skillfully blends techniques and flavors from Spain, France, the Caribbean, and West Africa, undeniably leave a lasting impression on one's taste buds. Other famous culinary delights include Crab Soup, Southern BBQ, Seafood dishes, Frogmore Stew, Shrimp, and Grit, all of which are delectable options.
Charleston's culture is a beautiful tapestry woven from diverse influences, including the Gullah Geechee heritage. This unique cultural heritage has left an enduring influence on American tradition.
Transportation: Getting to Charleston
Charleston, South Carolina, is easily accessible through various transportation options. If you are arriving from a distance, Charleston International Airport is ready to serve you. For those who prefer road trips, you can enjoy a pleasant drive on well-connected and well-maintained highways, notably Interstate I-26 and Interstate I-526, which provide easy access to Charleston. Budget-conscious travelers can opt for bus services, while cruise enthusiasts can rely on Charleston Cruise Terminal, conveniently located near downtown, offering a seamless entry. Once you arrive in Charleston, you will find different transportation choices to facilitate your exploration of this historical city, brimming with charm and beauty.
Local Events and Festivals in Charleston, SC:
Charleston hosts a variety of events and festivals throughout the year, drawing both locals and visitors alike. The Spoleto Festival USA, held annually in spring, is a 17-day extravaganza celebrating art, dance, theater, and opera, captivating performers and audiences. The Charleston Festival of Houses and Gardens offers a unique opportunity to explore the city's iconic architecture and historical sites. From the Charleston Fashion Week Festival and the MOJA Arts Festivals to the Charleston Christmas Parade and the International Film Festival, Charleston continually engages its visitors with captivating experiences.
Climate of Charleston, SC:
Charleston, located on the southeastern coast, has a subtropical climate. Summers are hot and humid, with high humidity levels. Falls offer delightful temperatures and reduced humidity. Winters are mild with a low chance of snow, and spring brings in pleasant weather with blooming flowers.
The best time to visit Charleston, SC:
The best time to visit Charleston largely depends on personal interests and preferences, as each season offers distinct and captivating experiences throughout the year. However, spring and fall are often considered the prime seasons to visit Charleston for outdoor activities and sightseeing, thanks to their pleasant and mild temperatures.
From March to May and again from September to November, Charleston offers the best weather conditions for a leisurely exploration of both indoor and outdoor attractions. Spring brings a burst of vibrant blossoms and flowers, adorning streets, parks, and historical sites with a riot of colors, creating an ideal backdrop for exploring the city.
In autumn, Charleston's parks and streets display a warm palette of golden, orange, and yellow hues, offering soothing and visually stunning experiences. These seasons showcase the city at its finest, making them the favored times for many travelers to relish Charleston's unique charm.
Final Thoughts:
Charleston, South Carolina, is a city that beautifully blends its illustrious past with its vibrant present scenes. It's a city overflowing with captivating attractions, incredible architectural wonders, well-preserved historical sites, welcoming people, cultural richness, and natural beauty. At every turn, Charleston immerses its visitors in living history, creating truly immersive experiences.