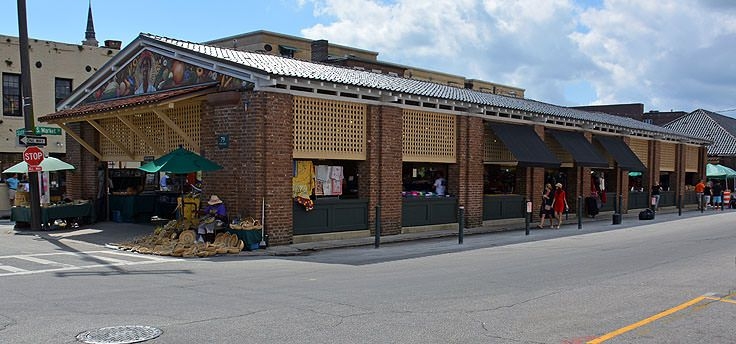 Charleston City Market
188 Meeting St, Charleston, SC 29401, USA
Hours of Operation
Charleston, South Carolina's City Market typically operates during the following hours:
Daily: 9:30-5:30 PM.
Night Market Fri: 6:30-10:30 pm
Saturday Night: 6:30-10:30 pm
Introduction:
The Charleston City Market is one of the city's most famous and historical landmarks. It's a living symbol of Southern hospitality, tradition, and craftsmanship in the Lowcountry. Set amid the cobbled streets and architectural landmarks of Charleston, this iconic destination invites visitors to immerse themselves in its mesmerizing beauty and charm. Join us for a virtual tour of this iconic location, its history, captivating stories, and eye-opening discoveries that will leave you eager to experience it for yourself!
What to know:
The Charleston City Market, established in 1804 is a testament to the rich history of the South and the culture that lives on within its borders. It is more than just a marketplace; it is a thriving community where people come together to share their tales and enjoy Southern hospitality. It is a marketplace where people meet and a sense of community forms. Whether you are an expert in history, a foodie, or an art collector, the City Market promises unforgettable experiences and memories.
How to Get There:
City Market is situated at 188 Meeting St, Charleston, SC 29401, USA. You have several ways to get there. You can drive and use GPS or navigation software, but be sure to check for available parking in the area. Alternatively, you can use public transportation if there's a nearby bus stop. You can also take the picturesque path and walk to the market or for a more exciting ride, consider biking or using a ride-sharing service. 
Best Time to Visit:
The best time to go to City Market in Charleston depends on your interests and goals. If you prefer a quieter and more peaceful experience, consider weekday mornings. On weekdays, the market is usually less crowded, allowing ample time to check out all the stalls and shops at your own pace. On the other hand, if you want to get into the spirit of the area, opt for Friday or Saturday evenings. These are the peak times for the night market, with more sellers, entertainment, and a vibrant atmosphere.
 For the best overall experience, choose to visit during the pleasant seasons of Spring and Fall. These seasons offer comfortable weather conditions and fewer crowds. Be sure to check the market's event calendar for more details on the exciting upcoming festivals and art shows. 
Highlights:
 Charleston City Market is a fantastic destination and the following are the major highlights: 
Discover local artisans selling handcrafted art, jewelry, and pottery. 
Savor delicious Southern and Lowcountry dishes like shrimp, grits, and creamy soup. 
Discover historical landmarks like the historical market district showcasing the rich heritage.
Enjoy live entertainment with musicians and street performers in the open-air corridors. 
It's an excellent location for both photographers and history enthusiasts.
It is a perfect starting spot to explore various attractions, from historic homes to museums and Waterfront Park. 
The market provides a wide array of souvenirs, delicious Southern cuisine, and entertainment options for visitors.
Features:
The City Market is a renowned tourist site and is famous for the following features:
When you arrive at Charleston City Market, you will first encounter a charming historic market district.
 Here, Local artisans sell a variety of handmade crafts, including artwork, and souvenirs that capture the region's essence.
The market allows you to immerse yourself in the city's rich history, vibrant culture, and diverse culinary scene.
The architecture and lively ambiance offer an excellent location for a relaxed exploration. 
As you wander through, you will discover a variety of sellers offering goods like baskets, jewelry, art, apparel, food, and more.
Enjoy the sweet-grass basket weaving, a tradition handed down through the generations.
Visitors can enjoy live performances by local artists.
Visitors can experience a distinctive cultural experience that goes beyond shopping and dining. 
Every year, live musical performances, street entertainers, and storytelling provide a captivating backdrop to the market, imbuing it with rich Southern sounds and stories. 
It acts as a gathering place that fosters a sense of community and embodies Southern hospitality.
The market is famous for its historical significance, offering displays and guided tours that delve deep into Charleston's history. 
It is a great place to learn about Charleston's history and culture. 
Its proximity to many popular tourist attractions makes it a convenient starting point for exploring the city.