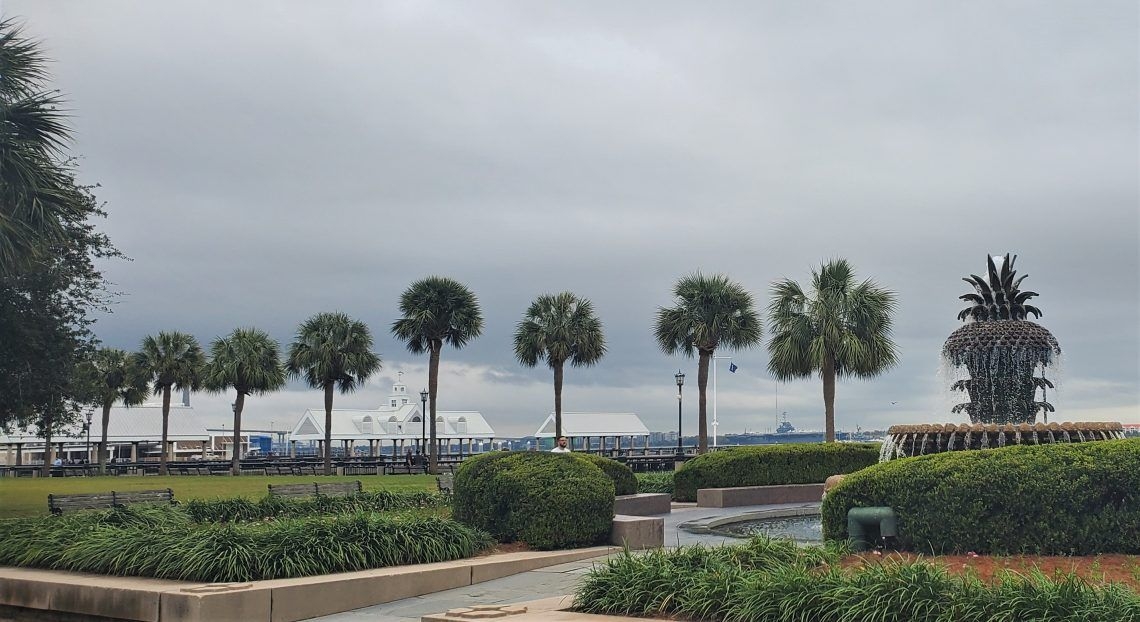 Joe Riley Waterfront Park
Vendue Range, Concord St, Charleston, SC 29401, USA
Hours of Operation
Opening hours: 7 am–9:30 pm
Introduction:
Get ready for a tranquil journey where the past and present beautifully intertwine! In Joe Riley Waterfront Park, the architecture, cobblestones, and overall design will transport you back in time. Upon arrival, you will immerse yourself in coastal elegance surrounded by breathtaking gardens, and lush pathways. The iconic Pineapple Fountain looks amazing, enhancing the park's grandeur. The views of Charleston Harbor and Cooper River, adorned with sailboats and the stunning Ravenel Bridge on the horizon, are magnificent. Every aspect of the park enhances its charm and promises memorable experiences.
History:
Joe Riley Waterfront Park, situated along Concord Street in Charleston, South Carolina, has been a cherished destination since its establishment in 1990. Named in honor of revered mayor Joseph P. Riley, who significantly contributed to the city's development and growth, the park offers a serene retreat and harmonizes the city's past with its present. The park was designed by Stuart O. Dawson and his team, who divided it into distinct sections that seamlessly connected both the riverfront and the inland walking trails. Over the years, the park has served as a focal point of community and cultural activities, while preserving the city's rich cultural heritage and history.
What to know:
Joe Riley Waterfront Park is the perfect destination to escape the hustle and bustle of the city and enjoy captivating landscapes and the calming sounds of water. The view of Charleston Harbor with its shiny water, Pineapple Fountain, and water areas, feels like a dream come true. The park's lush gardens, including Palmetto Garden with vibrant flowers, green trees, and manicured lawns, offer an ideal setting for reading, strolling, and enjoying the beautiful waterfront views.
How to Get There:
There are several ways to get to Joe Riley Waterfront Park, depending on where you are starting. If you are within the city, you can travel by car or use public transportation, including buses, rental bikes, and other ride-sharing services that are available to reach the park. You can use GPS or a mobile app to help you navigate the road networks. It is recommended to stay informed of any prospective changes to routes and parking, especially during peak travel times and special occasions to ensure seamless visits.
Best Time to Visit Joe Riley Waterfront Park:
Spring and fall are the best months to visit Joe Riley Waterfront Park, offering mild weather conditions, and fewer crowds. During these months, the gardens are in full bloom, and the landscape looks mesmerizing, allowing the visitors to enjoy the park with all its vibrant colors and beauty. Summer can be a hot and hectic time for visitors as it tends to get crowded. 
If you can handle the heat and don't mind the crowds, a visit during the summer is possible; however, the afternoons of summer are more pleasant. Winters are relatively mild in Charleston, so you can visit the park if you are comfortable with chilly weather. Plan your visit based on your preferences and likes to maximize your enjoyment.
Highlights:
Joe Riley Waterfront Park is a picturesque destination renowned for its mesmerizing vistas, offering a captivating array of highlights:
Visitors are greeted by iconic beauty such as the Pineapple Fountain, waterfront view of Charleston Harbor, and Palmetto Garden adorned with its Sabal Palmetto tree.
The picturesque landscape within the park itself is a work of art, providing a perfect setting for relaxation.
The park boasts well-maintained walking areas and biking trails, perfect for leisurely exploration.
Abundant benches and ample green spaces offer opportunities for relaxation and picnicking, enabling visitors to immerse themselves in the serene park surroundings. So book your visit now and experience the wondrous beauty of this park.
Features:
Joe Riley Waterfront Park undeniably boasts a wide array of stunning features:
Its appealing landscape showcases vibrant flora, and artistic sculpture, enhancing the park's visual beauty and allure. 
The meticulously manicured lawns, pathways, and spaces make it a perfect location for strolls and picnics for all ages. 
This park, set against Charleston Harbor, and the Cooper River, offers ever-changing waterfront views with calming lapping waves, and a bustling harbor filled with sailboats.
It is an excellent place for kids to have fun while families relax amidst the natural beauty and recreational features, adding to its reputation as a family-friendly destination. 
The park holds cultural events and festivals, making it a hub for gathering and entertainment.
There are numerous picturesque spots for photographers, including the lush landscape, vibrant gardens, the iconic Pineapple Fountain, and view of the Cooper River and Charleston Harbor filled with sailboats. 
Visitors and photographers find ample opportunities for capturing stunning pictures. 
Visit the visitor center for more information about the park and the city's history.