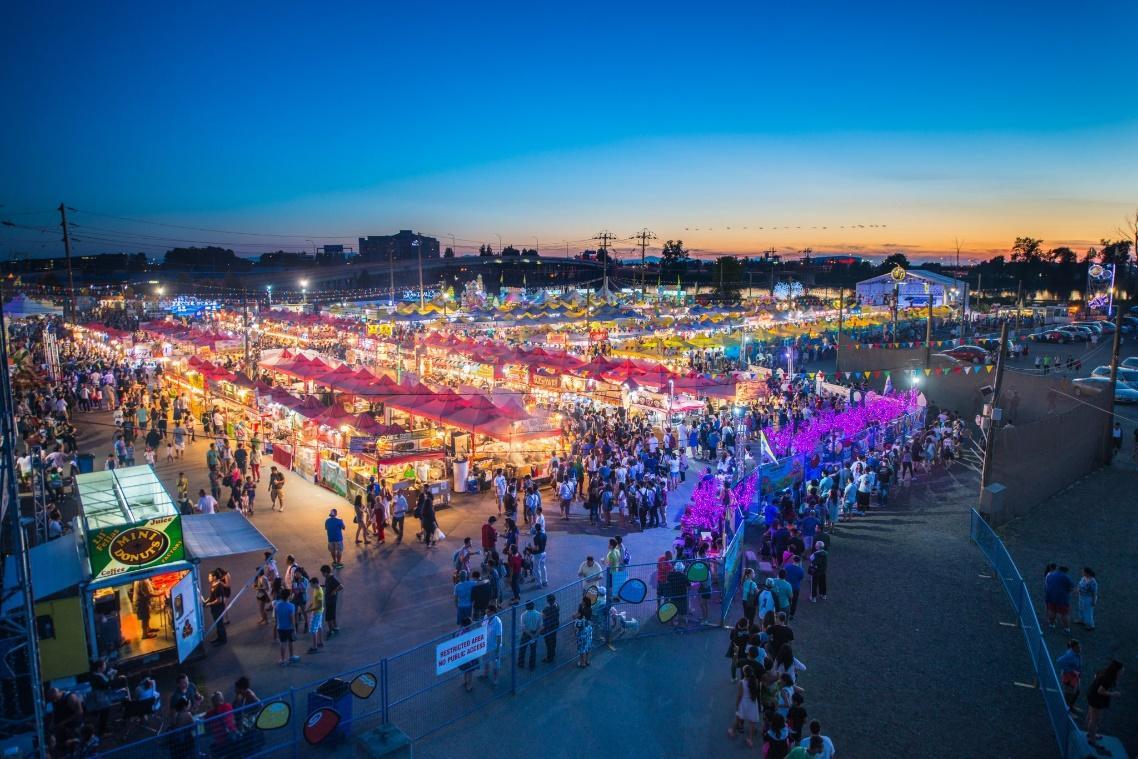 Things to Do in Vancouver
Table of Contents

Known for its majestic coastal landscapes, unforgiving mountain range, and mild climate, Vancouver is tourist top-choice destination in Canada. From its striking waterfront to its vibrant downtown to sophisticated urban pursuits, to mountains touching the sky – the city is choke-full of things you can do here. From sunbathing in its sandy beaches to getting up & high at Sea-to-Sky, and from its vibrant nightlife to tranquil botanical gardens, your toughest decision will be which adventure to choose. Thankfully, we've got the research done for you. Here's a list of 19 things that are a must-include for your Vancouver bucket list!
(Credit: Working Holiday Canada – WHC / Facebook)
Stanley Park should perhaps be your first stop - Vancouver's first, largest, and most beloved urban park! Spanning over nearly 1,000 acres, the park has everything from beaches & aquariums to playgrounds & splash parks, and from botanical gardens to golf courses & tennis courts. Take a scenic stroll along the natural West Coast rainforest and feel closer to nature with majestic views of blue water, high mountains, a vast sky, and towering trees. Want an even closer interaction with nature far away from the crowd? Consider exploring more than 27 km of forest trails offering pia cturesque view of bark-mulched interior paths covered with towering trees.
If you drop in at the park on a hot summer day, you may like to have some splash at the Water Park, Second Beach Pool, or Third Beach. Don't forget to stop by the First Nations art and totem poles – a consortium of nine monumental totem poles – and pose for insta-stories!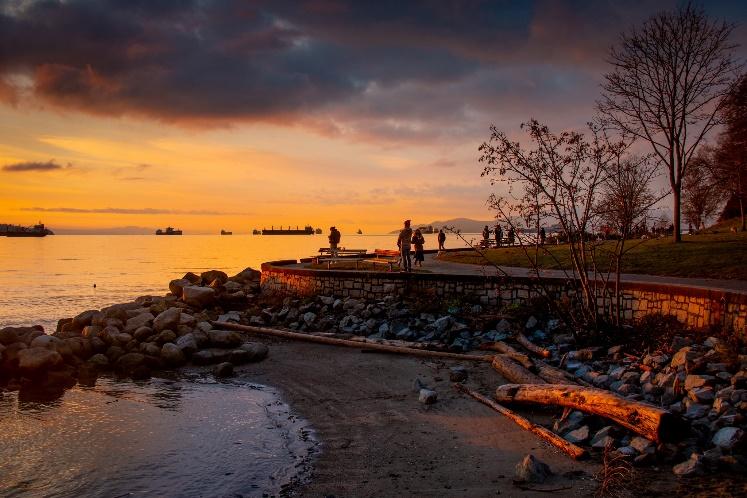 (Credit: Jerry Schulz / Facebook)
Don't forget to take a walk through Stanley Park's famous Seawall which reserves the laurel of being the world's longest uninterrupted waterfront path. Extending from Vancouver Convention Centre to Spanish Banks Park, the Seawall provides a perfect track for walking, cycling, skating, and jogging – opt for whatever mode you like, and immerse yourself in the quintessential Vancouver feel!
On Way to Vancouver Last Minute? We Have it All Sorted for You.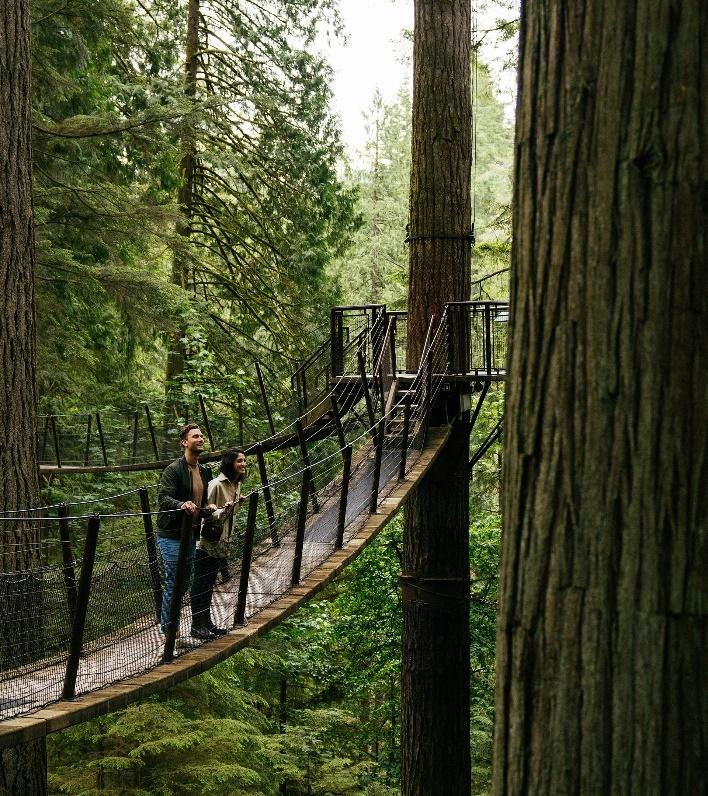 (Credit: Capbrdige.com/ Official Website)
The naturally thrilling Capilano Suspension Bridge Park should be your next stop, and here's why – this park offers other-worldly views of natural beauty. Take a canopy walk through the Treetops Adventure, a series of seven suspension bridges, and take your adventure in Vancouver to new heights. This Treetops Adventure is a perfect way to get a one-of-its-type forest view from over 33 meters above the coastal forest floor at its highest point.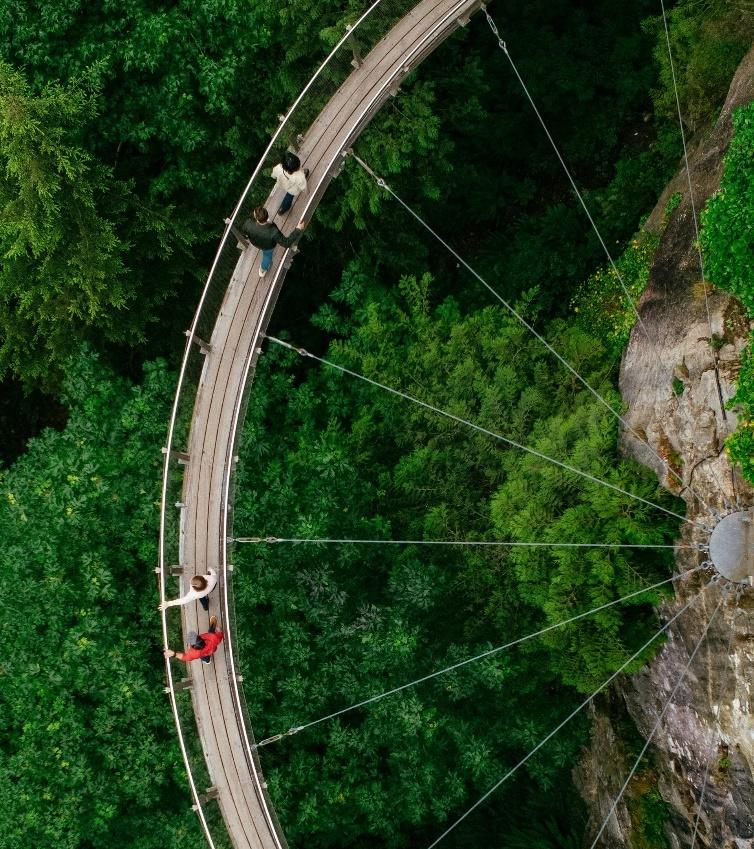 (Credit: Capbrdige.com/ Official Website)
Don't forget to test your mettle at the Capilano Suspension Bridge! This 230 feet high and 450 feet long bridge extending over the Capilano River amid the Vancouverite temperate rainforest along the coastline, is a feast for the eyes of nature lovers. As you cross the bridge, you'll be awestruck by the magnificence of natural beauty that comes your way. The adrenaline-pumping cliffside journey along the Cliffwalk would also be a lifetime experience to remember.
Don't miss out on a journey through time at the history cabin built on the edge of the canyon wall where photomurals, artifacts, totems, and informational panels would abreast you about the local Indigenous culture and the unique ecology of its West Coast setting.
Scared to Do it On Your Own? Book a Guided Excursion!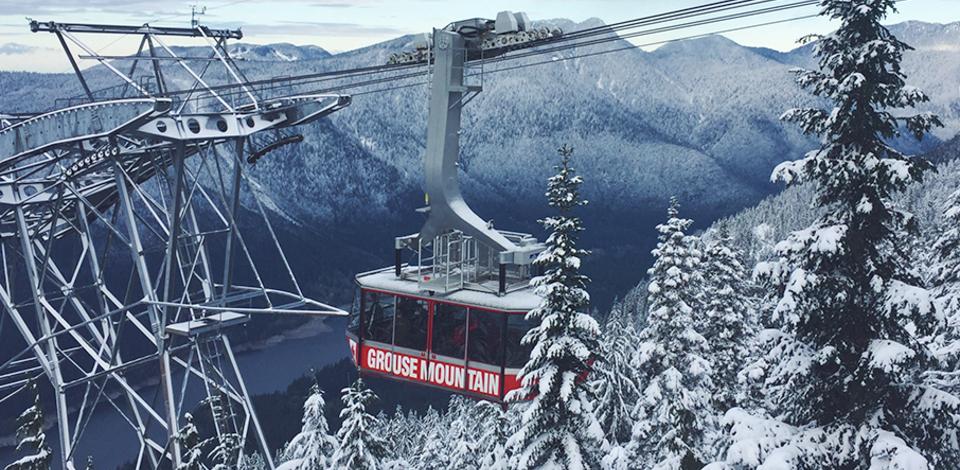 (Credit: Grouse Mountain / Official Website)
Flaunting itself as the peak of Vancouver, Grouse Mountain is the next must-visit in Vancouver. 1,200m high at its peak, Grouse Mountain has so much to do – taking Skyride Gondola to top of mountain, climbing the Grouse Grind, hopping on chairlifts, experiencing the mountain ropes adventure & mountain ziplines, enjoying a sky ride surf adventure, embarking on a tree canopy adventure with little peeps, interacting with resident owl populations, watching the world-famous lumber-jack show, taking ski & snowboard lessons, playing disc golf, get up & close to the animals at the animal refuge, climbing atop world's first and only wind turbine (The Eye of Wind), and much more!
However, the action pack you choose from this list for yourself largely depends on the season you happen to be here. So, choose wisely to make the most of this phenomenal destination. Refuel yourself at the restaurants offering dining arrangements with sweeping views of natural beauty down there. In winter, the enchanting Light Walk from the glowing light tunnel ascending to the top of the mountaintop Skating Pond is a never-miss-at-all thing!
Enjoy Your Trip to Grouse Mountain, While We Care for Everything Else!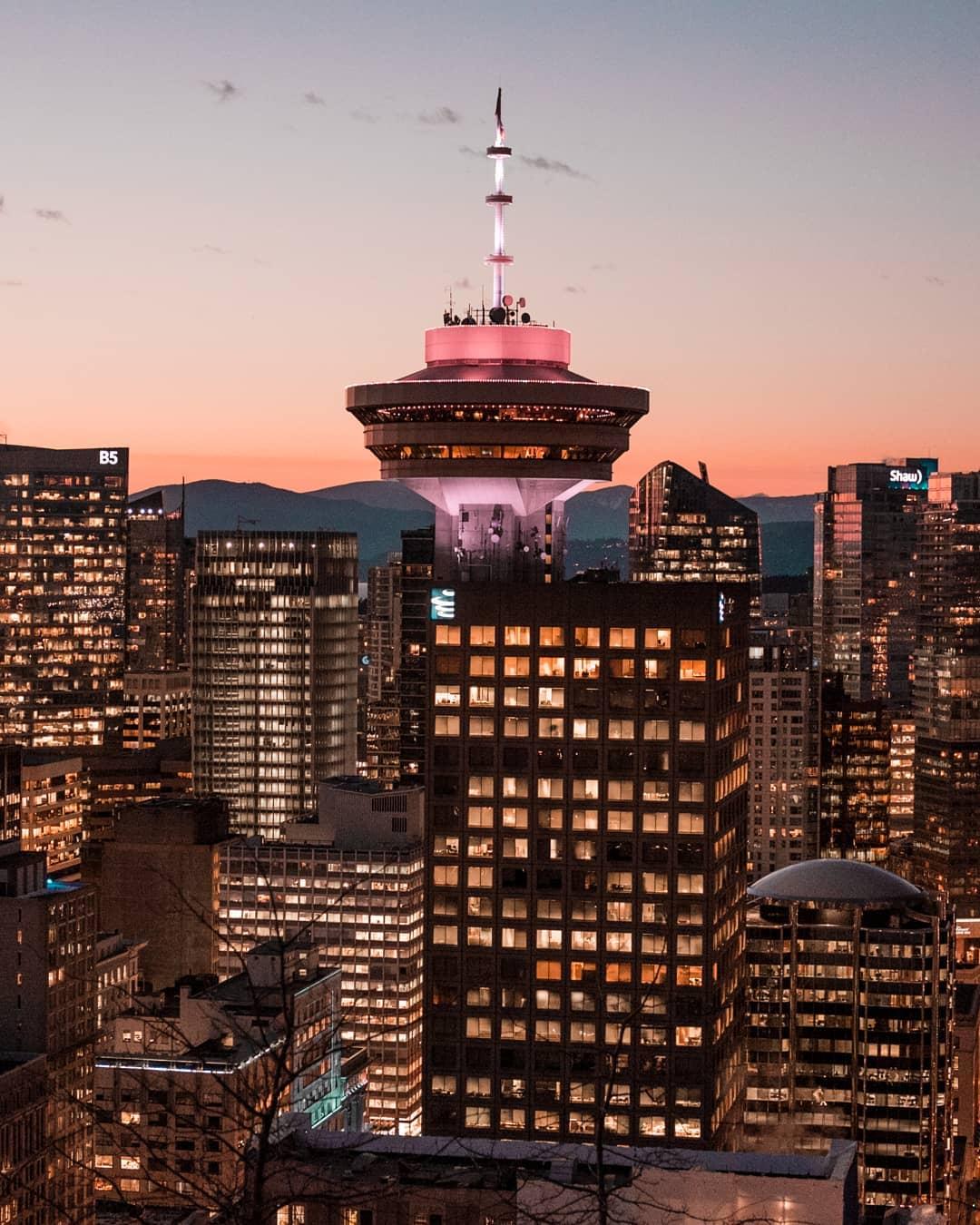 (Credit: Vancouver Lookout / Facebook)
Vancouver Lookout – the 6th tallest building in Vancouver located in Harbour Centre – is a unique & fun way to take in sweeping views of the vibrant city downtown. Take a 40-second glass elevator ride to ascend to the building's panoramic observation deck to take in picture-perfect sights of downtown Vancouver. Spend some time here trying to spot some of the iconic Vancouver destinations. The view gets more spectacular at night, with millions of Vancouver lights lighting up the city down there.
Skip the Ticket Bee-Line and Enjoy Hassle Free Experience at Vancouver Lookout!
Linger Over the Chinese Gardens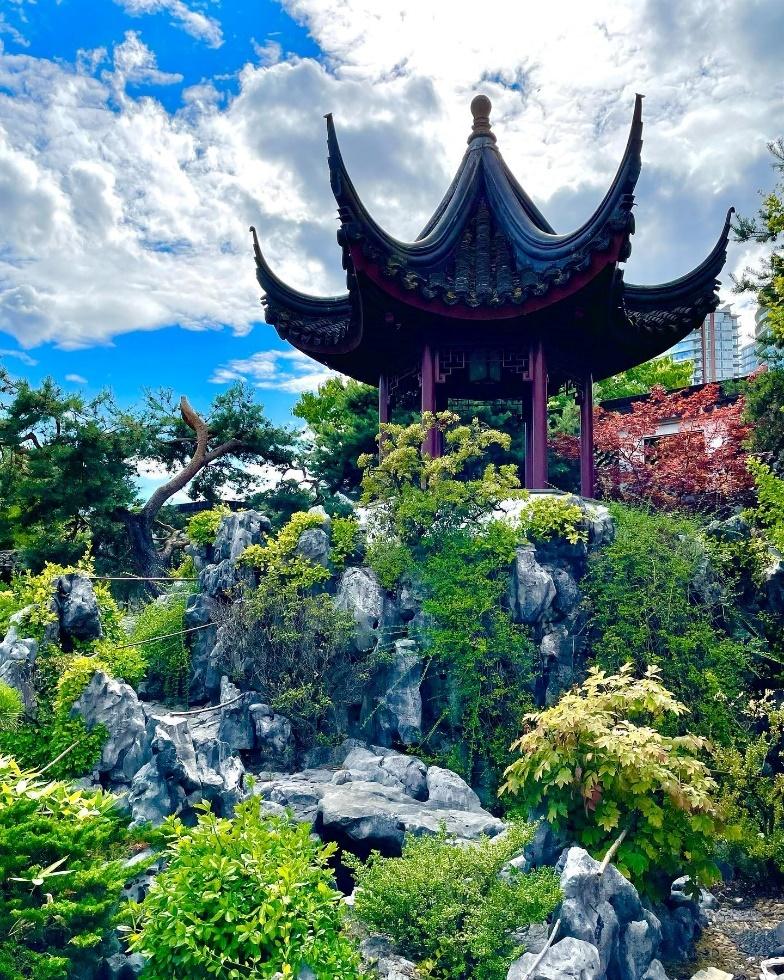 (Credit: Dr. Sun Yat-Sen Classical Chinese Garden / Facebook)
Modeled after the Ming Dynasty-era scholar's gardens in Suzhou, China, the Dr Sun Yat Sen classical Chinese Gardens can be your perfect botanical getaway from the bustling downtown. Designed and built by 53 Suzhou specialists, the Garden is the first ever 'scholar' garden to be built outside China with rare trees, rocks, and vegetation imported from Asia. What makes this garden unique is the fact that almost everything from trees & rocks to walkways & pavilions has symbolic connotations. Take a stroll, read the captions, marvel at the beauty of the architecture, and take in the beauty of rock formations.
The 43 leak windows, each with a different lattice pattern, would definitely be your favorite part of the gardens to pose for some candid shots. You may come across some Special Chinese Festivals like Chinese New Year Events, Lanterns in the Garden Festival, Mid-Autumn Moon Festival, Fire Dragon Festival, Winter Solstice Festival, and others depending on the time of year you visit.
Book Your Ultimate Tour to Vancouver Today!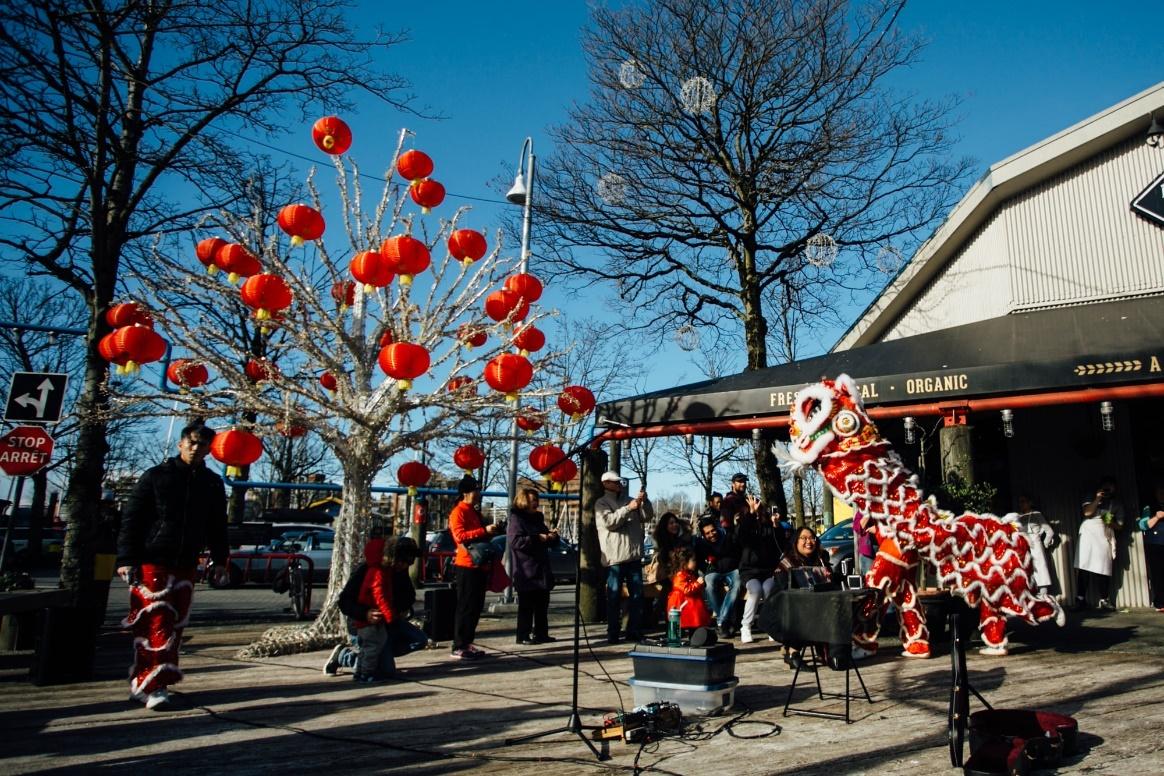 (Credit: Greenville Island / Facebook)
While in Vancouver, don't forget to pay a tribute at Vancouver's premier artistic and cultural hub i.e., Granville Island. Once home to a variety of factories, plants, and sawmills, Granville Island morphed from being an industrial wasteland to a tourist attraction characterized by its posh neighborhood choke full of quaint shops, artistries, cafes, and bookstores – all located in a picturesque waterfront location.
Take a ferry ride to the island, explore the famous Granville Island Public Market here and shop for some souvenirs from Net Loft Shops and the Artisan District. Grab some food from the independent food purveyors here, which together make the island a 'food lover's paradise'. You'll also come across many theatres and cultural venues hosting performing arts and festivals.
Take a Private & Guided Tour to Vancouver Covering Major Destinations
Visit the Richmond Night Market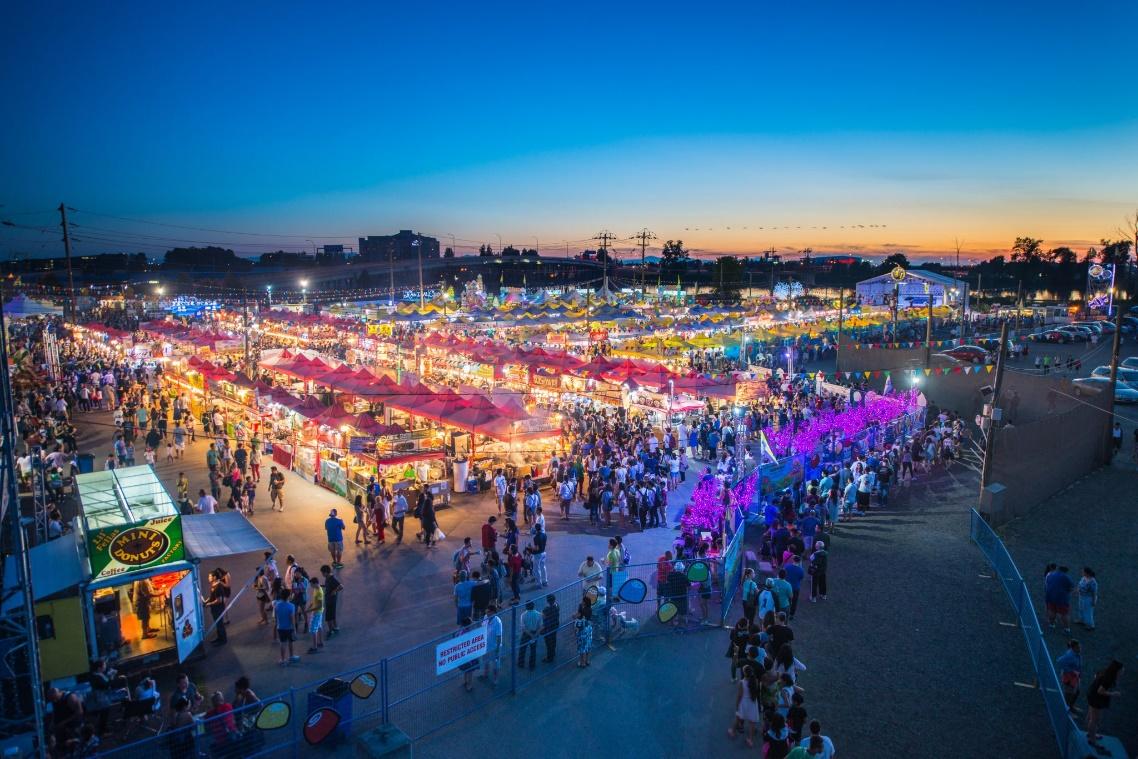 (Credit: Richmond Night Market / Facebook)
The Asian-themed Richmond Night Market offering Asian vibes in the heart of Vancouver should be your next stop in the city! Filled with an all-night extravaganza of food, music, and shopping, your night out here would definitely be a memorable one. Have a seat at the Asian-style restaurants and taste some of the most authentic East-Asian and Oriental festival-style foods. Head to the market's Main Stage to take a restorative break from shopping & dining, and enjoy some vibrant and energetic live performances.
Go on a shopping spree at the retail stalls and collect some Asian artifacts as memoirs of your visit to this iconic place. With its vibrant outdoor lights covering the market streets, you'd love snapping some insta-stories here. Make sure your camera is all set for nighttime photography to capture the best of the clicks!
There is Just So Much to Do, See, Eat and Explore in Vancouver
Take a Botanical Getaway at Queen Elizabeth Park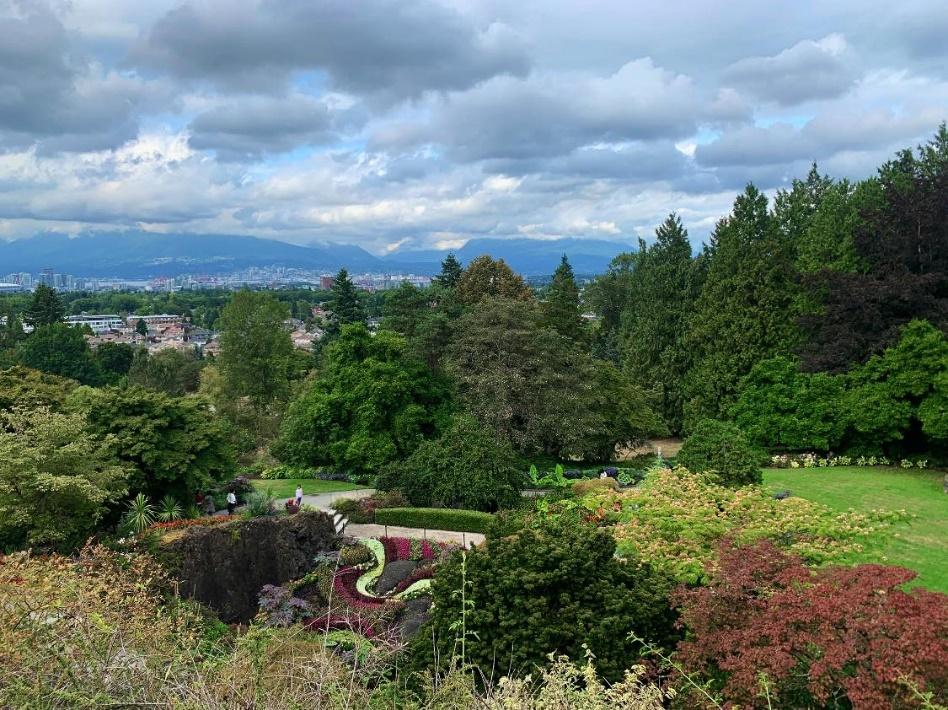 (Credit: Yaki Yang / Facebook)
If you're a floral enthusiast and got a flare for plants, Queen Elizabeth Park is a must-visit for you! Dubbed as the horticultural jewel of Vancouver, the park is known for its magnificent floral displays in a gorgeously landscaped garden – all at the highest point of Vancouver nearly 125m above sea level. Marvel at the perfect displays of nature and art at its theme-parks including the Rose Garden, Quarry Gardens, and Arboretum.
Take a photo session along the Public Art and pose along meticulously carved bronze sculptures displayed here. Devour the beauty of the Dancing Waters Fountains – especially at night when lights make the view more vibrant. Wander through the Painter's Corner and appreciate the artistic outdoor displays.
Ogle Art at Vancouver Art Gallery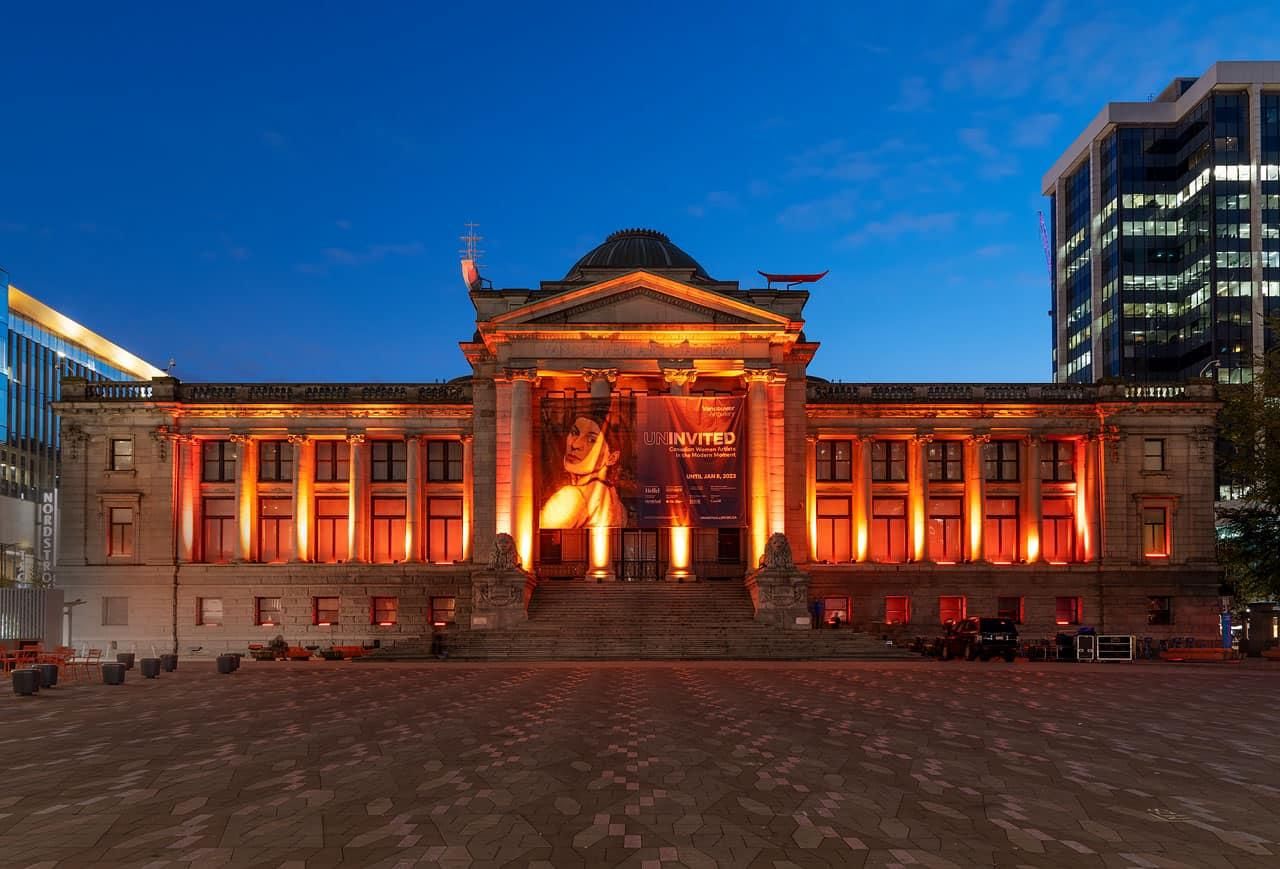 (Credit: Vancouver Art Gallery / Facebook)
Your visit to Vancouver City is incomplete without a visit to the Vancouver Art Gallery, one of North America's top visual arts institutions. Offering a blend of classical & contemporary art from British Columbia, this art gallery is known for its innovative exhibitions and public programs. Spend an afternoon here devouring the beauty of masterpieces by renowned British Columbian artists ranging from Ansel Adams to Emily Carr. Listen to (and possibly participate) in the discussions taking place among the artists, critics, and curators.
You might get a chance to interact with renowned scholars and local artists here. Head to the gallery shop and choose from the unique Canadian selection of items here. Attend the 'Fuse', an art museum-slash-nightclub event organized six times a year (provided that you happen to visit on days when the event is live), and experience a unique art-filled night!
Pay Tribute to Aquatic Fauna at Vancouver Aquarium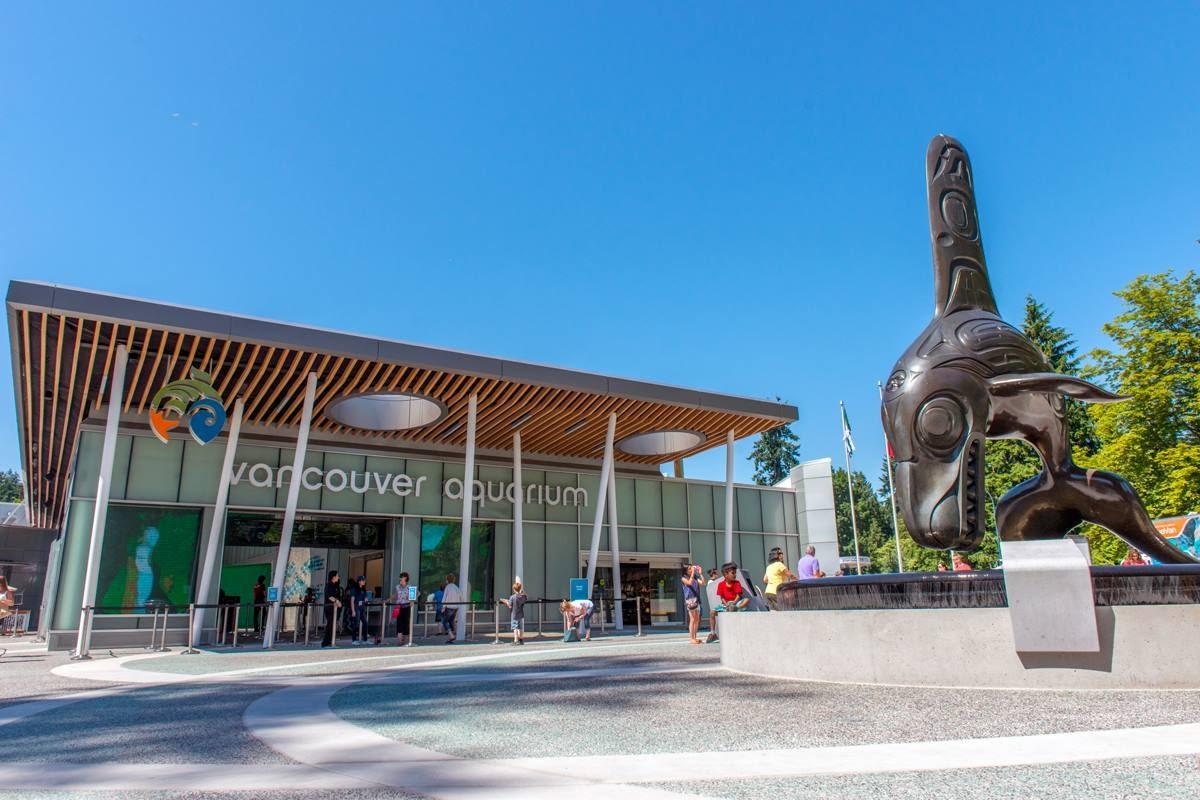 (Credit: Vancouver Aquarium / Facebook)
When visiting a coastal city like Vancouver, it would be unjust to not take time out for its sea life and create memorable moments of the underwater world. What other way can be better to do this than visiting the famous Vancouver Aquarium? Located in Stanley Park, the Vancouver Aquarium is home to more than 60,000 incredible ocean species ranging from seals to whales & dolphins.
Hop around the Amazon Gallery & BC Coast Gallery, and interact with the cute & fluffy African Penguins and Sea Otters, beautifully colored jellyfish, magnificent whales, playful dolphins & seals at the 120 world-class exhibits. Experience the magic of an extraordinary 15-minute 4D adventure of Polar Express to the North Pole with special effects of sound, smell, touch, lights, and weather effects. The adventure awaiting at the Holiday Splash, Wet Lab, Clownfish Cove, Touch Pools, and Photo Experience are also hard to miss!
Go on a Vancouver Whale Watch Expedition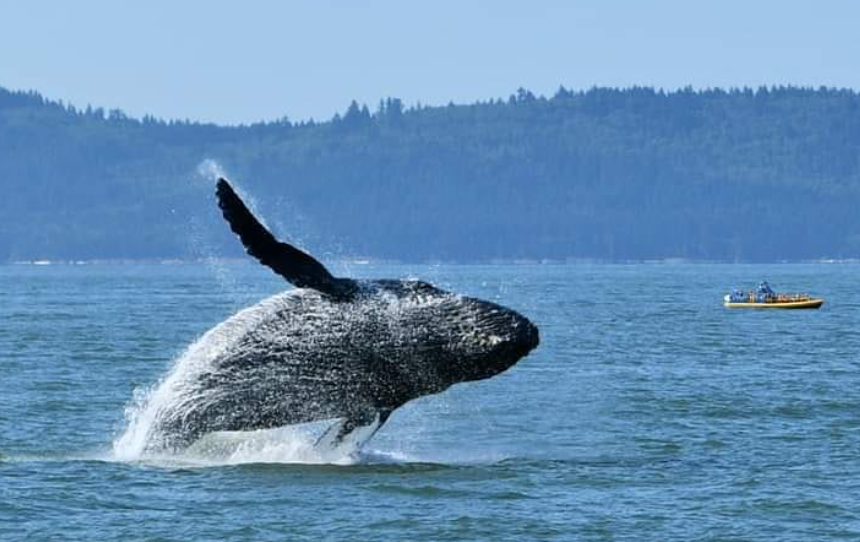 (Credit: @sudhakar4sharma/ Instagram)
March to October is the Whale Watch time in Vancouver when thousands of frolic whales navigate to the Strait of Georgia and around the Gulf Islands. So, if you happen to be here any time between March and October, a whale watch expedition should definitely be on theme. As you embark on your journey to whale watch, you'd be excited to spot pods of whales along the way – and if you're lucky enough, you might spot some incredible whale jumps catching you in awe of their magnificence. Carrying a binocular is a good way to see these giants closely. A sunset whale-watching tour can be a bonus – whales going frolic with mesmerizing sunset views in the backdrop!
Gotta See More of Vancouver in Less Time?
Get Up & Away with Sea to Sky Gondola
(Credit: Sea to Sky Gondola / Official Website)
Take the 10-minute Sea to Sky Gondola taking you to the picturesque mountain town of Squamish. As your 8- seater Gondola glides through the mountain, you'll feel refreshed by the beauty of lush green tall alpines covering the mountains down there. As you reach the summit, you'll have so much to do on the Sky Pilot Suspension Bridge, Alpine Alley, Sky Pilot Restaurant and Summit Lodge.
Consider hiking the 1.6 km Panorama Trail that would lead you to a sightseeing platform where you can witness the beauty of Stawamus Chief Mountain and the entire Squamish Valley from atop. In winter, you can go on adventure sprees with tubing, snowshoeing, skiing, Nordic skiing, and Squamish Via Ferrata.
Take Your Adventure to New Heights with Our Tour Including Skyride Gondola
Get Folksy at the Museum of Anthropology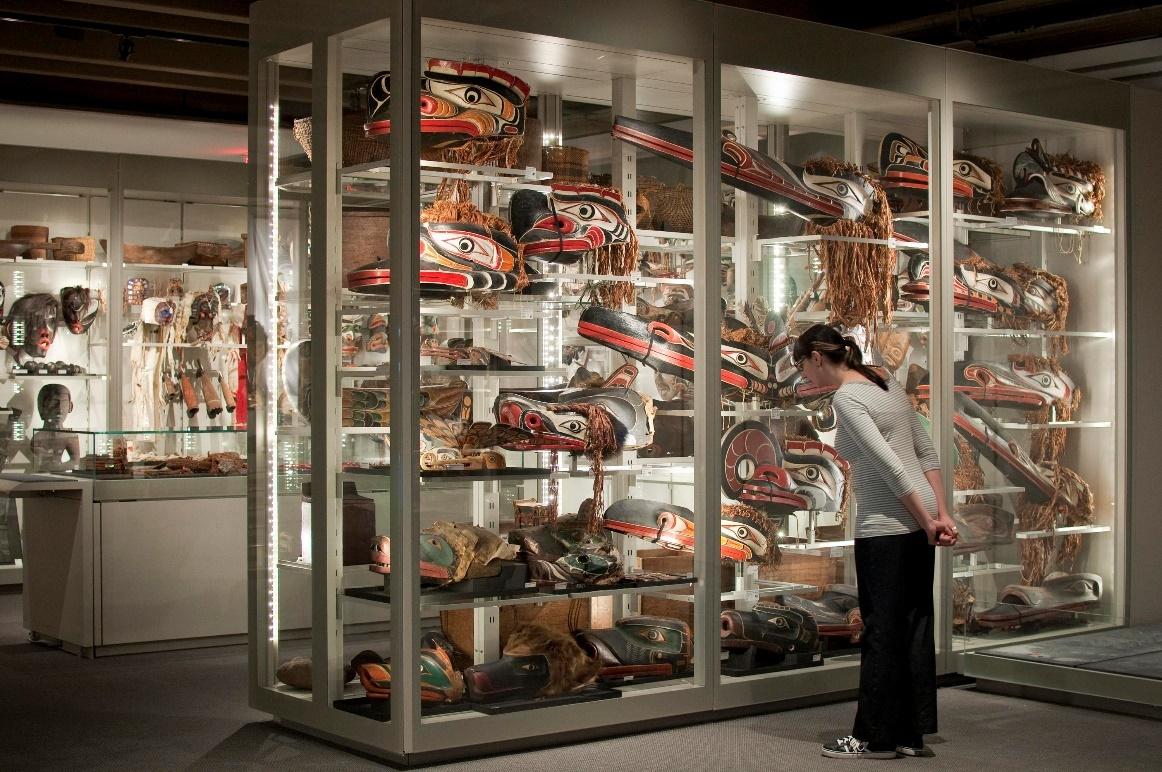 (Credit: Museum of Anthropology / Official Website)
We inhabit a culturally diverse world necessitating an awareness of culturally diverse ways of knowing the world to make this world a better place to coexist! Predicating on this idea, the Museum of Anthropology at the University of British Columbia is a place of vibrant contemporary exhibitions featuring Northwest Coast First Nations culture and other cultures across the world – all nested in an extraordinary architectural beauty overlooking mountains & oceans.
Stroll through the museum, admire the magnificent carvings on display, ogle at the beauty of contemporary artworks, get a multicultural perspective at the Multiversity Galleries displaying 9,000 objects from around the world, hang around the totem poles & Haida houses at the Museum Grounds, and nerd at the magnificent exhibitions & installations of ethnographic objects from around the world.
Get Sandy at English Bay Beach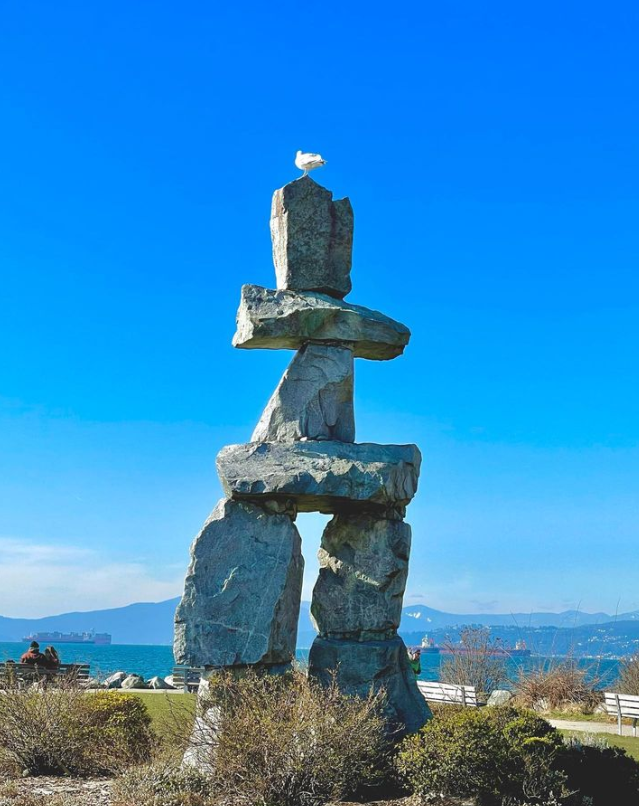 (Credit: @ chattycathy1111 / Instagram)
Located along Beach Ave between Gilford St and Bidwell St, English Bay Beach should definitely be added to your Vancouver's to-visit bucket list! There's so much to do, explore and experience – at the beach itself, the Seawall, and the Inukshuk Monument. Fittingly, the Bay also hosts two major Vancouver events: the Celebration of Light Fireworks and Festival and the Polar Bear Swim. If you're around the corner in end-July, don't miss out the Celebration of Light Fireworks and Festival with music-synchronized displays of fireworks. And if you're here during your Christmas holidays, you'd feel spine-chilled seeing thousands of Vancouverites swimming in the cold waters of English Bay to celebrate the New Year.
Take a stroll through the beach, stop by the Inukshuk Monument to pay tribute to the Inuit people in northern Canada, take a walk along the Seawall to absorb the beautiful scenery of city meeting the ocean, go adventurous with kayaking or paddleboarding, visit the nearby Alexandra Park (Haywood) Bandstand – you'll never feel short of what to do here!
Appease the Phytophile in You at Vandusen Botanical Garden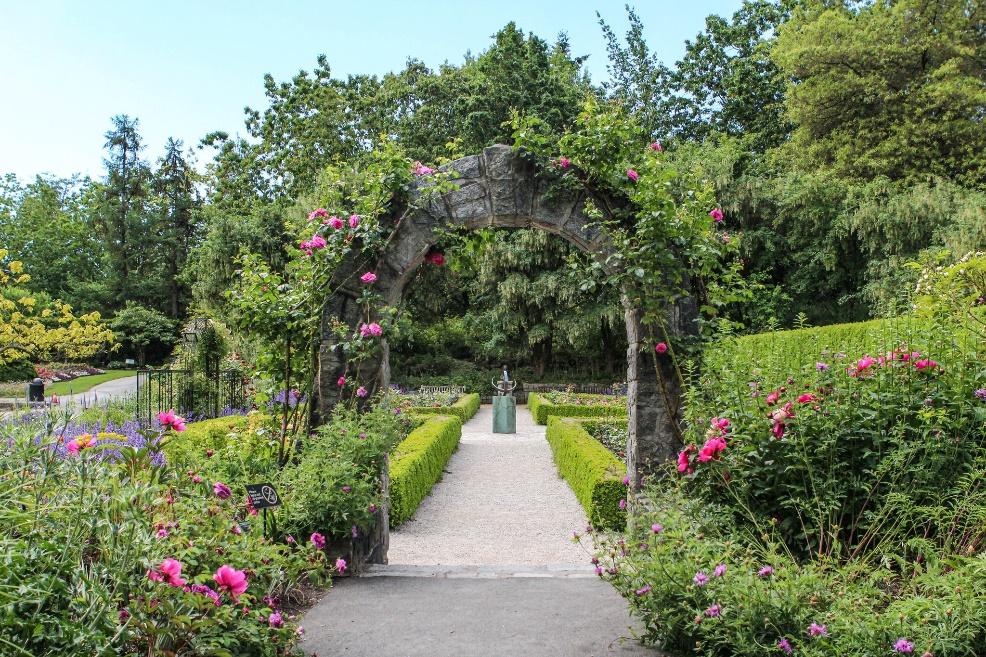 (Credit: VanDusen Botanical Garden / Facebook)
Feel like you've explored too much of busy Vancouvercity life? A visit to Vandusen Botanical Garden will help restore your energies to continue your Vancouver city expedition. Located in the Shaughnessy neighborhood in an undulating organically shaped, dramatic single-story structure, Vandusen Botanical Garden is home to more than 7,500 plant species and varieties from around the world – all organized according to geography and plant families into different garden areas. Take a leisurely stroll through the garden and take in the beauty and heavenly scent of plants.
Sit on the lush green ground carpeted with a variety of grass species, and soak up the soothing botanical vibes. Allow yourself to be a little lost in the Maze built on the idea of reminiscing the journey of life & quest for truth. Get up & close to the sculpture, fountains, and ornamental bridges. Don't forget to pose for some sweeping clicks doing justice to the picturesque landscape of the garden.
Drive up the Sea to Sky Highway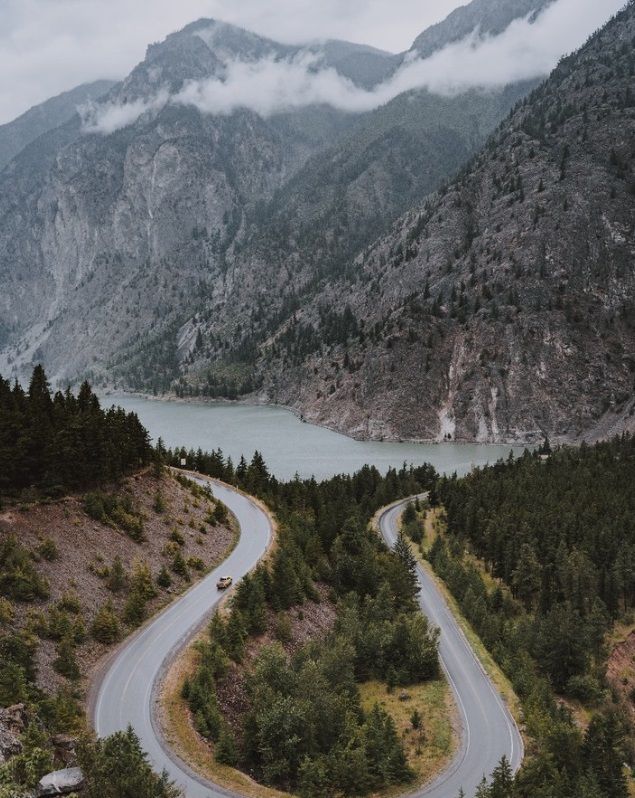 (Credit: @and.y / Facebook)
The famous Sea to Sky Highway can be your perfect road getaway from the busy Vancouver downtown. Stretching from Vancouver to Whistler, every turn along the highway is like a doorway to a new world of natural beauty. At the very least, you can enjoy the mesmerizing views that come your way and click memories from your seat window. We would recommend taking stops along the way at iconic places like Whytecliff Park nestled into a pocket cove, Porteau Cove with a pier on the waterfront, Britannia Mine Museum – once home to the largest copper mine in British Commonwealth, Murrin Provincial Park, Nch'kay Viewpoint, Shannon Falls, Stawamus Chief, Downtown Squamish & the Farmer's Market, West Coast Railway Heritage Park.
The Whistler Olympic Park where some events of 2010 Olympics were held is also hard to miss. As you pass through these, hop off the vehicle and take your time to explore them in greater detail!
Escape to China by Way of Chinatown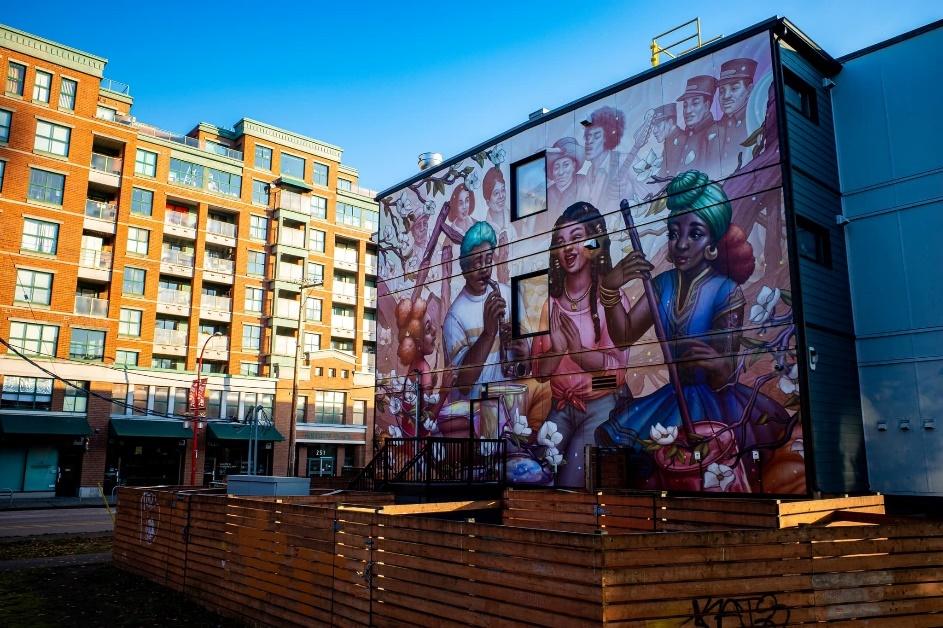 (Credit: Willie Waung / Facebook)
Feel like exploring the Chinese heritage in Vancouver? Then Chinatown should be your next stop! Originally settled by Chinese immigrant laborers in the 1880s, Chinatown has morphed into a neighborhood characterized by Chinese architecture, cuisine, and culture. Today, the neighborhood has grown into North America's third-largest Chinatown after New York and San Francisco. As you step into Chinatown, the Chinese-style murals and window art, dim sum restaurants, and classic Asian specialty stores would make you feel like you've landed mini-China for the time being.
The colorful Dēnglóng (Chinese paper lanterns) hanging above would attempt to make this feel more authentic. You'll find lots of seeing, doing, dining, and shopping options here. Stroll through its bustling streets, marvel at the beauty of Chinese culture at the display, pose along the colorful murals, and explore the local shops to collect some souvenirs. You might come across celebrations of Chinese festivals depending on the time of year you visit this place.
Enjoy Luxury Drive through Downtown Vancouver with the Comfort of a Mercedes Metris!
Get into Holiday Spirit at Jericho Beach Park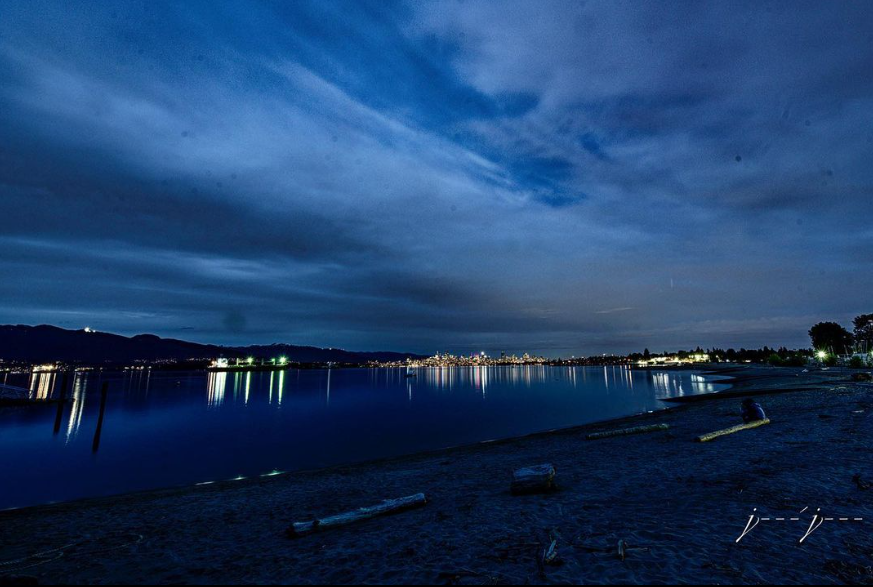 (Credit: @jjmaraque / Instagram)
Located just 5-minute away from downtown Vancouver, Jericho Beach Park should be your next destination to visit. With its vast green grounds, expansive sandy beach, walking trails, playgrounds, and Seawall patch adjoining the beach – the place is a favorite destination to walk & picnic for many Vancouverites. You can also enjoy the summer Folk Music Festival if you happen to visit the place sometime around mid-July.
Take a sandy walk through the beach, and take in the beauty of the city skyline. Get sporty and play soccer, baseball, volleyball, softball, t-ball, or tennis. Explore the hiking & biking trails running along the water from Spanish Banks to Kitsilano and beyond. Get a splash at English Bay with sailing, rowing, paddling, boating, or kayaking – whatever mode you prefer! Sitting back and watching a sunset here can also be your perfect-me-time.
Hang Around the Deep Cove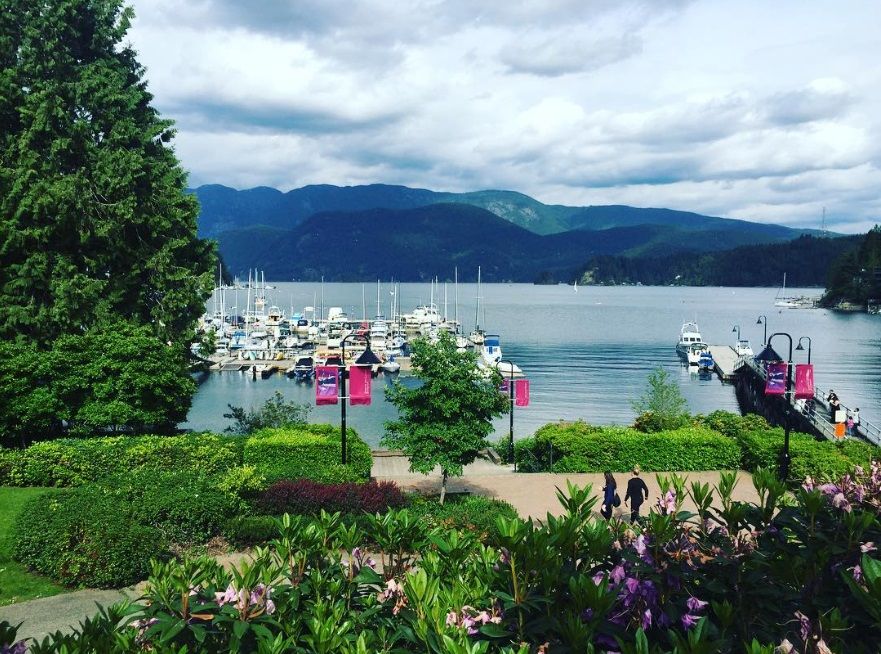 (Credit: @noushinn / Facebook)
Spice up your Vancouver Tour with a countryside experience at Deep Cove. Located in North Vancouver on the Indian Arm, Deep Cove is a small yet full-of-life village nested in impressive peaks, green forests, and a beautiful waterfront. Here, you'll come across a variety of world-class recreation opportunities including kayaking, canoeing, paddling, and camping. You'll also find plenty of hiking trails here waiting to be explored including the Quarry Rock Deep Cove and Baden Powell.
Stroll through the single-lined village downtown packed with restaurants, ice-cream parlors, cafes, and bakeries. Explore the village shops and collect some souvenirs for loved ones back home. You may also come across some events depending on the time you visit such as Penguin Plunge, Summer Concerts at Panorama Park, Deep Cove Daze, and Carol Ships Shoreline Celebration.
The Bottom Line
Putting it all together, your Vancouver trip is all set to be a fulfilling experience! Whether you're on a solo trip or traveling with family, friends, or your partner – Vancouver has something for everyone on-board. With so many things to do, explore, & experience, you'll feel like being spoiled for choice. Some guided solutions here may save you from falling into the trap of a decision dilemma of what to visit and when to visit. Take our guided tour to Vancouver and save all your time & energy for the fun here!