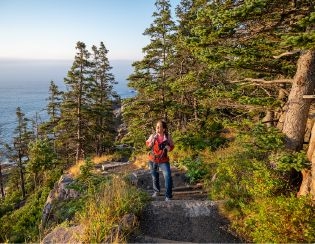 Acadia National Park
Situated on Mount Desert Island in Bar Harbor, Acadia National Park stands as a beacon of natural beauty and outdoor adventure. Spanning over 49,000 acres, this national treasure boasts a rich tapestry of habitats, from dense woodlands and serene freshwater lakes to saltwater marshes and the rugged Atlantic coastline. The park's Cadillac Mountain, the tallest on the U.S. Atlantic coast, offers breathtaking sunrises and panoramic views of the surrounding landscapes.
Visitors to Acadia are treated to a plethora of activities. Hiking enthusiasts can explore over 120 miles of trails, ranging from gentle coastal paths to challenging mountain hikes. The Park Loop Road, a scenic 27-mile drive, provides a perfect introduction to the park's diverse ecosystems and landmarks, including Thunder Hole and Jordan Pond. For those seeking a more tranquil experience, the park's numerous lakes and ponds offer opportunities for fishing, kayaking, and bird-watching.
Beyond its natural wonders, Acadia National Park also holds a rich cultural heritage, with traces of Native American habitation, early European explorations, and the Gilded Age's opulence. The park's visitor centers provide insightful exhibits and guided tours, helping visitors connect with the land's history and significance. Whether you're an adventurer, a nature lover, or a history buff, Acadia National Park promises a diverse and enriching experience, making it a must-visit destination in Bar Harbor.