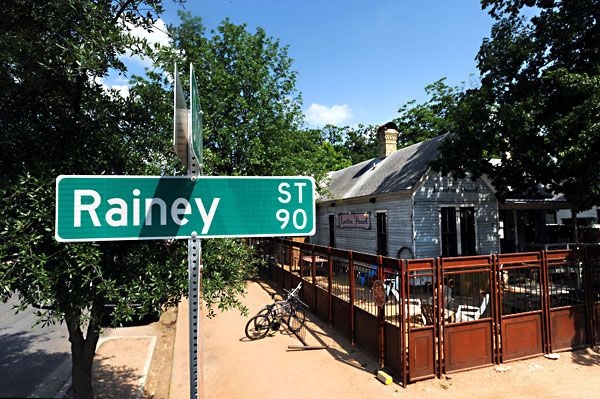 Rainey Street Historic District
Austin, TX 78701, USA
Hours of Operation
The hours of operation vary depending on the establishment, but most bars and restaurants on Rainy Street are open from late morning until late at night.
If you're looking for a taste of Austin's rich history, look no further than the Rainy Street Historic District.
Located just east of Cesar Chavez and south of Lady Bird Lake, this vibrant neighborhood is home to a number of beautifully restored houses turned into bars and restaurants, including Emma S Barrientos Mexican-American Cultural Center and Geraldines.
What to know
Rainy Street is part of East Cesar Chavez and Holly neighborhoods and is considered one of Austin's most unique and historic areas. Once a quiet residential area, the district has transformed into a lively entertainment district with food trucks, live music, and some of the best bars in town.
How to get there
Rainy Street is easily accessible by car or public transportation. Visitors can take the MetroRapid bus or a rideshare service to the area. If you're traveling by car, there is parking available in nearby garages, but it can be expensive.
Visitors are encouraged to use public transportation or a rideshare service if available. Another way to explore this attraction is by booking a walking tour in which you'll explore all the attractions that are within walking distance and maybe get a bite to eat along the way. 
Best time to visit
The best time to visit this beautiful district is probably during the spring or fall seasons as the weather is quite pleasant and crowds are relatively smaller than usual. The area can get busy during weekends, so plan your visit accordingly. If you want to beat the crowds, try visiting during the weekdays.
Highlights
Rainy Street is home to some of Austin's most popular bars and restaurants, including Banger's Sausage House and Beer Garden, Clive Bar, and Lustre Pearl. If you're looking for delicious food and drinks, you won't be disappointed.
Many of the bars and restaurants on Rainy Street feature outdoor patios and live music, making it a great place to spend an evening with friends.
Another highlight of the district is the Emma S Barrientos Mexican-American Cultural Center, which covers an expansive part of Rainy Street. The center offers a variety of programs and events that showcase the history and culture of the Tejano community in Austin.
Features
Rainy Street is known for its unique atmosphere and lively entertainment. Visitors can enjoy a variety of food and drink options, including craft beers on draft and delicious food from local food trucks. The area is also home to Lucy's Mini Donuts, a local favorite.
One of the best ways to enjoy Rainy Street is by taking a walk along the Tejano Walking Trail, which winds through the district and highlights some of the area's historic landmarks.
The trail starts at the intersection of Rainy and Driskill Streets and ends at the Emma S Barrientos Mexican-American Cultural Center.