Scenic San Antonio Night Tour with Riverwalk Boat Tour
San Antonio > Scenic San Antonio Night Tour with Riverwalk Boat Tour
3 Hours
Up to 7 people
Hotel Pick-up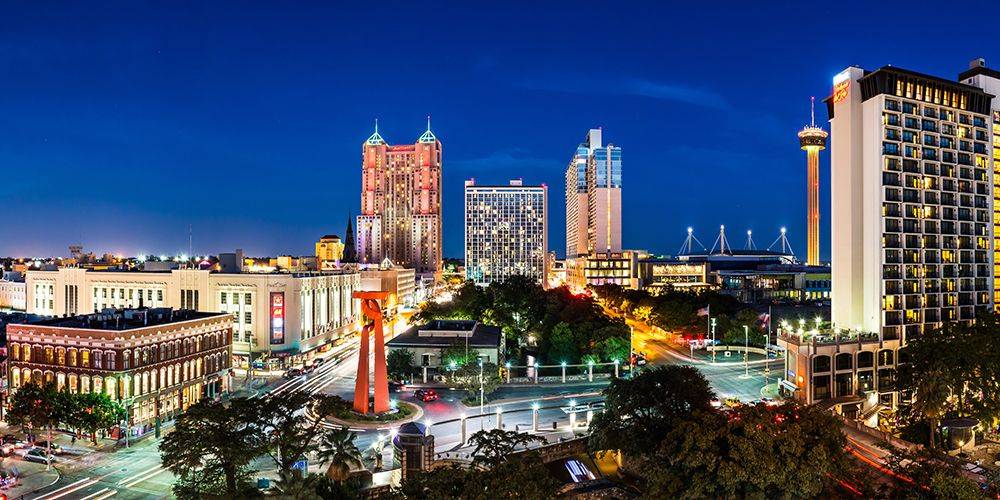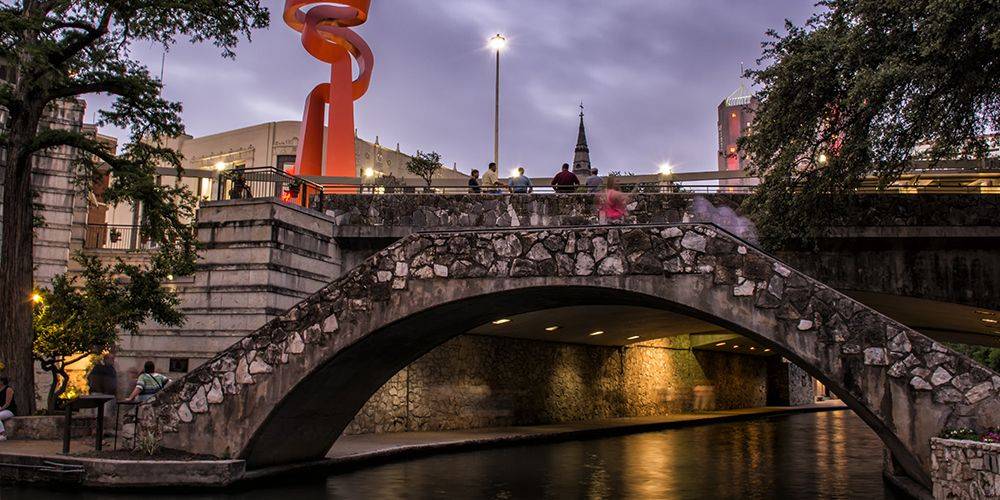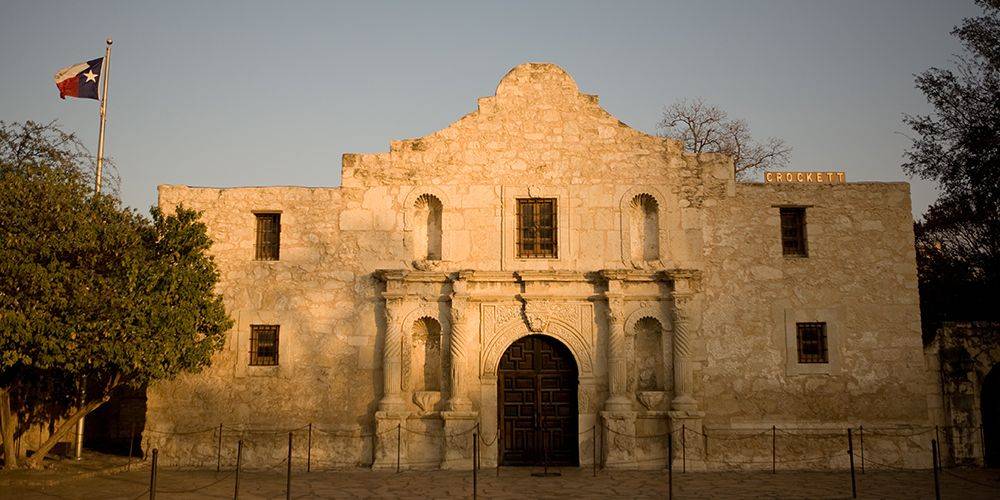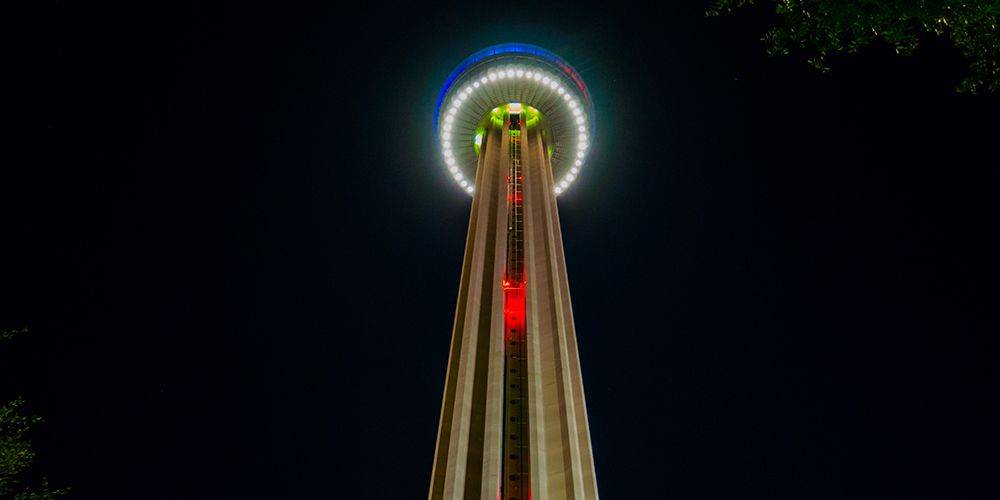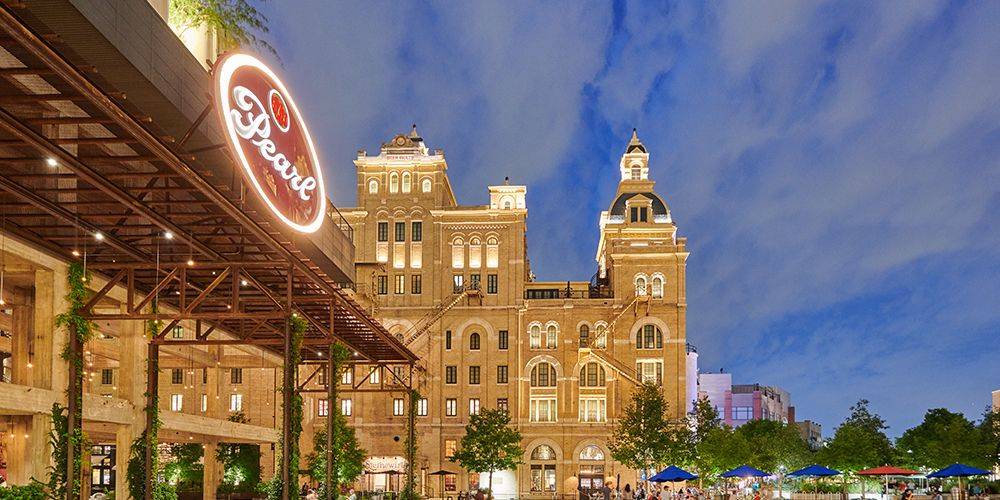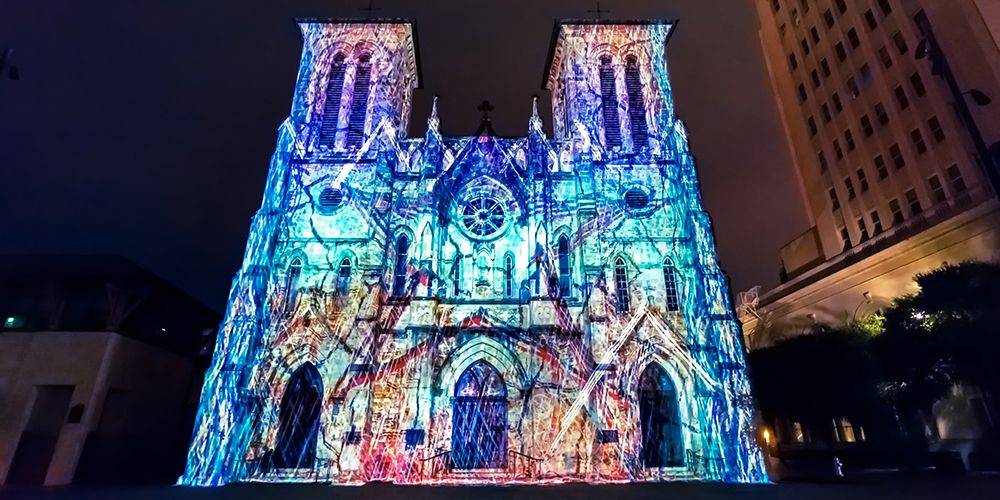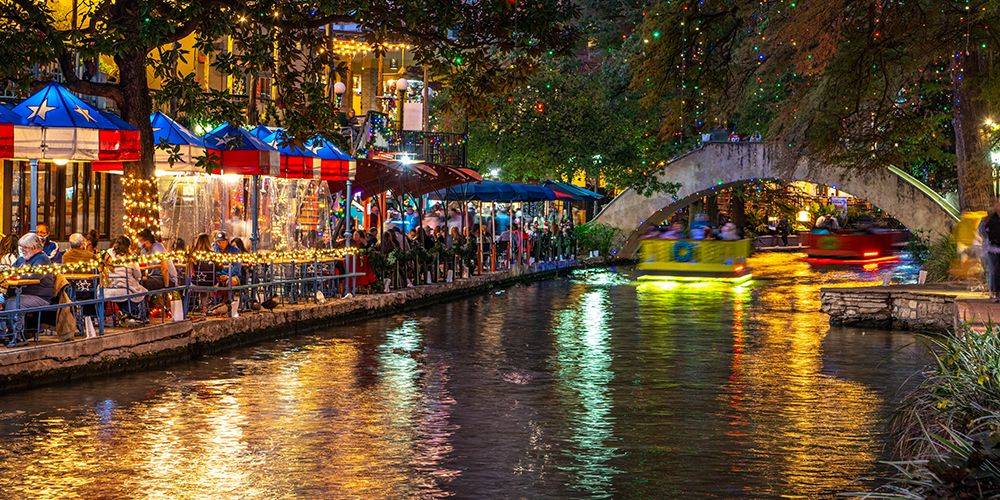 Loading tour availabilities.
3 Hours
Up to 7 people
Hotel Pick-up
Experience an electric night out in the city with our Night Tour of San Antonio including a Cruise! This 3 hour tour features a one of a kind view of the beautiful city's skyline illuminated at night at the Tower of the Americas, witness the city's lights illuminating the river with a relaxing Night Time River Walk Boat Cruise along with a narrated night drive passing multiple points of interest before being dropped off at your San Antonio accommodations.
Itinerary
Tower of the Americas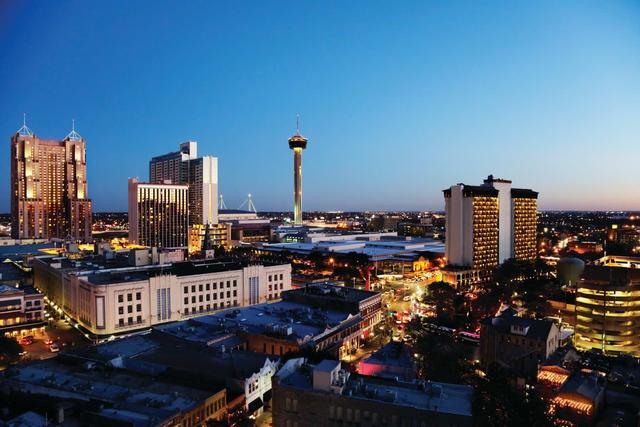 Spectacular sights and award-winning dining in the tallest observation deck in Texas
River Walk Cruises
Discover the magic of the San Antonio River Cruise
What's Included
Driving tour of San Antonio

Relaxing night time River Walk Cruise

Admission to the Tower of the Americas

Pick up and drop off at any downtown San Antonio location

Intimate, small-group tour size with 7 guest limit
What you'll do
Your night out will begin with your tour guide greeting you directly in the lobby of your downtown hotel before heading out to your first stop on our exciting night tour of San Antonio - The River City.
The first stop will take your view of San Antonio to new heights. Marvel at the stunning illuminated city skyline from the Tower of the Americas Observation Deck, the tallest observation tower in Texas. Here you will be whisked away, up 190 m (623 ft) to witness a spectacular view of the city illuminated at night - a magical view of the River City.
Explore the 1836 battlefield where heroes fell, walk among legends and explore the grounds. Stand in awe of the Shrine of Texas Liberty, get up close and personal with some of the Alamo's largest weapons and fortifications and enjoy a peaceful stroll through the lush gardens shaded by oak trees.
While on the way to your next attraction, enjoy a narrated drive through the illuminated streets of San Antonio to learn more about the city's history and culture in comfort in one of our Mercedes Metric vans, passing multiple points of interest including Pearl Brewery, the Grotto, and Cathedral among others.
Next, your tour guide will take you to an enchanting River Night Cruise, passing multiple points of interest such as the historical marker Old Mill Crossing, the city's first neighborhood - La Villiata, and others - all illuminated at night. After your relaxing, nighttime River Cruise your tour guide will take you on a nighttime drive to explore San Antonio's cultivating nightlife.
Once your tour is complete, your tour guide will safely take you back to your downtown hotel, or arranged destination, where you can relax after your exciting night out.
Important Information
The exact length of time for tour may vary slightly based on traffic, seasonality (e.g. during off-peak times, tours tend to be a little shorter due to less traffic)
Pick up time will be confirmed 1-3 days prior to the tour date via email or phone. If you do not have access to these, please be ready 30 minutes prior to tour start time in the hotel lobby
Customer Reviews

It turned out that we got lucky and had a private tour with Rene who was super He was so knowledgeable of San Antonios history The river cruise is beautiful at night A big thank you to Rene for a wonderful start to our weekend
Vicki Robey

Christine was very knowledgeable and truly a gem of a guide in every way She was kind we could tell and did not rush us Our cruise was wonderful and the four of us tourists on tour with Christine that night went back to our hotels happy and content
Ann Ramirez

Mike was fantastic The car was top notch and clean Mike knew so much of the city and the history it was just an amazing trip my wife and i loved it
Sam Babbitt

Rene was a great guide very flexible and yet to the point timely pick up and made it very personable almost like a night out with a friend
Jakub Tomaszewski

Unanimously this was the best part of our San Antonio experience Alfred was the best knowledgeable and entertaining and so much fun i highly recommend this tour
Roberta Powers

Disfrute mi viaje con cada explocacion de mi guia fue increible saber la historia de San Antonio
MARIA PUENTE

Alfred Sanchez was my tour guide he was very knowledgeable and entertaining He takes pride in what he does I really enjoyed it
Kevin L Brooks

Alfred our tour guide was absolutely amazing. He knew so much history and so funny. Amazing guys really sweet. I 100% recommended do it
Jeidy and Javier Guevara

It turned out that we got lucky and had a private tour with Rene who was super He was so knowledgeable of San Antonios history The river cruise is beautiful at night A big thank you to Rene for a wonderful start to our weekend
Vicki Robey

Christine was very knowledgeable and truly a gem of a guide in every way She was kind we could tell and did not rush us Our cruise was wonderful and the four of us tourists on tour with Christine that night went back to our hotels happy and content
Ann Ramirez

Mike was fantastic The car was top notch and clean Mike knew so much of the city and the history it was just an amazing trip my wife and i loved it
Sam Babbitt

Rene was a great guide very flexible and yet to the point timely pick up and made it very personable almost like a night out with a friend
Jakub Tomaszewski

Unanimously this was the best part of our San Antonio experience Alfred was the best knowledgeable and entertaining and so much fun i highly recommend this tour
Roberta Powers

Disfrute mi viaje con cada explocacion de mi guia fue increible saber la historia de San Antonio
MARIA PUENTE

Alfred Sanchez was my tour guide he was very knowledgeable and entertaining He takes pride in what he does I really enjoyed it
Kevin L Brooks

Alfred our tour guide was absolutely amazing. He knew so much history and so funny. Amazing guys really sweet. I 100% recommended do it
Jeidy and Javier Guevara

It turned out that we got lucky and had a private tour with Rene who was super He was so knowledgeable of San Antonios history The river cruise is beautiful at night A big thank you to Rene for a wonderful start to our weekend
Vicki Robey

Christine was very knowledgeable and truly a gem of a guide in every way She was kind we could tell and did not rush us Our cruise was wonderful and the four of us tourists on tour with Christine that night went back to our hotels happy and content
Ann Ramirez

Mike was fantastic The car was top notch and clean Mike knew so much of the city and the history it was just an amazing trip my wife and i loved it
Sam Babbitt

Rene was a great guide very flexible and yet to the point timely pick up and made it very personable almost like a night out with a friend
Jakub Tomaszewski

Unanimously this was the best part of our San Antonio experience Alfred was the best knowledgeable and entertaining and so much fun i highly recommend this tour
Roberta Powers

Disfrute mi viaje con cada explocacion de mi guia fue increible saber la historia de San Antonio
MARIA PUENTE

Alfred Sanchez was my tour guide he was very knowledgeable and entertaining He takes pride in what he does I really enjoyed it
Kevin L Brooks

Alfred our tour guide was absolutely amazing. He knew so much history and so funny. Amazing guys really sweet. I 100% recommended do it
Jeidy and Javier Guevara
Related Tours