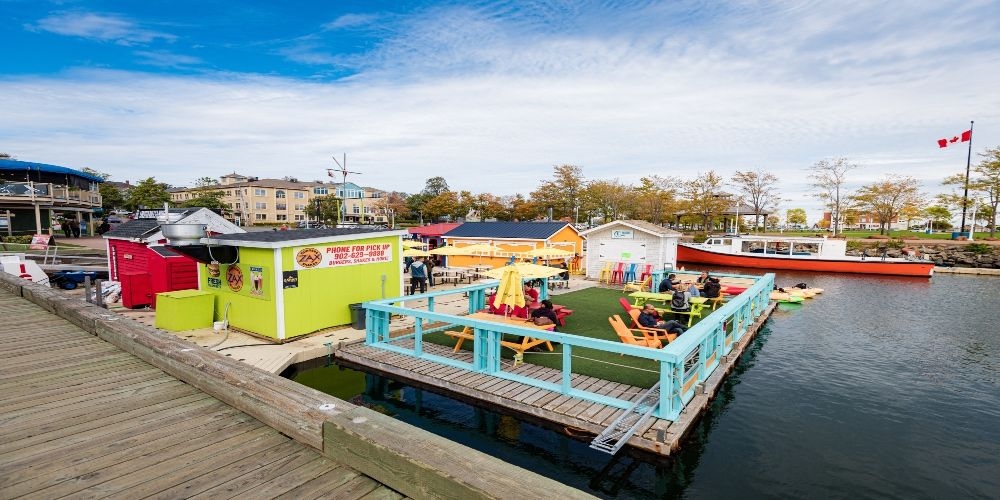 Peake's Wharf
1 Great George St, Charlottetown, PE C1A 0B1, Canada
Hours of Operation
Peake's Wharf is open daily from June through September, and on weekends in May and October. Hours of operation may vary depending on the weather and the season, so it's always a good idea to check before heading out.
Located on Prince Edward Island, Peakes's Wharf in Charlottetown is a popular spot for locals and tourists alike. This charming waterfront destination offers visitors a unique blend of historic charm, scenic beauty, and modern amenities.
From boat tours to craft shops and cow's ice cream, Peake's Wharf has something for everyone. 
What to Know
Peake's Wharf is a historic site that has been a hub of activities for over two centuries. It was once a bustling port that served as a gateway to the world for Prince Edward Island.
Today, it has been transformed into a vibrant waterfront destination that offers a wide range of activities and attractions. Visitors can shop from the crafts shops, enjoy the delicious cow's ice cream, or take a boat tour around the island.
How to Get There
Peake's Wharf is located in the heart of the Charlottetown waterfront, making it easily accessible by car, public transportation, or foot. Visitors can park their cars in one of the nearby parking garages or take the public transportation that runs frequently.
There is also a better option to book a private tour in which you'll get to explore the nearby attractions that are within walking distance of each other. You'll enjoy all the amazing places while walking around the island and maybe get a bite along the way as well.
Best Time to Visit
The best time to visit Peake's Wharf is during the summer months as the weather is quite pleasant and the crowds are much bigger. Visitors can enjoy outdoor activities, live music, and festivals that take place throughout the season.
However, if you prefer a quieter visit, consider visiting during the shoulder seasons, spring or fall, when the weather is mild and the crowds are smaller.
Highlights
Peake's Wharf offers a variety of attractions and activities that are sure to keep the visitors entertained. Boat tours are a popular way to explore the island's stunning coastline and learn about its history. Visitors can also explore craft shops, art galleries, and gift shops that offer unique souvenirs and gifts.
And of course, Cow's ice cream is a must-try treat that is sure to delight your taste buds. Visitors can book a walking tour of Charlottetown and enjoy all the attractions while walking around the island.
Features
The Peake's Wharf is a top-notch destination that offers a wide range of features and amenities. It has plenty of parking, public restrooms, and picnic areas.
Visitors can also enjoy live music and entertainment that takes palace throughout the season. Peake's Wharf is also home to some of the best restaurants, bars, and cafes in the city that offer a variety of cuisines and drinks.