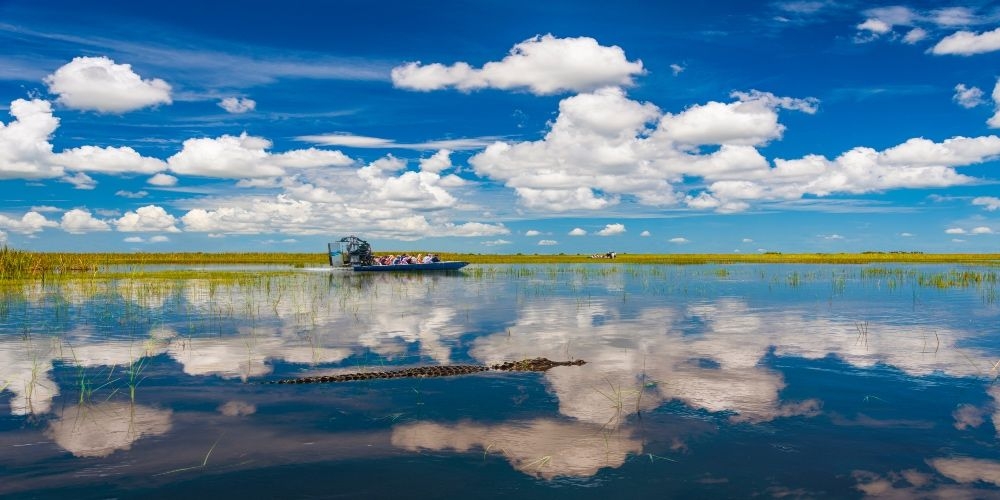 Sawgrass Recreation Park
The Sawgrass Recreation Park was originally a fishing camp in the mid 1950s, and over the next 30 years it transformed into a one boat airboat attraction in the 1970's. Later, it became one of South Florida's top destinations for visitors in the new millennium. Shortly after Hurricane Wilma in 2005, the Soverns' family acquired Sawgrass Recreation Park. Since then, the park has expanded the exhibit areas to allow for the adoption and rescue of more reptiles and mammals. Sawgrass has also expanded community relations, offering an annual scholarship to a local student, and forging partnerships with local schools to educate students about the Florida Everglades.
Hop on one of the park's thrilling airboats and glide across miles of river at speeds up to 40mph while you learn about the Everglades and the wildlife within it. The park also contains a reptile sanctuary, which features over 50 reptiles that have been adopted and rescued, including tortoises and iguanas. You don't want to miss the park's main reptile exhibit, the Florida Alligator. You may even get the chance to meet a baby alligator! The park also has an on-site food truck by the name of The Gator Grill, where you can enjoy Gator Bites, tacos, burgers, and more. Souvenir, snacks, and beverages are also available in the Gator Emporium.