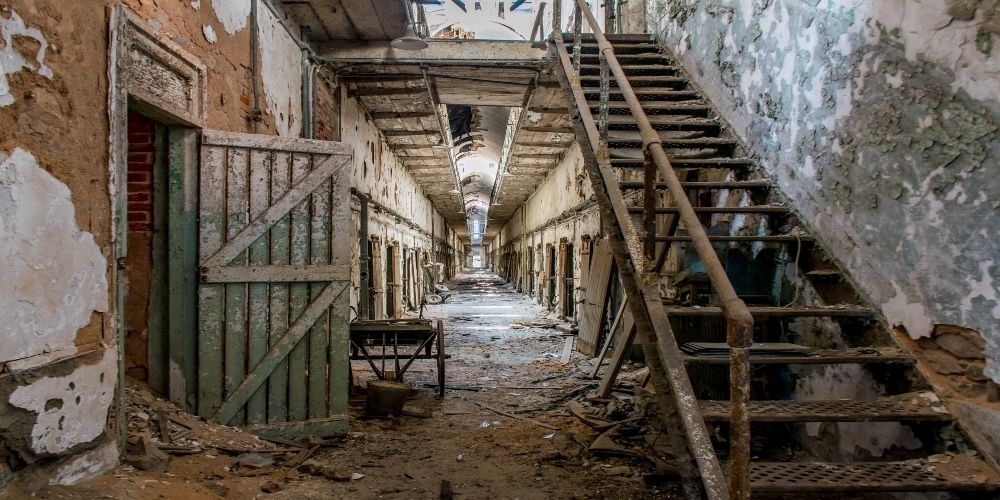 Eastern State Penitentiary Historic Site
2027 Fairmount Ave, Philadelphia, PA
Hours of Operation
Plan your visit to one of the most famous prisons in the world, any day of the week from 10:00 am to 5:00 pm. The penitentiary welcomes visitors from Friday to Monday during the evening hours of 6:00 pm to 10:00 pm. Remember that it's closed on Thanksgiving, Christmas Eve, Christmas Day, and New Year's Day, so plan your visit accordingly.
Welcome to the Eastern State Penitentiary Historic Site – an imposing relic of the past that once held some of America's most notorious criminals. Situated at 2027 Fairmount Avenue, Philadelphia, PA, this historic landmark stands as a testament to a bygone era, now open to the public as a museum and a chilling reminder of the past.
Prepare yourself for an immersive journey through the annals of American penitentiary history, where tales of bank robbers, notorious gangsters, and tales of reform and rehabilitation await. Here we will guide you through what you need to know about this extraordinary place, how to get there, hours of operation, its highlights and features, the best time to visit, and a glimpse into its intriguing history!
Explore Eastern State Penitentiary & other Hotspots of Philadelphia!
What to Know
Eastern State Penitentiary is not just any old prison; it was once the most famous and expensive prison in the world, which acted as a model for 300 prisons globally. It's also famously regarded as the world's first true penitentiary. Over its long history, it housed nearly 85,000 inmates, including infamous bank robber "Slick Willie" Sutton and the legendary "Scarface" Al Capone. This eerie structure, with its vaulted, sky-lit cells, now stands in ruins, but its walls hold stories that echo through time.
How to Get There
The Eastern State Penitentiary Historic Site is conveniently located at 22nd Street and Fairmount Avenue, just a stone's throw away from the iconic Philadelphia Museum of Art. Whether you're driving or using public transportation, it's easily accessible for visitors from all over.
The best way to go there is by booking a Guided Philadelphia Tour which covers pick-up and drop-off from your place in downtown Philadelphia! Aside from Eastern State, you'll get to explore other hotspots of the city from the Reading Terminal Market to the famous Independence Hall!
Highlights and Features
Upon entering Eastern State Penitentiary, you'll embark on captivating audio tours that delve into the prison's dark history. Experience the "Voices of Eastern State" Audio Tour, where an mp3 player and headphones will guide you through the complex, revealing intriguing stories of escapes, sports, sexuality, race, and more.
The penitentiary's unique wagon wheel design ensured that prisoners remained in isolation, unable to communicate with each other. Explore the eerie cell blocks, fitted with central heating and running water – technological marvels of their time.
Be sure to check out the hauntingly beautiful exercise yard where inmates were permitted to garden and even keep pets. The solemn remnants of the barber shop and the infamous Al Capone's cell are not to be missed.
Best Time to Visit
While Eastern State Penitentiary welcomes visitors throughout the year, each season offers a distinct experience. The fall brings a haunting ambiance that captivates visitors during "Terror Behind the Walls," a chilling Halloween event where the penitentiary transforms into a spine-chilling attraction.
If you prefer a quieter visit, spring and early summer offer pleasant weather and fewer crowds, allowing you to immerse yourself in the prison's rich history.
History
Designed by architect John Haviland, Eastern State Penitentiary opened its doors on October 25, 1829, pioneering the revolutionary system of solitary confinement. The "Pennsylvania system" aimed at rehabilitating prisoners through reflection and spiritual change, but in reality, prisoners endured harsh conditions and psychological torture.
Throughout its existence, Eastern State saw its fair share of notorious inmates, including "Slick Willie" Sutton and "Scarface" Al Capone. As overcrowding became an issue, the prison shifted to a congregate system and closed its doors in 1971.
Prepare yourself for a journey through history as you step into the haunting halls of the Eastern State Penitentiary Historic Site. Walk in the footsteps of infamous bank robbers and gangsters, witness the Quaker-inspired architecture, and uncover the legacy of this once-imposing prison.
Whether you're a history enthusiast or seeking a thrilling experience, Eastern State Penitentiary will leave an indelible mark on your mind. So, don't miss the chance to explore this unique national historic landmark, a captivating testament to the evolution of America's prison system!