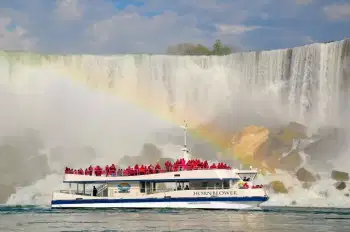 ULTRA

Small Group Ottawa Tours
Tours in Ottawa
Best things to do in Ottawa
Ottawa is the Capital City of Canada. It is home to the nation's parliament buildings and other government-related buildings and monuments. Here you will also find museums, shops and artisan restaurants. The Ottawa River runs through here and connects with the Rideau Canal, creating the Rideau Falls. During wintertime, a section of the canal freezes to create the world's largest outdoor skating rink.
Canada's capital city, Ottawa has lots for you to explore: - Get a behind-the-scenes tour to see how Canadian coins are made at the
Royal Canadian Mint!
- Visit the largest and oldest church in the city, the
Notre Dame Cathedral Basilica,
a beautiful Gothic Revival style church with a stunning steeple, a national historic site of Canada. - When looking to experience the city's bustling streets and immerse yourself in the culture we recommend you visit the
Byward Market
a central hub in downtown Ottawa housing specialty food shops, crafts, clothing, and a wide variety of restaurants to chose from. - Wind down with a scenic boat cruise along the river.
Capital Cruises Ottawa River Cruise
will take you through the river where you can enjoy glimpses of over 50 sites and points of interest including Parliament buildings, and the stunning Rideau Falls. You can also experience the Ottawa River in the evening with
Paul's Boat Line Ottawa River Cruise
offering you a dreamy view of the skyline through the Rideau Canal. - End off your day of exploration by watching the spectacular
Sound and Light Show on Parliament Hill
highlighting historical key figures, events, and Canadian achievements using a combination of lights and sounds, truly a magnificent sensory experience.
FAQs
What are the must-see sights on the Best of Ottawa Tour?
Our Best of Ottawa Tour takes you to the iconic landmarks of Canada's Capital City, including Parliament Hill, the Supreme Court, and more. You'll also enjoy a scenic boat cruise on the Ottawa River. Book your tour now!
How does the Scenic Night Tour of Ottawa differ from the daytime tours?
Experience the magic of Ottawa illuminated at night on our Scenic Night Tour. This 3.5-hour tour showcases the city's stunning skyline and key attractions beautifully lit up. Join us for an unforgettable evening adventure!
Can I have a customized experience on the Private Tour of Ottawa?
Absolutely! Our Private Tour of Ottawa allows you to tailor the itinerary according to your preferences. Whether you want to spend more time at specific sites or explore hidden gems, our guides will make it happen.
What's included in the Best of Ottawa Small Group Walking Tour with Boat Cruise?
Discover Ottawa on foot with our Best of Ottawa Walking Tour. This 3.5-hour experience covers major landmarks and includes a delightful boat cruise on the Rideau Canal, offering a unique perspective of the city.
What are some other things to do in Ottawa?
In addition to our tours, we recommend exploring the Ottawa River with Capital Cruises, visiting the exquisite Notre Dame Cathedral Basilica, and immersing yourself in the vibrant atmosphere of Byward Market.
How can I subscribe to your newsletter to receive updates on tours and offers?
Stay up-to-date with our latest tours and special offers by subscribing to our newsletter. Enter your email address in the "Subscribe" section on our website, and we'll keep you informed!
What sets See Sight Tours apart from other tour companies in Ottawa?
See Sight Tours has over a decade of experience in delivering immersive and intimate tour experiences. Our local guides are passionate about showcasing the hidden beauty of Ottawa, ensuring lasting memories for our guests.