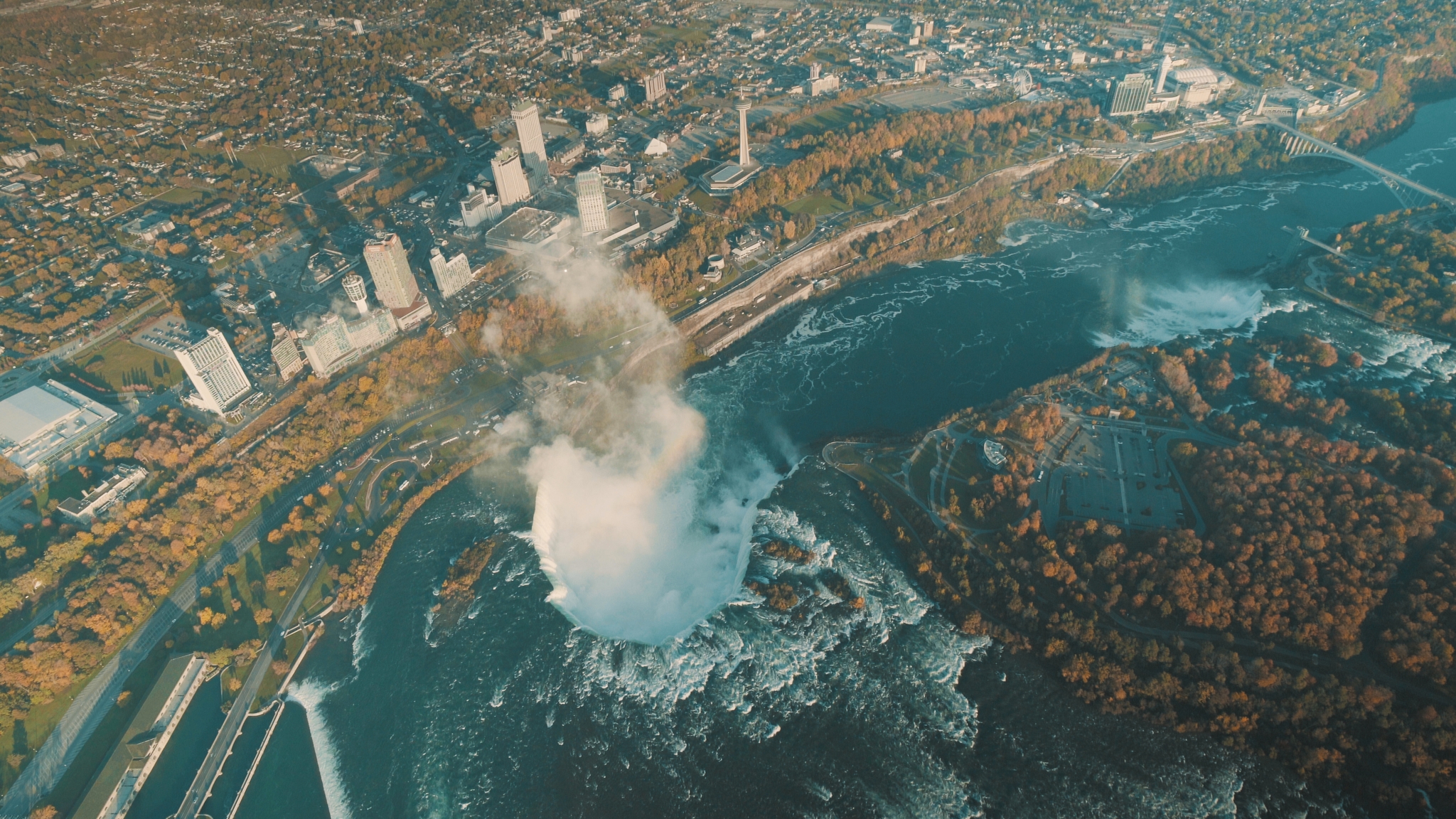 Rainbow Air Helicopter Tour
9990 Porter Road, Niagara Falls International Airport, Niagara Falls USA
Hours of Operation
9:00 am to Dusk - Closed Tuesday and Wednesday (weather permitting)
Hours may vary
Experience the most awe-inspiring panorama of Niagara Falls simply by taking a Rainbow Air helicopter ride and gazing out of the window. Rainbow Air has been offering helicopter tours of the American side of the Niagara region since 1995.
Their standard tour lasts for 12 minutes, showcasing the Rainbow Bridge, Horseshoe Falls (or the Canadian Falls), Goat Island, Cave of the Winds, Queen Victoria Park, American Falls, Bridal Veil Falls, Clifton Hill, Maid of the Mist, the American Observation Tower, and more hotspots of Niagara.
Aside from tours, Rainbow Air also offers charter services and aerial weddings. So what are you waiting for? Come join us for an aerial adventure and see the ethereal beauty of the falls from the air!
Take In An Aerial View Of Niagara Falls USA & More!
What to Know
Ready to take your Niagara Falls adventure to new heights? Rainbow Air helicopter tours offer a one-of-a-kind experience that will leave you breathless. With quiet turbine engine helicopters and over 25 years of experience, Rainbow Air is the go-to destination for tourists visiting the Niagara Region.
See the stunning Rainbow Bridge, American Falls, Bridal Veil Falls, Horseshoe Falls (or the Canadian Falls), and more on their 12-minute tour. And if you're looking for something extra special, they also offer charter services and aerial weddings.
Book your tour today and see Niagara Falls from a whole new perspective!
How to Get There
If you're planning on visiting Rainbow Air for a helicopter tour, the best way to get there is by booking a Niagara Falls USA Tour. This way, you'll be picked up directly from your hotel and taken to the helicopter tour site at 9990 Porter Road, Niagara Falls, New York.
Plus, you'll get to experience many other hotspots along the way from Cave of the Winds to Maid of the Mist, making it a comprehensive and convenient way to see everything the area has to offer.
Don't worry about navigating unfamiliar roads or finding parking - let the tour do the work for you and ensure a stress-free and enjoyable experience.
Best Time to Visit
Looking to book a Rainbow Air helicopter tour? The best time to do so is during the hours that they're open, which is from 9:00 am until dusk. However, keep in mind that the company is closed on Tuesdays and Wednesdays (weather permitting), so it's important to plan accordingly.
It's always a good idea to book your tour as early as possible to ensure availability, especially if you have a specific date and time in mind. Additionally, be sure to check the weather forecast before booking to avoid cancellations or rescheduling due to inclement weather.
Highlights
The sky awaits your next adventure – book a Rainbow Air Helicopter Tour for an aerial visit to Niagara Falls USA now! Enjoy the majestic power and beauty of your aeronautical experience and loom over the gorgeous Horseshoe Falls.
See the great sights of Niagara Falls from the window seat and feel an adrenaline rush like never before!
Features
Rainbow Air Helicopter Tours will depart and land from Niagara Falls International Airport, offering a unique and extended tour of the Upper Niagara River that spans from a peaceful flow to an awe-inspiring display at the mighty Falls.
Our scenic tour creates unforgettable memories for every passenger, and these moments can be preserved through photos or videos as you soar above and around this stunning landscape.
Your excursion encompasses a multitude of iconic landmarks, including a sprawling view of the Rainbow Bridge, Goat Island, Cave of the Winds, Maid of the Mist, American Falls, Bridal Veil Falls, Horseshoe Falls, Queen Victoria Park, Clifton Hill, and the American Observation Tower, among others.
Upon liftoff, the helicopter will follow the broad expanse of the Upper Niagara River, gently descending towards the rushing rapids that envelop Goat Island and the Three Sister Islands.
Then, the flight makes its way over the brink of the dynamic American and Horseshoe Falls, where an incredible 750,000 gallons of water flow per second!
The powerful cascading water produces a radiant rainbow on any sunny day, adding to the already breathtaking view. So what are you waiting for? B
ook a helicopter tour now for a wholly unique experience of your visit to Niagara Falls, USA!